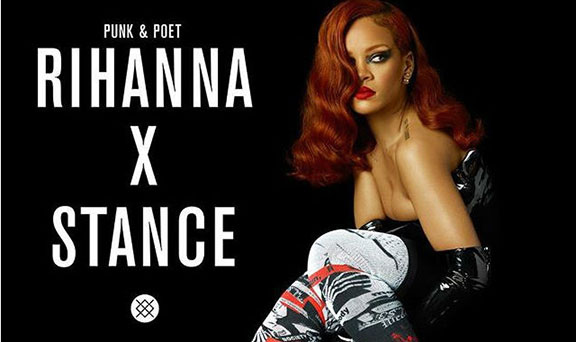 I'm used to reading about stupid fashion brand working with a celebrity on a "design" collaboration but it always hurts when it is a brand you actually like. Stance is a sock company that makes cool socks. I wouldn't exactly put them on my list of best brands ever, but I've bought their products and they are interesting, the quality is better than Happy Socks (my husband goes through a pair in a few weeks) and they seem like a generally cool company, until now.
This is a company that has done collaborations with brands like Minimale Animale (most sexy swimsuit company ever), Harley Davidson, and Laura Enever (Australian surfer.)
It's one thing to do a one off Rihanna sock, but Stance have gone further to name her Contributing Creative Director and Punk & Poet ambassador. First of all, what the f**k is a Punk & Poet ambassador? Why does a sock company need one?