I bought one of Aldo's DIY kits this week. I am sure that any craft store would sell the same studs or even better ones, but I thought the price was pretty reasonable for this little kit ($4) and a lot of people won't be bothered to go to a craft store. I am not sure I will put this on a pair of shoes, maybe something else, I'll post the results when I have them.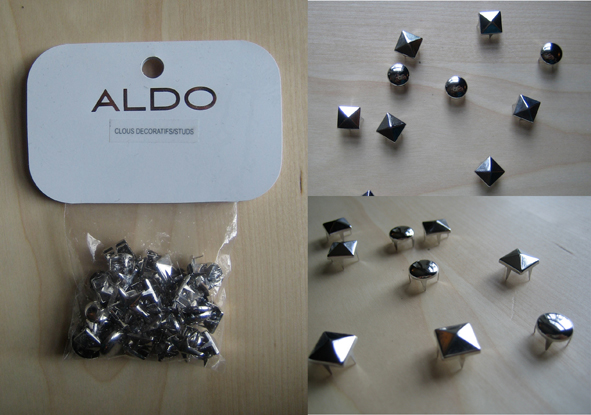 I like that Aldo has decide to launch this range, it is very on-trend for recessionistas, and it is a fun way to update shoes. I thought the studs thing would be going out of fashion, but apparently not, especially since the new Lousie Goldin for Topshop shoes are generating A LOT of hype. I want them.

No studded shoe will ever compare with these Sonia Rykiel shoes I got years ago when I was working there. Their box is labelled "The Shoes", they have had quite some history, and have travelled many places. My favorite incident was when I broke both heels off falling down the stairs at Claridges Hotel, coming out of Mick Jagger's penthouse suite. Thankfully I had a great shoe repair in London! These never went into production, so there was only ever a small number made (maybe 4 or 5?) which makes them even more special.
Aldo also had these leather straps you can add onto boots. These are also pretty cool, I would put them onto biker boots. (I don't have any biker boots, but am contemplating buying some. They would be practical for the weather here in Vancouver, rain every single day, for 23 hours a day.) The Aldo photography and layout looks a bit dodgy tho…