The only personal collection that rivals my shoe collection is probably my books. I guess I spent most of my disposable income in the past 15 years on shoes, clothing, and books. Definitely not enough spent on traveling.
(warning Blackberry people, this post is very image heavy, no point trying to read it without the pictures!)
As a teenager I used to collect fashion books, but then I started to branch out into photography, art, music, and whatever was beautiful.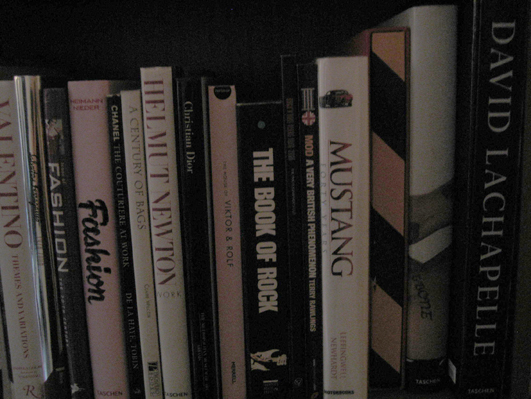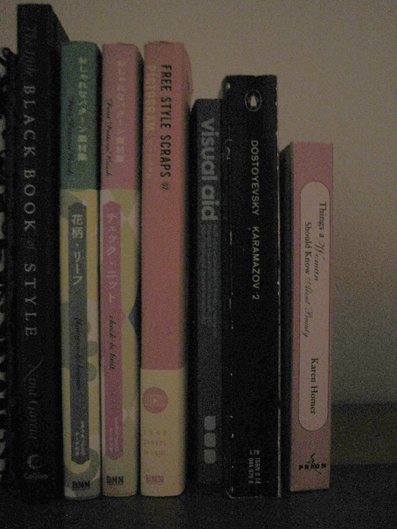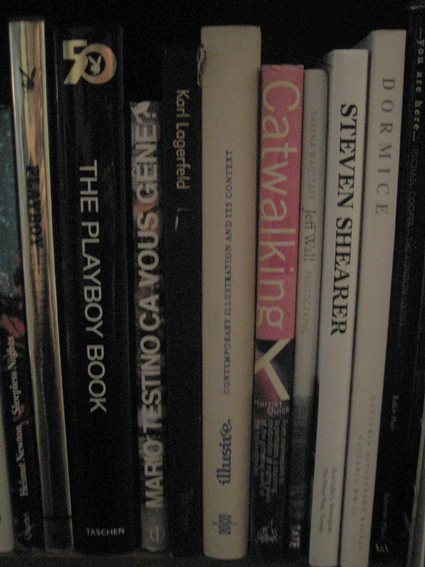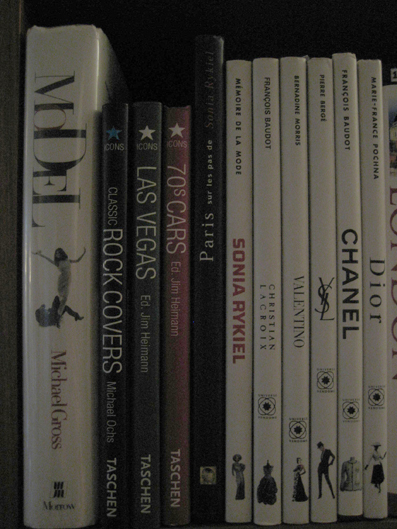 My most precious books definitely include the following.
Helmut Newton's Sleepless Nights. I have already write about how much I love Helmut Newton, and I have many of his books, but this one if definitely the most precious. It is out of print and quite difficult to get ahold of. My friend Chris found this copy for me, before that I used to borrow the one in St Martins College library and curse the asshole who had ripped pages out of it (and at the same time admired the pages that were left.) By the way, if you are the type of person who rips pages out of books in a library you are a TOTAL ASSHOLE.
Michael Cooper's You Are Here. I bought this at the beginning of my studies and immediately became obsessed with this photographer (there is more on him below.) He was the unofficial photographer of the Rolling Stones in the early years, and I am still mesmerized with some of his photos. Mick and Keith looked so amazing when they were young, and I really respect that they haven't lost their credibility after all of these years (unlike some people…Paul McCartney.) My husband was doing the inventory for our insurance when we shipped our stuff back from England, and it turns out that this book is also worth quite a bit of money because it too is out of print and hard to find. So it traveled hand luggage with me, along with Sleepless Nights, all my Hermes, and several pairs of shoes.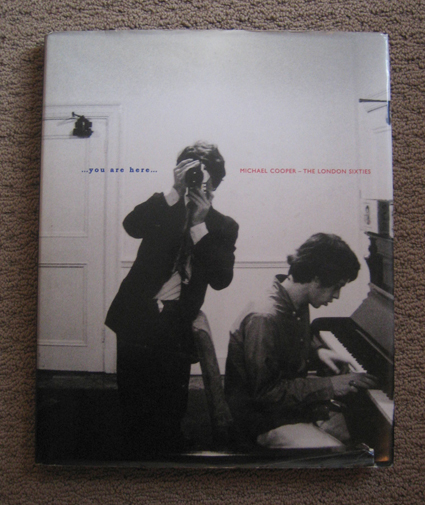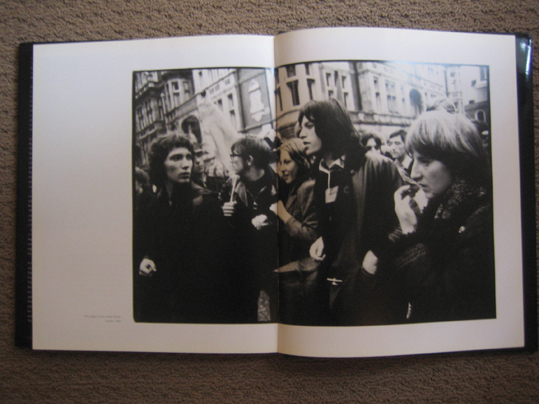 The Clash. Photographs by Bob Gruen. This is another great music book, in an amazing sleeve. I like The Clash, but they are not in my top ten, however these photos are fantastic. You can really see the influence they had on modern mens dress, the skinny jeans, the whole "cool"guy" thing. And The Clash were really a band that stood for something, in a time where there were a lot of issues going on in Britain, and it is great to see the atmosphere and mood going on during their shows.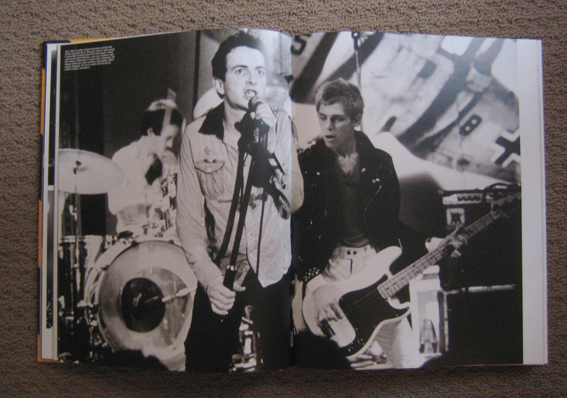 Petit Pattern Books. I love these little Japanese pattern books. They each have a theme, and tons of drawings, and it comes with a CD of digital files of all the prints (they are royalty free.) The texture of the paper and the graphics are so cute. I know they are a copy of Pepin Press' concept, and Pepin Press is a far superior publisher (you'll hear more about Pepin in coming months) but these books are fun anyhow.
OK, so now I can get to the main subject of this post, which is fabulous luxury books that I desperately want and are out of my price range. It feels sad that there are books out there I really want and can't have. I can accept that I'll never have a wardrobe of Birkin bags, but for some reason I feel as though I am entitled to own a copy of the Helmut Newton Sumo Book.
There are many wonderful, fabulous, and ridiculously expensive books out there, and I am going to show you three that I desperately want. The first one has been released very recently, and is what inspired me to write this post.
The Life and Times of Hugh M. Hefner
An illustrated autobiography with highlights from Playboy 's first 25 years
I know that most people associate Playboy with "something I don't buy and certainly don't want to look at." But there is no denying that a book, or six books, about the first 25 years of Playboy is going to contain some amazing photos. Yes, there are naked women, but for some reason porn mags from the sixties look a hell of a lot cooler than ones from last year (I am guessing this, since I don't often buy porn mags.) In fact, I have been meaning for some time to start collecting Playboy from the 60s and 70s, but of course that is another thing on the "list of things to buy."
Here's some images from the book and some blurbs about it, all from the Taschen website.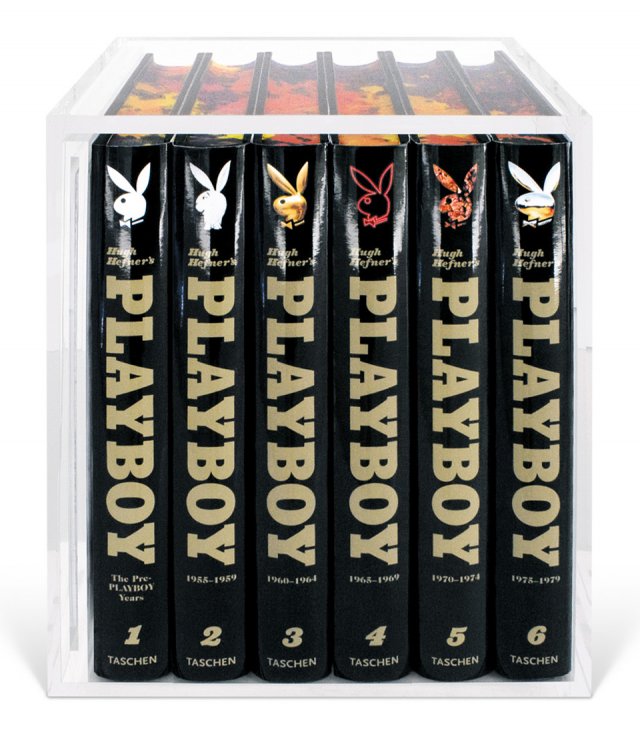 Hugh M. Hefner presents an illustrated autobiography with chronological highlights from Playboy's first 25 years. His personal life and career—from cartoon-drawing childhood to astonishing success with Playboy—are revealed in the most intimate portrait ever.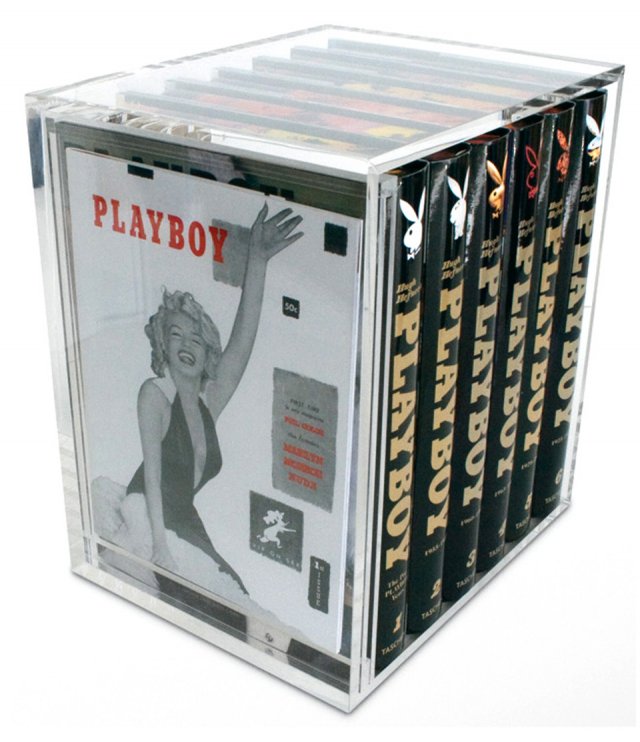 Limited Edition of 1,500 numbered copies signed by Hefner, in a Plexiglas case. Includes a facsimile edition of Playboy #1 from 1953—featuring the iconic Monroe cover and first nude shots—and a 7 x 7 cm piece of Hef's famous silk pajamas, worn by the great man himself.
This sumptuous six-volume anthology celebrates the decadence, sophistication and wit of the original men's magazine and its creator. Hugh Hefner's Playboy highlights the extraordinary years from 1953 to 1979, with a selection of each era's spiciest centerfolds and writing by literary icons Gore Vidal, Norman Mailer, Jack Kerouac and Ray Bradbury, as well as some of the most important Playboy Interviews, including Martin Luther King, John Lennon, Richard Nixon, and Roman Polanski.
Here is another one that is also out of my price range but definitely on my wish list. Blurb and images also from the Taschen website. Helmut Newton's SUMO.
The biggest and most expensive book production in the 20th century
Limited edition of 10,000 copies worldwide, each signed and numbered by Helmut Newton!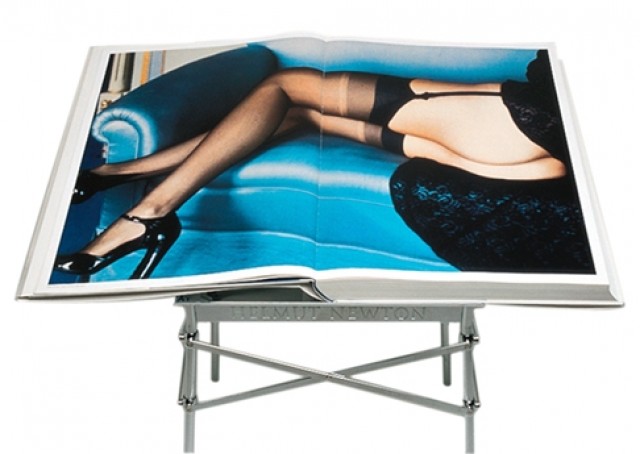 SUMO is a titanic book in every respect: it is a tribute to the twentieth century's most influential, intriguing and controversial photographer. Measuring 50 x 70 cm (20 x 27.5 inches) and weighing approx. 30 kg (66 lb.), the book contains 464 pages, breaking any previous record. SUMO is a truly unique publication.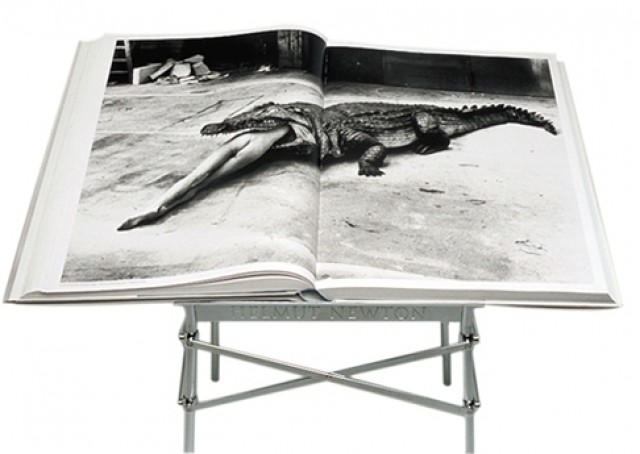 SUMO, edited by June Newton, features a wide selection of over 400 pictures, most of which are published for the first time, covering every aspect of Newton's outstanding career in photography: from his stunning fashion photographs, which pointed the way for generations of photographers, to his nudes and celebrity portaits.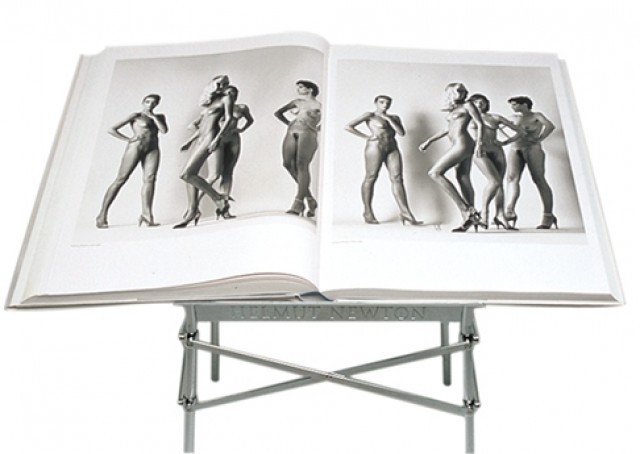 My last book today is Blinds and Shutters by Michael Cooper. This is the same photographer I mentioned above, but this is his very very special book. Here's some images (I couldn't find very many) and a blurb from the Snap Galleries website.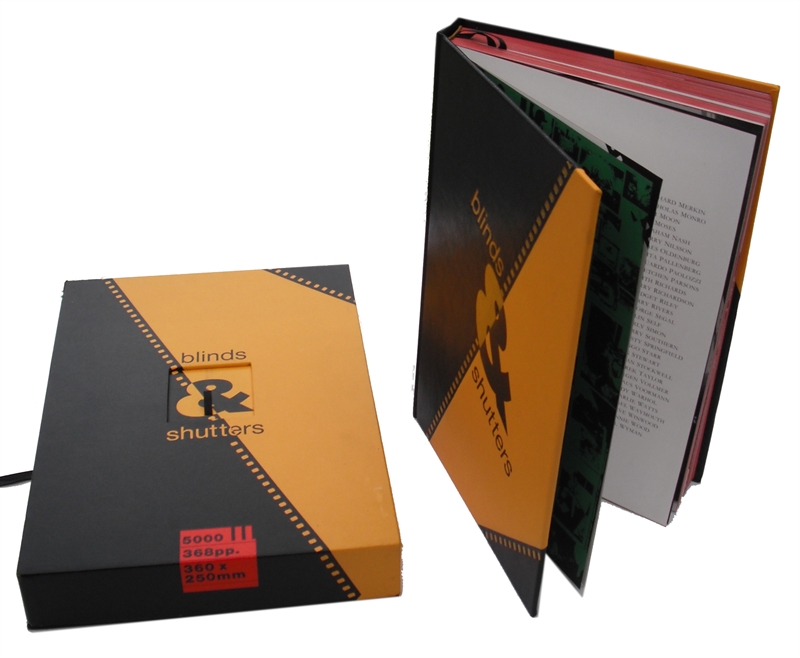 Blinds & Shutters is a journey through the 1960s, and has been internationally acclaimed as the definitive cult chronicle of that decade. Each volume has a variety of thirteen different contributors signatures which means, no two copies are ever the same. Copies signed by Ringo Starr are the most desirable.


Photographer Michael Cooper worked with leading musicians including, The Rolling Stones, The Beatles, Marianne Faithfull, Eric Clapton, artists such as Francis Bacon, Andy Warhol, Peter Blake and David Hockney and writers like William Burroughs, Jean Genet and Allen Ginsberg. He was never without his 35mm camera and captured some of the most intimate and confortable images with a vast collection of different legends from the 60s. Blinds and Shutters is limited to 5,000 copies.
Forgot to include prices above, in case you are feeling flush, here they are (in USD): Playboy book: around $1000, Helmut Newton Sumo Book, around $15,000, and Michael Cooper's Blinds and Shutters, $4000.