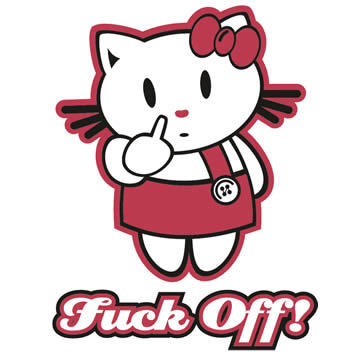 I definitely think that North Americans are a little less generous than the British when it comes to using the F word. I agree its vulgar and rude, but at the same time, its effective and straight to the point. I know I say it too much, but after living in London for ten years, it becomes a part of your day-to-day vocabulary. One of the biggest challenges here in Vancouver is NOT to say it in work situations, with clients or in front of students.
I suppose I became desensitized to the F word when I studied at Central Saint Martins, under the tutelage of Professor Louise Wilson OBE. Louise is the MA Fashion Course Director at Central Saint Martins, and, after my mother, is probably the person who has had the most impact on me as a person, and whom I credit for shaping me into the person I am today.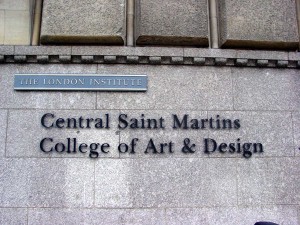 I remember during the last week of my MA, while we were finishing off our collections, I said to my friend Richard (Nicoll, a fantastic designer) that we would remember our times at Central Saint Martins as the best times in our lives. He told me that I was crazy, and he was dying to get out of there. Only a few months later, he said that I had been right.
I've decided to talk about Louise today because there is a fantastic article in the Guardian about her and the MA at Central Saint Martins. The article makes her sound terrifying but portrays her as one of the most influential people in the fashion world. I think when she describes her students as "lazy fuckers" she is being quite kind. She used to call us the "tragic cunts." (Sorry, I know that is a very, very bad word, but it is a quote.) I've also been told my work is "shit", I should lose weight, and that we were all hopeless. She told me I was going to fail the course so many times, that I had planned to give up fashion become a surf bum in Cape Town.
But this hasn't stopped me from admiring and loving Louise. The hell she put us through prepared us for an even worse hell: the real world. I remember my first interview after my MA course at CSM was with Christopher Bailey at Burberry. He laughed at my work. Most people would have run off sobbing, but I didn't really care. I was used to much worse. (On that note, Burberry did hire for a project me shortly after…)
What the article doesn't fully explain, and what Louise doesn't fully prepare us for, is the fact the 18 months in the MA studios is a holiday compared to the upwards battle you have to fight to be successful in the fashion world. I had already worked for Sonia Rykiel by the time I was at CSM, so I knew what the industry is like (and Sonia Rykiel is pretty easy compared to some brands who do everything at the absolute last minute.) We graduated at a pretty bad time, right after 9/11, so jobs were scarce, and there weren't many options. Almost everyone started their own business, or opted to take a more quiet route in fashion. After the Burberry project, I started on my own business, and then when that wasn't making me millions, I too opted for the quiet route.
When I look at the other graduates from my year, and other ex-colleagues from the industry, I see that nearly everyone is either a slave to the industry, or has chosen to have a life, which means a much more modest profession in fashion.
I chose the latter, and here I am in Vancouver, not having done a twelve hour shift in several years, and having time to watch TV, walk my friend's dog, maintain a healthy relationship with my husband, and get eight hours of sleep a night. Then there's Neil, who left his designer job and is now teaching fashion illustration classes in New York, something he loves to do (check it out, Harbor at Dawn.) Jens (Laugesen) started his own business, and was a slave to it for many years. The only thing I have heard people say about him since he gave up his business is "he looks amazing." Oonagh writes books and teaches and does projects when she wants. Dean teaches and has his own collection, but its low key and he still finds time to have a drink at the pub.
On the other side, there's Jonathon, who has been working like crazy over the past few years, first to build and then to maintain his business, and I cant even begin to imagine how he must be feeling right now, as the brand is at that stage where it will become a major player, or fade away. Bora and Miki who got a lot of attention after graduation, but then had to compete with the many new brands being launched every year. Kim, now at Dunhill, who is facing some tough criticism from the press at the moment. Another example is Susanna who is senior designer at Dior. Yes, she gets nine weeks holiday, yes she can afford amazing 5 star hotels, but she hasn't maintained a normal social life in years. Last time I was supposed to see her, we had booked a trip to the Swiss Alps, and she had to cancel the day before because John wanted to do fittings. Did I mention her boss Steven died at a the age of 38, from a heart attack after many years of complete and total dedication to John Galliano and his work. I am sure I was not alone in thinking "that could be me if I continue to work like this…"
My friend Julia who started as Carine Roitfeld's assistant, and then moved on to be a successful stylist at French, US, Japanese, and Chinese Vogues, is quite a sad story in my eyes. She was one of my best friends, but I gave up on her when she was too busy to RSVP to my wedding invitation. Florence used to sleep under her desk when she works at Alaia and now she has a job she enjoys with L'Wren Scott (Mick Jagger's girlfriend), but it's a small company and she works extrememly hard (I definitely didn't complain when we walked down the red carpet with the Rolling Stones at their Shine A Light premiere in London, but I can assure you that there's a new degree of stress when you're not only trying to run a fashion business but also being surrounded by some of the most famous people in the world.) Avshalom, who did a short spate as creative director of the relaunched Ossie Clark brand, only to have it shut down shortly after. His own line still exists, and although he has two young children, he still has a bed set up in his office.
The higher you are, the harder the fall.
So, as much as I respect Louise and credit her for preparing us for the world of fashion, no one can prepare you for the real world, which is in many ways far more terrifying than being called a "tragic cunt", or a "lazy fucker". And I am sorry to all those fashion hopefuls out there thinking that the industry is all about glamour and fun. Yes, those things are definitely involved, but the industry gives a new definition to the term "slave to fashion."
On that note, I am now going to have dinner and lie in front of the TV for a few hours. I'll get up at 8am tomorrow, do a one and a half hour yoga class, go home and make myself lunch, and then do a bit of work and attend a meeting in the afternoon. The only deadline I have in the near future is the next blog post, which is not very stressful at all. Maybe I'll get bored of this soon, but it is so nice, for once, not to be tired all the time.
I am sure most of the people mentioned in this article will agree that our time as fashion students were some of the best times of our lives. Students who are reading this, take note, and enjoy it while you can.
I was going to change names in this article, but then I would have had to change brands, and that would have defeated the whole purpose. I hope I haven't offended any of my old classmates and friends, good luck to those of you still slaving away.
Images: Hello Kitty source, and all catwalk images from Style.com. Will Broome illustration from his website.