Spending time in London with some old friends reminded me of some of the crazy things I used to do while I lived in London, and one of those was my career as a DJ. Oonagh and I decided to be DJs one day when we realized that there were a lot of cool records in the Oxfam shop for £1 each (7 inches like Billy Idol's White Wedding, Vanilla Ice's Ice Ice baby, Salt'n'Pepa's Push It, and Survivor's Eye of the Tiger.) My flatmate at the time, Andrew, had a set of Technics 1200's (which I now own, silly Andrew sold them to me for VERY cheap.) We got our first gig at a London Fashion Week party (don't ask how, this was before the days where every single celeb and model were a DJ too) so we chose some songs, practiced our set over and over again (yup, that was not cool) and played our first set. We also made sure to get ourselves DJ names, mine was Stiletto. It was really fun.
Fast forward a year later and I found myself starting a club night with my friend Konrad. We can't quite remember how we came up with the name Karate Boots, but I do remember being utterly bored with all of the club flyers out at the moment (people, this was pre-Facebook days), and trying to come up with a really cool concept that would get people's attention. It happened in my kitchen or his bedroom (Karate Boots headquarters), probably over a bottle of wine. We decide to print stickers with our club info and stick them onto other people's flyers. The idea was cheap, and genius, but required a lot of man power. So we got more bottles of wine, bought a whole bunch of black markers, printed out a bunch of stickers, and stole a bunch of other club's flyers. We rallied up a bunch of friends into my kitchen, and we made flyers. It is sort of sad that this sort of thing doesn't happen anymore, because everything is done digitally. Here are some of our Karate Boots flyers.
Omar soon joined us as the third member of the Karate Boots team (he was drunk all the time, but was a great DJ and had a lot of friends who followed him around everywhere.) So here we were, Alexandra, Head of Operations: sober most of the time, organizes everything, keeps drunk Konrad and Omar under control, Konrad, Artistic Director: designs flyers and blanket hangings and turns up three hours late at every club, and Omar, Head of Publicity: gets his (famous) friends to turn up at the club, and DJs good tunes. Actually, we all DJ'ed good tunes.
We ran Karate Boots for two years, and it was pretty crazy. Konrad and Omar were out of control at the end of every night, so I had to deal with counting all the money. Konrad would show up late, and often play the same song four times in one set, because he'd had too many beers. Omar was barely standing by the end of each club night. I was tottering around on very high heels, flirting like crazy, and screaming at everyone. We always screamed at each other at the end of each night. But somehow we managed to turn it into one of London's best club nights. We never thought it was one of London's best club nights, but apparently Kiera Knightley and a whole bunch of other celebrities did.
A typical Karate Boots playlist would include:
Johnny Cash – Ring of Fire
Martha and the Vandellas – Heatwave
Guns'n'Roses – Sweet Child O' Mine
The Sonics – Strychnine
The Ramones – Sheena was a Punk Rocker
Human Beinz – Nobody
AC/DC – You Shook Me All Night Long
and most of this was on vinyl…
Here are some photos.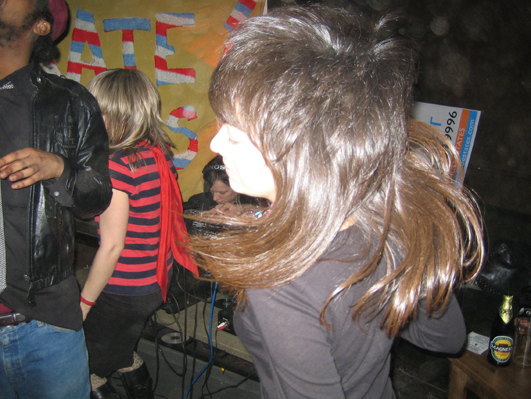 We got really excited when this NME piece came out. Out celebrity list was gaining credibility: Sadie Frost, Keira Knightley, Amy Winehouse…
Unfortunately, due to events beyond our control, Karate Boots ended a few months later. Although there were many requests for us to start it again, aside from a very successful reunion night, we put it to bed. I thought it was better to end on a high.
Now can someone suggest some awesome club nights here in Vancouver?