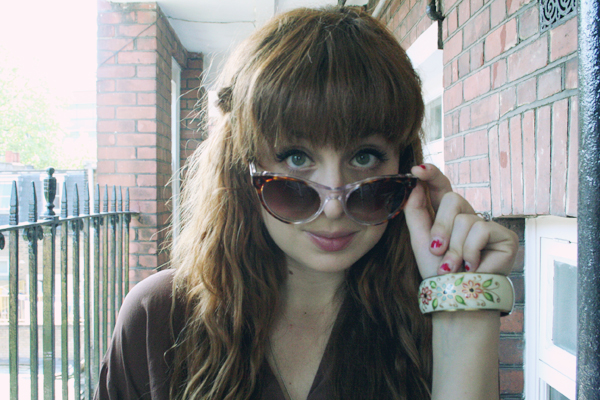 In the fashion industry, they say it's all about the connections you have. Throughout my time in Europe, I made a lot of connections, some were people I networked with, some were friends who became business associates, and some were business associates who became friends. Laetitia Wajnapel, aka Mademoiselle Robot, was an acquaintance from my Camden pub days, whom I reconnected with recently, and who now has a very successful fashion blog.
Mademoiselle Robot is more of a "me" blog, which covers Laetitia's tastes, favourite things, outfits, and other fun things. The Telegraph has named her one of Britain's best fashion bloggers. Although she's a very different woman now from when we first met (a mother, married, and a well-known fashion blogger), there are a few things that haven't changed: she knows what she likes, she says what she likes, and she's not afraid to be straightforward. For this Fashion Chat, we talked about her native France, the fashion industry, and weddings.
Here's the deal with the Fashion Chat interviews: they are done on Skype using the chat function. I do edit them down a bit, but try and keep the general flow of the conversation. And I definitely sort out the spelling mistakes, since I am guilty of very bad writing when I'm chatting and typing very quickly.
Alexandra Suhner Isenberg: What have you been up to today?
Laetitia Wajnapel: I finished a couple of bits and pieces for the blog and some clients and then at 9.15 decided to take the day off as it is finally sunny here… I met up with some friends in the afternoon and we had a picnic in a park while my daughter was playing. I just had excellent news regarding a TV show I might do in France as well…
ASI: Can you tell us very briefly how you got into blogging, and what you did before?
LW: Right. I worked as a journalist in Paris for a few years before I moved to London. I was writing about videogames though, so nothing to do about fashion. I started the blog when I was on maternity leave, just after my daughter was born, and I was really bored just watching her sleep so I thought it'd be a good time to get back to writing more. I created the blog for that. I didn't really mean for anyone to read it!
ASI: Cool, well, apparently lots of people want to read it!
LW: Now they do, but at the beginning there were only 20 people reading it every month!
ASI: And it has lead to lots of other really interesting projects…you seem to have a million things on the go. Tell us about a few of the exciting ones.
LW: I have a few VERY exciting ones going on at the moment but I can't speak about them yet – all I can say is that they involve TV shows. Apart from that, I am starting to get into editorial styling a bit more, doing quite a lot of work to help brands get online… I did some work for a show on Channel 4 (judging a fashion competition.)
ASI: Judging fashion competitions can be fun, are they students?
LW: For this show, they were, I think one of them might even have been in high school! They basically had only a couple of hours to build an outfit with £100 on the theme "underwear as outerwear." It was pretty fun to do!
ASI: So, you are French. Is London the best place to be for doing all of this? Are you planning on staying?
LW: I find London much more exciting than Paris, work wise. I think I am definitely going to stay a while. Especially now I am properly settled with a husband and a kid! Maybe one day we will all move somewhere else, but I really don't see myself move back to Paris.
ASI: I'd like to talk about French fashion, since we both know a bit about it. Do you think your style is very French?
LW: I think my style is getting less and less French. Of course I still keep many elements of French style but mainly when it comes to "less is more". I do feel a bit odd when I go back to Paris, style wise I do feel a bit out of place there. And you know Parisians; they have a knack for looking at you funny if you look vaguely different.
ASI: Yes, I definitely know! Which brings me to Paris… French fashion used to be all about elegance and tradition, when I lived there in 1999 and 2000, everything was so "grown up" but you could sense people were wishing for change. In recent years there has been a great deal of innovation coming from French brands, retailers, and people within the industry. What are your thoughts on the French industry right now?
LW: To be honest, I haven't been paying much attention to it at all. All I can say is that it is still really tough for young designers to make it in Paris.
ASI: Yes, that is true, compared to London, who has always been great at supporting young talent, and New York is improving.
LW: I know I write about fashion but I don't like mixing too much with the "industry" so I tend to stay away as much as I can… I like fashion that's very much anchored in reality, every day life.
ASI: That's interesting…and now that you point it out, it seems your blog is definitely targeted at consumers and normal people, rather than the industry.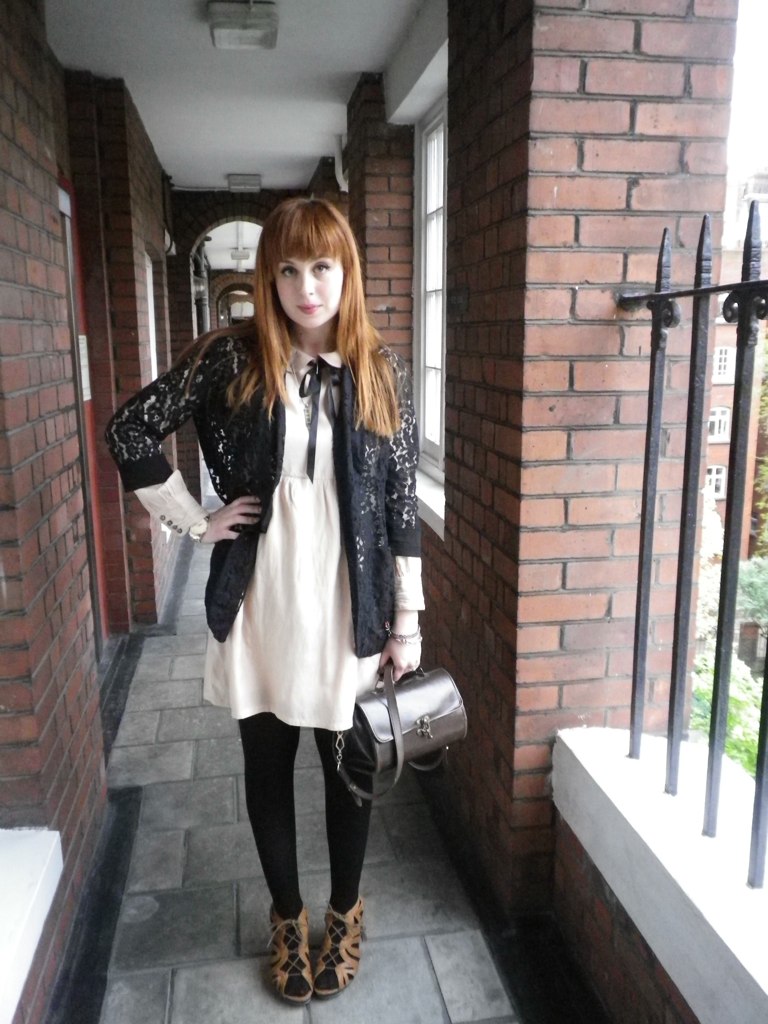 ASI: Which brings me to your styling. You have a styling service, which is described as "NOT scary stylists, coercive coaches or pushy personal shoppers", tell us a bit about it, and the type of work you have done.
LW: I am really interested in psychoanalysis, so I like to style with a therapy angle. I see it as a therapy for the outside… When I work with my clients, I like to have a continuous relationship, where I help them really assert their personal style and making it coherent with the rest of their life. I am not interested in just taking people shopping, it is pretty pointless. I have long term clients with who I have done a complete style overhaul, turning their life upside down and starting from scratch. Generally they do this alongside a regular therapy.
ASI: Amazing. Who are your clients? Women, I'm guessing… Can you tell us a typical age range? Are they Londoners?
LW: Mostly women, but I have had men too. Age range is generally around 30-35. But I have had a 17-year-old girl recently. Most are London based, and I have a few clients in Paris too.
ASI: I wanted to talk a little bit about how the stylist has become a bit of a celebrity. I know you are nothing like Rachel Zoe.
LW: Haha no!
ASI: But it is interesting that nowadays people know what a stylist is. In fact, its not just stylists that have become household names, it is almost everyone behind the scenes in the fashion industry who are now known to the public. Do you think this has had a positive impact on the industry?
LW: I think on the whole it is a good thing that people behind the scenes get recognition in any industry, not just in fashion. I am not sure whether the impact is positive or negative. I know on me it has a negative impact as I feel like my brain is getting cluttered from having to remember too many names and who does what. I liked it when all you had to remember was the name of the designer. Now you gotta remember a gazillion more.
ASI: Ok, I really hate to bring up the subject of weddings, since I am anti-wedding…but you and I both seemed to have "anti-weddings," meaning no bridezilla and not spending tens of thousands on "the big day."
Here's a post about Laetitia's wedding.
LW: I don't like weddings, I am not a fan of anything that comes with a whole "etiquette" and shitloads of expectations from other people. We wanted to save our pennies to go on honeymoon instead.
ASI: So what would you suggest the best way to do it is?
LW: To me what's important is to have a wedding that best reflects what kind of couple you are. And I find that generally people just have weddings that look like everyone else's wedding because of social pressures and stuff. We wanted something simple and nice. The idea is to have a good time with friends and family. We celebrate being together just by… being together. So the marriage is just a piece of paper. A very expensive piece of paper.
ASI: Nice way of putting it.
ASI: Back to the social pressures thing, I think there are a lot of "social pressures" in the fashion industry, but that seems to be changing, because of all these non-industry people, like bloggers, having a voice. One of my favourite things is the magazines complaining that the bloggers get free gifts.
LW: Yeah I know. I am always like "erm…. I seem to remember clearly being showered with gifts and press trips when I worked for magazines." There is a divide (between bloggers and journalists) in the access we get to different things, but it is getting smaller and smaller. And there is a big difference in quality from magazine to magazine and from blog to blog. But that won't change.

ASI: What are some of the magazines you love?
LW: I read LULA religiously from cover to cover. I like it because it just exists outside of trends and in a way almost outside of the industry. I subscribe to ELLE UK, which I love. I read Grazia from time to time. I have to say I am not a big magazine consumer. I don't really have time anymore… I get Vogue from time to time if the cover is attractive. Or if an editorial in there is interesting,
ASI: Which is rare…I think, unless its Italian Vogue…
LW: I think magazines like Cosmopolitan in the UK and Biba in France are pretty appalling. Marie-Claire is kinda annoying as well what with their "we are the fashion magazine of the thinking woman" BS. I just want to tell them to shut up and work on their fashion spreads.
ASI: Since we have talked about students a bit in this interview, and I teach a lot of fashion students, what would you suggest to people trying to get into the industry?
LW: Gosh! I have no idea! My motto is always "if you do what you love, then you will succeed." So I guess I'd say make sure you really want into this industry because if not you will probably be eaten alive, spat out and eaten again. And then puked up somewhere!
All uncredited images from Mademoisellerobot.com.
Read other Fashion Chat posts: