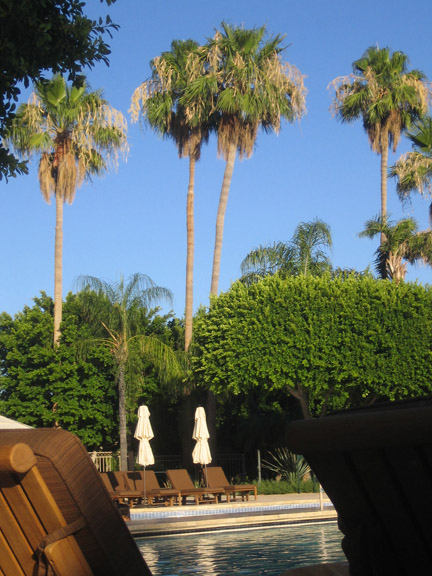 The 5 star hotel is my paradise. I wish I could say I've spent a great deal of time in beautiful hotels, but unfortunately, it is usually a once or twice a year occasion, which is why I savoured every moment of my stay at The Phoenician in Scottsdale. I guess I have been fortunate enough not to have spent huge amounts of time traveling for work (which is NOT glamourous, despite most people's impression that it is) so when I am in a hotel, it doesn't feel like an office away from home office.
The trip to Arizona with my Mom was about relaxing. She told me that is was 42°C there, "It will be too hot to do anything."  "Exactly," I said. "We are going there to do nothing." And aside from the short shopping trip which resulted in a major shoe drama, we did nothing but eat, sleep, read, and sunbathe. It was summer in Arizona, so luckily for us, the hotel was not at its busiest, because of the heat (which is dry and not that uncomfortable. And when you are lying next to the pool in the shade, it feels just fine.)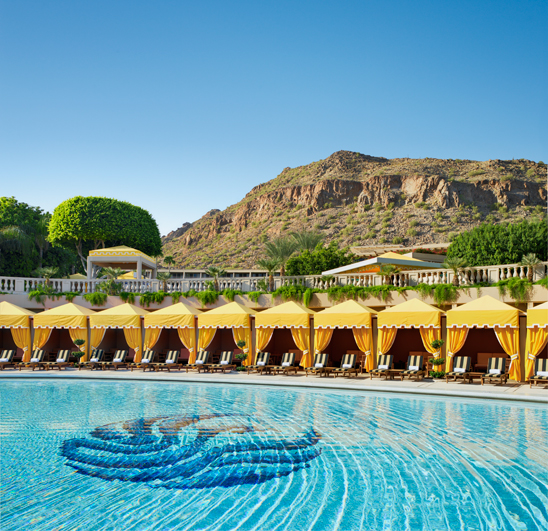 Here's what to love abut The Phoenician.
The service: No surprise that the service at a good hotel is great…but it is important to mention because that is one of the main reasons I go to a good hotel. Even the woman cleaning our rooms was super friendly and nice.
The rooms: Again, rooms in 5 stars are usually all very nice, but I am giving extra points for having an air conditioning system that is well-regulated, so we weren't shivering inside our room.
The beef: The J&G Steakhouse was amazing, and so were the kobe beef burgers we ate in the golf clubhouse. There is also a really nice cheese and wine shop in the hotel that does free tastings every day.
The pool: The pool staff were super attentive and they made sure we always had towels, ice water, and frozen margaritas, all necessities when poolside.
The quiet: There were some children at the resort (terrifying, I know) but they all seemed to migrate to one pool area, and therefore we we left undisturbed.
The stuff to do: Should you choose to actually do things during your stay, The Phoenician has an award-winning tennis garden, a 25 million dollar art collection, a championship golf course, and a fantastic spa.
The backdrop: Palm trees and desert. Stunning.
The location: Barneys, Nordstrom's, Anthropologie, J Crew, and more are a 1o minute taxi drive away. What is better than feeling like you are in the middle of desert, but knowing that there's a Barney's within shouting distance. Heaven.
And some loathes…
Internet and Gym: I thought these things were always included when you booked a room, but it seems that this is not the case in North America. I didn't want to pay $13 a day for internet and $10 a day for the gym, so I didn't bother. And my trip was the better for it, it kept me away from my computer and the treadmill.
We got an amazing deal through Expedia, so if you are looking for a few days in the sun, I highly recommend it. And if you get there fast, you may catch the end of the summer sale at Barneys.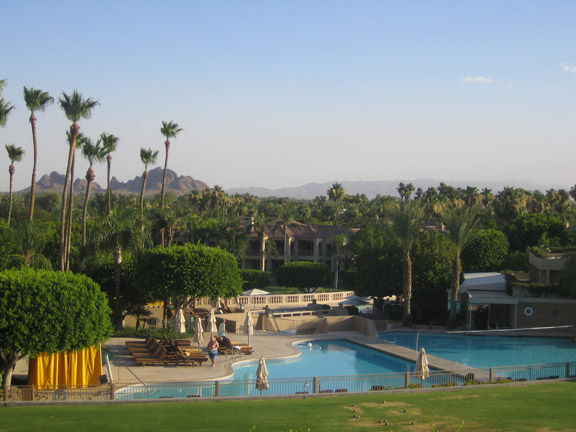 Don't forget to check out Searching for Style's first giveaway here.