I love a great retro swimsuit, they are perfect for summer social events, like pool parties or hanging out on a boat, because they offer a bit more coverage while you are "socializing." But they aren't great for tanning… which is why I think you only need one great retro swimsuit (while you can own at least 20 great Brazilian style bikinis!)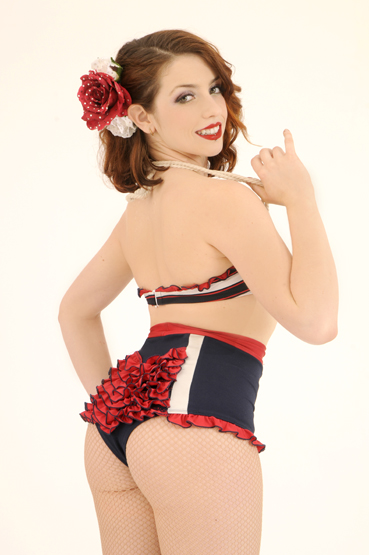 These Scout Boutique suits are very cute, and I'd love one to wear this summer. But I won't go one about this for too long, since they are only available in the store in Vancouver, and that doesn't help the 90% of my readers that don't live in or around Vancouver.
These images also remind me of when I did a lingerie photoshoot with a burlesque model or dancer, rather than a typical lingerie model. There is such a difference, the burlesque girl is SO much better at cute, cheeky poses than a normal model, and the one we used didn't need any instruction at all. The perfect lingerie poses came naturally to her. Her name was Delilah, she now lives in San Francisco (and she is Canadian!)
If anyone knows some other great retro bikini brands, let us know!