Last night I saw Lady Gaga's Monster Ball tour. It was by pure luck that I got a ticket, thanks to my lovely friend Hannah, who invited me and my husband and some friends into one of the executive suites (nothing better than going to a concert where you have your own private toilet.) After the concert, I realize that it was an idiotic move not to have purchased a ticket to the concert, because if Hannah hadn't come along, I would have missed it, and that would have been a travesty.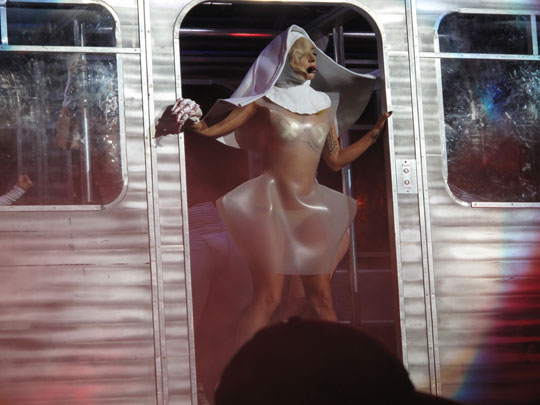 I am a Lady Gaga fan, but not an obsessed one. I just think she is great, and ever since I saw those early pantless photos of her, I thought "Wow, she is different." And considering all the celebrities today, who are boring, fake, and bordering on ridiculous, here comes a woman who is blatantly ridiculous, on purpose, in the most fashionable way possible. The music is pretty good (she is clearly a talented musician) and of course I am a fan of her clothing. She has put some very interesting people into the spotlight, particularly Nicola Formichetti, who does a lot of the styling on her videos. You can read more about him here.
Cathy Horyn once described Lady Gaga as the "ugly ducking" and I completely agree.  Aside from her slim physique, there is nothing about her that is traditionally beautiful or sexy. She is short, has small breasts, a big nose, and a very "nasally" voice. But she exudes style, confidence, and grace, which makes her one of the most beautiful people in the world right now. She is sexual, without being sexy, and her awkward dance moves and bizarre outfits make her almost assexual…despite the fact that she is often walking around in a bra and panties. I've never encountered someone who has manged to create such a strange persona.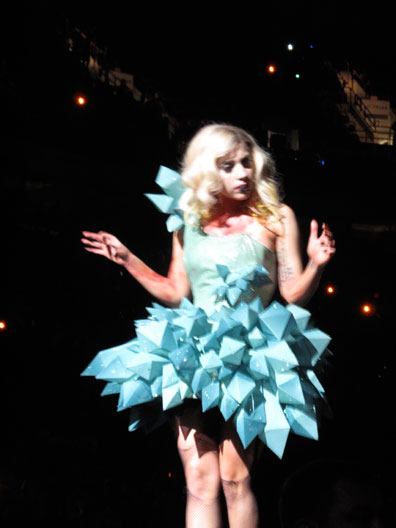 My husband (who's become a fan ever since I showed him the Bad Romance video a few weeks ago) says she is a reflection of our times, and it is an interesting point. He wasn't referring to her presence in social media, although the fact that she is one of the most followed profiles on Twitter certainly demonstrates her ability to use the "modern" forms of digital communications to market herself as a brand. He says that her songs all refer to our world today. Telephone reflects our obsession with our cell phone "You called, I can't hear a thing. I have got no service in the club, you see, see… (…) And I cannot text you with a drink in my hand." He also said Teeth was about our obsession with vampires "Take a bite of my bad girl meat (bad girl meat.) Take a bit of me boy. Show me your teeth." There's no doubt her lyrics are an excellent reflection of the times.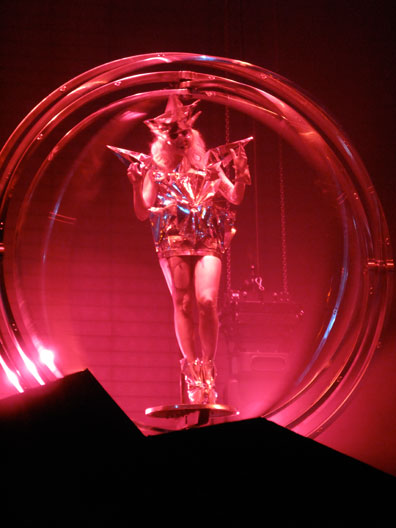 She is a superstar is every way possible, but connects with her fans in an incredibly approachable manner. She loves them, talks to them, makes fun of them, and somehow manages to get very close, but still be on her pedestal. She claims that her fans always come first, and it is nice to see a musician actually stating the blatantly obvious: without fans, you don't sell records, and therefore you are nothing.
The fans are in fact one of the best parts about the Lady Gaga brand. I've included a few photos of the ones I saw last night, it was so nice to how everyone made such an effort to dress up for the event. A great performer is nothing without great fans, and Lady Gaga's "monsters," as she calls them, are a very loyal bunch. I love going to a concert when you have an enthusiastic audience who are thrilled to be there, and no-one seemed more thrilled than the little monsters.
As for the show, there was great music, effects, stage, and outfits. She played 20 songs, and kept the audience entertained the whole time ( I would know this, as I paid attention the whole time and refused to tweet, since I knew the rest of the arena would be tweeting on my behalf.) I admire Lady Gaga's ability to maneuver herself in those binding, uncomfortable costumes, and still manage to dance, sing, and move with style. Her troupeau of dancers (who now probably have the most enviable dancer jobs in the world, recently replacing anyone who danced on Madonna's Blond Ambition tour) were an odd group, as you'd expect, but complimented her perfectly. Anyone who is considering buying a ticket to one of the remaining dates, I say do it! You don't want to miss her.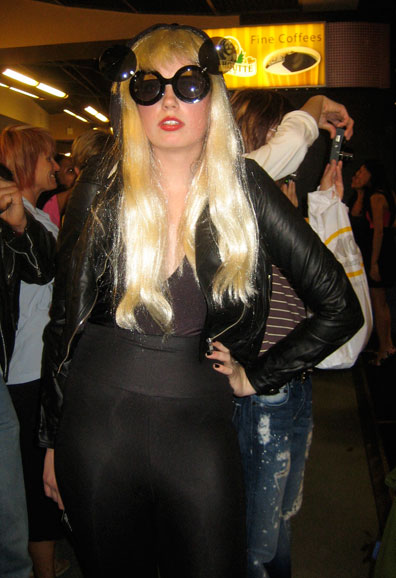 I'd like to end by saying thank you to Hannah and Jordan for the tickets, and Patrick Zhan (one of my students) who kindly supplied the stage photos in this post. I'd also like to say screw you to the miserable security guard who made me leave my studded Sonia Rykiel Domino bag in the car. She told me studs aren't allowed in the venue (apparently orders from the Lady herself…I think not!) because they were "dangerous". She was obviously a very sad woman, working security in a parking lot, jealous of my gorgeous bag and the even more gorgeous entourage I was with.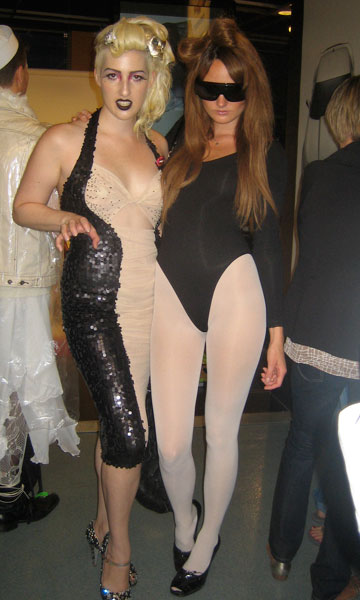 All Lady Gaga photos by Patrick Zhan and all fan photos were taken by me.