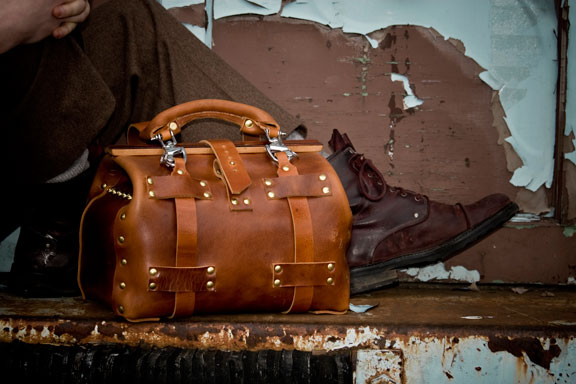 I discovered Palmer and Sons through Hypebeast, which is surprising, since they are a Vancouver brand. But I've started to learn that most of the best things in Vancouver are secrets… Palmer and Sons is definitely a well-kept secret.
Palmer and Sons is a bespoke leather and luggage company, who make handmade, to-order items out of their studio in Vancouver's Eastside. I met with Nik Palmer (the father, who is English), who has a background in computer games, but opened a large space for painters so that they could access affordable studio space. He then began making bags and luggage, and two years after the first piece was made, he says the business is now "full on."
What is interesting about this business, is that it is far from typical. There is no stock (aside from three samples I saw) as everything is made to order. They don't wholesale (the product would be too expensive) so they only sell online. Most of their customers are in the US, but there are a lot outside of North America (and a few Canadian ones, but Nik says it is so bothersome to deal with the Canadian taxes, he prefers international customers.)
The company has two rules: they try not to be too digital (which Nik admits is hypocritical since they only sell online) and they try and source locally. This means that most of their leather comes from the US (there aren't many tanneries around Vancouver.)
He showed me a few skins in the studio, the leather is extremely thick and beautifully finished. They source their finishings almost like found objects, using pieces that are made for other industries. The hardware on the bags are mostly equestrian and marine hardware, like panic clasps (which are used in riding, so when you fall off your horse and are being dragged, the clasp will open when it is under pressure) and marine shackles. The wood handles are handmade.
Palmer and Sons describe their bags as "Contemporary Workmen Gear," which sums it up perfectly. There is something effortless and almost rough about their product, despite it being precious and handmade.
For more information, or to place an order, check out the Palmer and Sons website.