Yesterday we were discussing our favourite season, and it dawned on me that there might actually be people out there whose favourite season isn't summer. I spend months planning my summer wardrobe (which is a bit of a joke, since I tend to wear the same three outfits the whole time), my summer holidays (slim pickings this year, but I am really looking forward to the Okanagan next weekend), and my summer beauty routine (no makeup, lots of sunscreen.) If only I spent more time planning my fall and winter wardrobes, which require a lot more clothing, layering, and planning, perhaps I'd be better equipped and avoid wardrobe dramas at 6am.
Anyway, I am trying to plan some sort of uniform, so I can just throw on something every morning and look good. This uniform will require a lot of t-shirts, usually to be worn underneath sweaters. It is so hard to find a great t-shirt, especially since Uniqlo and COS don't have stores in Vancouver or don't sell online (Damn you!!!!) Here are a few nice, long-sleeved tees.
Petit Bateau is the go-to for t-shirts, in fact, when I first moved to Paris, I remember Americans used to line up outside their shop to buy plain t-shirts. Personally, I don't know what the big fuss is about, yes, their t-shirts are great, but they aren't exactly re-inventing the wheel. But I love this Henley tee, with the little row of buttons down the front. They have some nice colours too, this shade, called Love, would make for a nice dash of colour in my otherwise black wardrobe. $78 from Petit Bateau.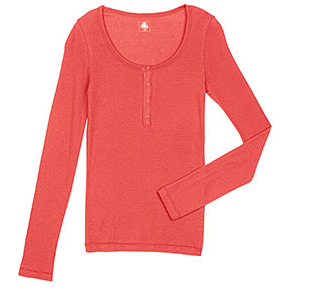 I love the sleeve slits on this Gucci top, although I'd never wear it with tight leather trousers (which looks gross.) The sizes are XS, S, and M, although this looks like something you'd want to wear a bit loose, maybe an L…don't think that is what Gucci intended though. Viscose jersey top, $750 from Gucci.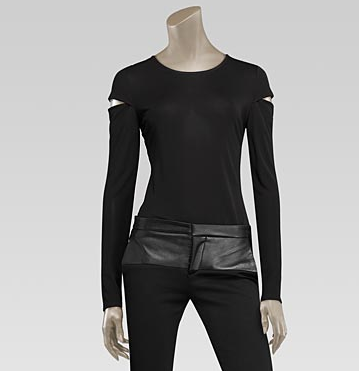 I was unfamiliar with Kain until I saw this fantastic draped jersey top on Net a Porter. This silk jersey top is a steal at $105, from Net a Porter.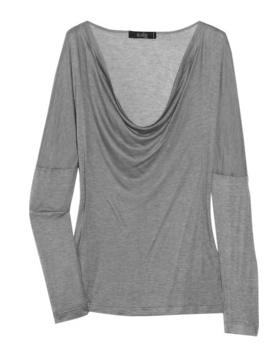 Alexander Wang is the first brand that comes to mind when I think trendy designer t-shirts, so here is a great one in a lightweight, almost sheer fabric. I love that the sleeves are very long, such an easy, good-looking feature to add to a top, yet hardly anyone does it. $81 from Alexander Wang.