I've been posting close-up pictures of shoe from the catwalks (see my faves from New York, London, and Milan) and I've had a lot of people say that the models shoes don't fit, their toes are going over the edge, or their feet are gross. Yes, it is true, this often happens, and there is a reason why, which I am going to explain in today's Fashion 101.
When you are working for a big company and you are going to do a fashion show, you get shoes made (for some brands, the shoes are part of the collection they sell, for others, they just make them for the catwalk.) Someone (a shoe designer, or some of the garment designers) comes up with a catwalk shoe design and a prototype gets made. There are usually a few versions, maybe two or three styles of shoes in a range of colours each.
The catwalk shoe is usually designed at the last minute. While clothing collections get made over a six month period, the pieces that will make it on to the catwalk are only decided a few weeks in advance. Sometimes this means making up some new versions of the clothes, or creating some crazy pieces that are only for the catwalk (these are called press pieces.) Usually a stylist helps with this (that's another 101 in itself.) So designers often don't know what's going on their catwalk until a few weeks before the show, and that is when the shoes are made.
Once a shoe prototype is approved, they place an order for the catwalk shoes. This is a tricky process, how many shoes do you need for a catwalk show? Well, let's say you have 20 models, and each model wears 3 outfits (this is a big show.) Some models will have outfits that will not all match with one pair of shoes. Others will be able to wear the same shoe for all three outfits. What size are the models? We don't know, because sometimes models aren't finalized until the day before the show. So it is a crapshoot. For the numbers above (20 models, 60 looks), you'd order about 40-50 pairs of shoes and hope for the best. Most of them would be in sizes 39 and 40 (models are tall and have big feet) but you need to stick in a couple of 38's and 41's for good measure.
The factories that make the shoes often work for several companies, and everyone needs things in a mad panic around fashion week. When I was at Sonia Rykiel, the company that made our shoes also made shoes for Louis Vuitton, so they were making shoes 24 hours a day the week before the shows. A guy would fly in from Italy with our collection shoes, usually arriving at midnight the night before the show, and someone would meet him at the airport. He'd get off the plane, hand us our boxes of shoes, and then get on the plane back to Italy. It was faster and more secure than using DHL. The shoes would stink of glue that was still drying as they'd been constructed ten minutes before the flight.
After the initial excitement (hopefully happy excitement, not angry excitement) of seeing the catwalk shoes, the looks are prepped. Each model is assigned their shoes (one or two pairs) based on their comp card (an oversized postcard with some photos and their measurements) and the outfits they are to wear. But sometimes you don't have the right sizes, or the comp card is wrong, so you give them whatever you have and hope for the best.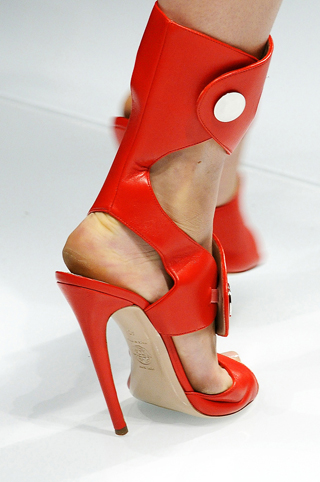 Any backstage dresser will be armed with an arsenal of insoles, double sided tape, and scissors. When the models arrive for their hair and makeup, you make sure the shoes fit. If they don't, there is sometimes an option to swap. If not, you make them fit. That can mean stuffing a big foot into a small shoe (much easier to walk in than a small foot in a big shoe), or you make the big shoe fit the small foot. I used to layer different sizes of insoles in different places on the shoe to make sure the model can confidently walk to the end of the runway and back. Sometimes mistakes are made (Burberry had some falls this season) but generally it tends to work. But yes, sometimes a model will have to shove her foot in a shoe two sizes too small which will result in toes going over the edge.
Another point I've heard from my readers is that models feet are gross. Can't argue here, these girls have a job to do, and that is to look beautiful, and no one wants to see a close up pic of a dried up heel. I don't understand why they can't slather their feet in cream and stick socks on before they go to bed, so their feet look nice. But that isn't always the case, and sometimes the girls have bashed up feet from walking in badly fit shoes day in and day out. Makeup artist or manicurists only have a limited time to prep the girls for the catwalk, so sometimes foot cream gets overlooked. Thankfully it isn't that noticeable, unless you are like me and sticking up giant foot close-ups on my blog for shoe scrutinization. I just ignore the foot and focus on what is important: the shoe. I'd suggest you all do the same.
Read other Fashion 101's:
The Fashion Supply Chain
Why Luxury is Expensive (The Carré d'Hermès)
Copyright Laws in Fashion
How Magazines Cover Trends
Where do Fashion Trends Come From?
Designers with Two Jobs
How Haute Couture Works
Magazines and their Advertisers
All images from Vogue.com.