When I tell my fashion students that going to fashion parties is not always fun, they look surprised. Yes, theoretically, it is fun to go to parties where there are lots of good looking people, free food and drinks, and you get to leave with a goody bag full of treats. But in reality, they are not always as exciting as they sound, they are work. First of all, you can't turn up looking like a slob, so there is the pressure of making yourself look good (fashion parties in Paris were so stressful getting ready for, I once did a week of wardrobe consultations with designer and stylist friends for a Dior party.) Secondly, you have to be on your best behaviour, this is work people! And speaking of people, you'll see the same ones over and over again, which is great if you like them (which I do) but tiring if you have other friends that never see you because they don't go to fashion parties. Lastly, fashion parties takes time out of my sofa + husband + puppy + Law & Order evenings, which are usually far more fun than fashion parties.
A fellow blogger pointed out to me a few weeks ago that she rarely sees me at events, and that is because I don't go to many. I prefer to spend my evenings at home or with friends and family, rather than doing work events. But of course I make exceptions, and if it is a good/important/interesting event, I will make the effort to get off the sofa and show my face.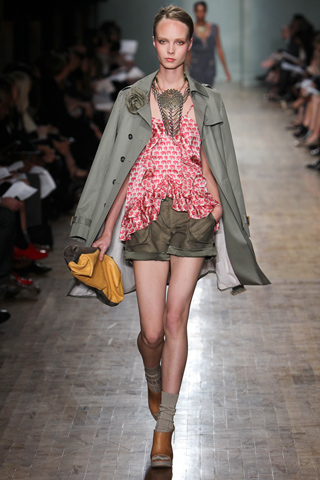 When I saw Banana Republic's Spring Preview invitation, I knew this was one not to miss. Tait PR, who organized the event, basically managed to host the best possible fashion event in the world, combining everything you could possibly want:
It was at lunchtime. Hallelujah! Actually, not just at lunch, it was from 10:30am to 1pm, so we could book in the 30 minute slot that suited us best. During work hours. And short. Perfect.
Secondly, there was a manicure involved. I'd go to an Ed Hardy event if there was a free manicure. Ok, not quite, but what better way to get a blogger's attention than sit her down in the Fairmont Pacific Rim Hotel's Willow Spa and give her a great manicure while she watches two models show off Banana Republic's spring summer collection.
We left with a goody bag AND a lunch to go. So if you spent your lunch hour at the event, like I did, and therefore didn't have time to eat, you'd be sent away with a lovely little packed lunch. SO thoughtful!
Valet Parking. Valet parking is possibly the best invention in the world, and when an event says "Valet Parking" (meaning we don't have to pay for it), I am there. I have a minor parking phobia, and if I know that my car will be safely tucked away by a lovely man in uniform while I get my nails done and look at some pretty dresses, the event will look that much more desirable.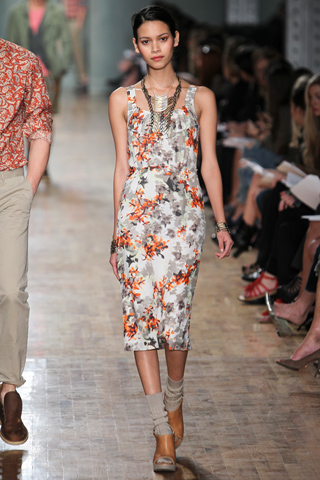 I know most of my readers don't get a chance to attend these events, so I tend not to write about them much, but I really had to share today's joy. And if you are wondering about the collection, that was quite nice too. Lots of gorgeous cross-body bags, beautiful statement jewelry, utilitarian jackets, and pretty floral prints. I have posted some of the catwalk images here, but I'll tell you more about the collection in February when it comes out in stores. Meanwhile, Banana Republic has lots of gorgeous chunky knits in stock right now, I think I am going to pick one up this week to keep out this ridiculous cold!
And speaking of great events, Lola Home and Apparel hosted a lovely event last night, celebrating their new location at 510 Beatty Street in Vancouver. The exciting part was they are the first store in Vancouver I have found that sells Diptyque. Finally, I can get my hands on more fig candles. The bad news? They only had one left in stock, which I bought. Or is that good news? Probably the latter, as I would have probably spent a weeks worth of wages on candles if I'd had the chance.