Most of you are probably well-versed in the world of selvage and raw denim, but if you are anything like me, and are not particularly obsessed with denim, then this post might be of interest. It is not that I don't wear jeans, in fact, I wear jeans a lot, but I just don't get obsessive about shopping for them. Usually good jeans just fall into my lap, either I happen to find a nice pair in a shop when I wasn't looking, or my friend Julie, who buys a new pair every week (well, almost) gives me a bunch of old ones she doesn't wear anymore, and then I'm sorted for another year.
Although I don't actively seek out raw denim, or fancy brands, or selvage jeans, I am  always interested in fashion processes, and especially ones relating to luxury products. So I asked Brandon Svarc, from Canadian denim brand Naked & Famous, to explain to me the real story behind selvage and raw denim. Here it is!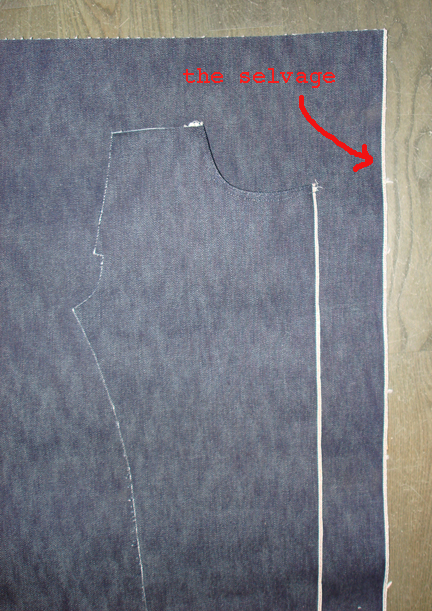 First, let's start with some fashion terminology. The selvage is the term for the finished edge of fabric. Imagine a roll of fabric, the two sides of the fabric that don't fray or come apart are the selvage. So every woven fabric technically has a selvage, but selvage denim refers to denim that has a closed selvage.
Back in the 1800's, denim used to be made on a loom called a shuttle loom. The shuttle was loaded with the weft yarns (the warp yarns are the dyed yarns in denim, and the weft are the un-dyed years that act as "filler" for the denim. That is why some jeans are lighter on the inside. ) and the weft yarns are thrown back and forth over the warp, and this is how the denim is woven. The selvage of the denim therefore is closed.
In the 50's, companies like Levi's decided they wanted a new system to make denim. The shuttle looms were slow, and they only made fabric 30 inches wide, so they switched to projectile looms, where the yarns are cut instead of being thrown back and forth. The selvage therefore has looser edges, but is 60 inches wide.
All the selvage denim brands have returned to denim produced on shuttle looms because it is better quality, and it is the traditional method of producing denim. Brandon uses an analogy of watches, to explain why someone should be willing to spend more on a pair of selvage denim jeans. He says that new digital watches are probably more durable, and have more functions than a Swiss watch that uses perpetual motion. But why do we want the Swiss watch? Because there is value added to a product that requires more human effort and more skill to produce. (This in itself is a concept I'd love to explore further one day.) Brandon explains that selvage denim is more difficult to make, it is handmade, whereas the new stuff is mass produced. Selvage denim about heritage, and we all now how "cool" heritage is right now.
So, selvage denim jeans are cut so that the outside seam is along the selvage of the denim. It looks nicer when you roll up your cuffs, but it slightly limits the shapes you can create with denim, as you need to have a completely straight outside leg seam (the outseam.) That means that any tapering or flare needs to come from the inside seam.
Now onto raw denim, what is it? Raw denim is essentially denim that hasn't been washed or distressed. In theory, all denim is raw at the start, but a few years back, thanks to brands like Diesel, we started wanting our jeans worn out, distressed, and destroyed for us. It certainly feels like a strange concept, to pay $200 for a pair of jeans that the company has washed, worn, and ripped for you, essentially shortening the lifespan of the jeans by a good few years. But for some reason, that is what many customers want. Raw denim has not been washed (for example, stonewashed or acid washed), distressed, or ripped, it is the fabric in its natural, original state. The idea is to wear and distress your own denim, so that it becomes a part of you, rather than pay a fancy denim brand to do that for you.
Naked & Famous was born as reaction to all the over-priced denim brand that use celebrities to sell their product. He hates that (I love meeting people who hate celebrity fashion!) His family has been in the apparel business in Montreal for 58 years, and Naked and Famous was born three years ago, basically to "call bullshit on on the industry." He explained that many of the big, premium denim brands (True Religion, William Rast) are essentially selling a pair of Guess quality jeans, but for $250. He decided to make a superior product, for less than half the price.
He explained why some of the brands are rip offs, and why he can afford to sell his jeans for a lot less than some of the other selvage denim brands, like Nudie and A.P.C. Firstly, Naked and Famous doesn't advertise, which brings down the costs. A page in GQ costs $127,000, and that is factored into the price of a pair of jeans, which makes them more expensive. Apparently J Linderberg was getting paid $4 million a year to act as creative director at William Rast, that too needs to be added into the price of the jeans. (Brandon admitted to only paying himself 3 million a year, so it brings down the costs. Just kidding!) Naked and Famous have a small team, so there are no agent commissions, no dsitributors, no sales reps, and no expensive overheads. They make the jeans in Montreal, and because there is no duty to pay when shipping North American products in North America (thanks, NAFTA), the prices don't have the added 18% import duty or extra taxes or shipping costs. That's why there aren't any brands that can compete with Naked & Famous' prices. Another reason to buy Canadian!
So now that you are convinced you need to run out and buy yourself a pair of selvage, raw denim jeans, hopefully from Naked & Famous, you want to know how you should care for them. Brandon suggests three methods.
For the denim nerd: Never wash them, wear them every day, and beat the crap out of them.
For the denim lovers who want the "effect" but like to wash their clothes: Wear them for as long as you can before washing them (3, 6, 12 months), then wash them inside out in cold water, and hang dry.
For the person who just wants a pair of dark coloured, good quality jeans and isn't obsessive about denim care: Wash them before you wear them to soften them up. Then wash them as often as you need.
You can buy Naked & Famous at stores like Barneys, Holt Renfrew, and many other retailers, and if you are in Vancouver, there is a temporary Times Profile Shop selling Naked & Famous open on 231 Cambie in Gastown. It is open until December 15th!
P.S. I put a lot of men's images here, but you should know that Naked & Famous also does women's jeans!
Read other Fashion 101's
Fashion 101: The Fashion Supply Chain
Fashion 101: Why Luxury is Expensive – Le Carré d'Hermès
Fashion 101: Copyright Laws in Fashion
Fashion 101: Where do Fashion Trends Come From?
Fashion 101: Magazines and their Advertisers