Ok, I could probably do a ten part post on this subject, as I'm a huge fan of skull jewelry and I have a ton of it myself, so I have limited myself to showing you four of the best places to buy skull jewelry online. Husband, take note for Christmas shopping.
For those of you who are thinking that skull motifs are out of fashion, let me clarify that they are never out of fashion and they are always cool. (Well, in my world they are always cool.)
Butler and Wilson. I have an extensive skull jewelry collection from Butler and Wilson, I love their super glitzy, over the top, crystal-encrusted skull pieces. They make Vivienne Westwood's pieces look very plain. From left to right, large skull head ring in topaz (£48), eight skull cross on beaded necklace (£118) and large aqua skull head on chain necklace (£48).

Alexander McQueen. Despite the Hells Angels lawsuit, this brand is still one of the best for skull jewelry. Left, silver crowned queen skull ring ($370) and right, silver warrior ring ($280.)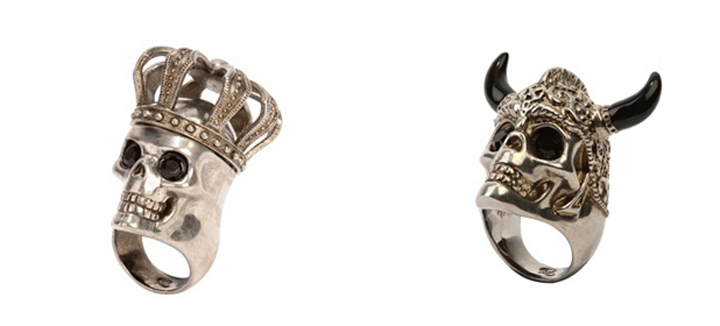 The Great Frog. The place where Alice Cooper, Ozzy Osbourne, and all the major rockers get their skull jewelry. Nuff said. From left to right: evil bastard skull ring (£95), skull belt buckle (£700) and large skull bracelet (£400.) All pieces are handmade in London.

Etsy. There are a bazillion different skull jewelry pieces on Etsy (ok, slight exaggeration with the numbers there, but the selection is vast.) Here are a few of my favourites. From left to right, Miss Skeleton ring ($24), Day of the Dead Turquoise Skull Earrings with Red Roses ($12.50), raven skull ring ($42), and skull and wings pendant ($9.99).