With spring around the corner (ok, hardly. It is still winter. But we are getting excited about spring because it means we get to buy new clothes and stop wearing tights) comes the spring and summer shopping guides. Most blogs are suggesting great items to buy, so today I've decided to tell you what not to buy. These five handbags are on my Must-Not-Have list.
1. The Stella McCartney Embossed Python Falabella Tote, $1275.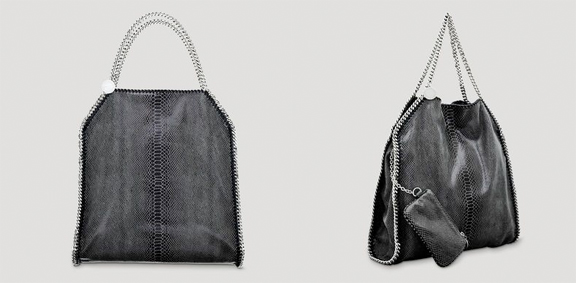 My long-time readers will know that I despise Stella McCartney and have good reasons for doing so, but I am also not afraid to say when I like something that she has designed. Let me rephrase, when I like something that her brand has designed. And although I respect someone's choice not to use any animal products (as Stella McCartney does) I find it shocking that she thinks she can still charge leather bag prices for her plastic crap. If you read my post on the making of an Hermès bag, you'd know that part of the cost of a luxury bag is the materials. So how can Stella McCartney charge luxury bag prices for "faux paython"? It boggles the mind. (Also, someone should tell Stella that her "faux python" is made from plastics that come from petro-chemicals, which are surely worse for the environment than a bit of animal skin?)
2. Judith Leiber Panda crystal-embellished clutch $5,400 (£3,450)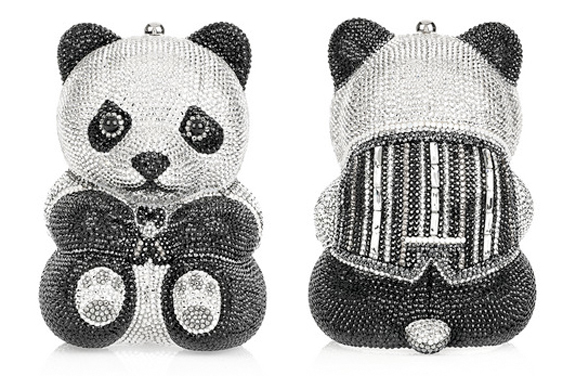 While I don't have a problem with buying a somewhat ridiculous crystalized animal toy as a handbag, for those nights when you need to add something silly to your outfit, I do have have a serious problem with spending over $5,000 on it. When I lived in London, £3,450 would get me three months rent, 10 pairs of designer shoes, or get my husband and myself to a superb resort in Mauritius (with flights) for seven days. So what would posses anyone, ANYONE, to spend that amount on a tacky, ridiculous clutch bag that can only be worn as a joke?
3. The Together Bag, by Thursday Friday, $35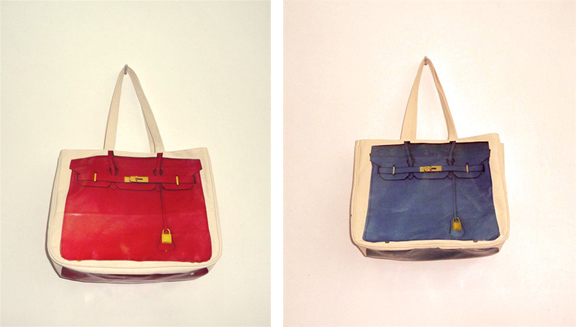 I think the canvas bag with the ironic bag "message" on it is OVER. Anya Hindmarch did a really ugly one, and my friend Oonagh did a really cool one in limited edition, but now we are done with it. Face it, the last thing anyone needs is another canvas bag. We all think we are being environmentally conscious by collecting re-usable canvas bags, but I now have more canvas bags than plastic bags in my house, and it takes a lot more to make a re-usable cotton bag than it does to make a biodegradable plastic one. Plus, this one is $35, which is $35 more than you should pay for a canvas bag (because they are almost always free.) AND, it has a 3 month waiting list. I'd wait 3 months for a real Birkin bag (hell, I'd wait 30 years), but not for a cheap, canvas imitation. Waste of time and money people.
4. Any bag from Juicy Couture.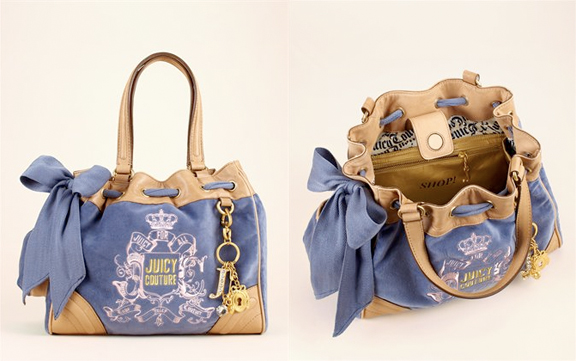 These logo monstrosities make me physically ill. Yet they continue to be made, and tacky (Vancouver) girls continue to buy them. Gross. If Juicy Couture's product was even a quarter as nice as their advertising campaigns, which are pretty good looking, the product would suddenly be one million times better.
5. Victoria Beckham Hexagonal Chain crocodile bag, $14,000 (£8,950)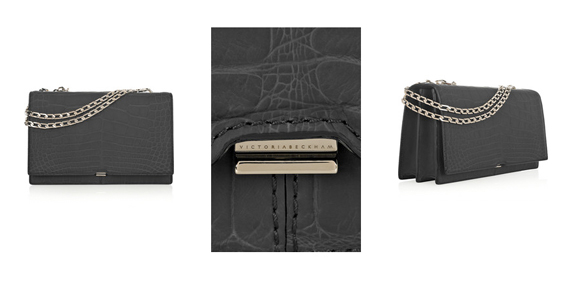 I can't write a fashion list without including at least one celeb-dissing. This time is is Victoria Beckham's $14,000 handbag. $14,000. You can buy two of the lowest-priced Hermès bags for that price. TWO HERMES BAGS. Imagine two Hermès bags versus one Victoria Beckham bag. Two bags hand constructed by some of the finest master craftsman in the world, made in France, and eternally fashionable versus one bag made by a tragic, talentless celebrity who has used her husband's footballing money to build herself a mock fashion empire based on a dress copied by Roland Mouret.
Victoria, if you believe so much in your ability to make luxury handbags, then surely you won't be needing any more of your Hermès bags? Right? I dare you to prove your belief in your ugly (probably poorly constructed) bags by donating all of your Hermès bags to charity. I dare you. Then maybe you will gain an ounce of respect from me.
Read more fashion lists:
5 New Years Fashion Resolutions for Vancouver Women
5 Worst Celebrities Who Meddled in Fashion
8 Reasons Why Sarah Jessica Parker Should Leave Halston