This is a list of the items of clothing that make up a fashion victim's wardrobe. Sure, you can own one or two of these things and MAYBE not be a total fashion victim, but really, if you have this stuff in your closet, it means you've fallen prey to the worst of the fashion trends. As I researched this list, I found tons of scary fashion items that we all want to forget (Crocs, Ed Hardy) but they didn't merit a place on this list. If your closet does have Crocs and Ed Hardy in it, then you don't deserve the title "fashion victim" as the word "fashion" should never be used to describe you in any way.
These are the items of clothing that have graced the fashion pages at some stage in the past few years, and many people have been sucked into thinking they would make a good purchase. They were fooled.
1. The bandage dress. Unless you own one by Alaia, then your bandage dress is a serious fashion victim garment. First of all, Herve Leger trained with Azzedine Alaia, and basically everything he did is an un-credited copy of Alaia. Then Max Azria went and bought the Herve Leger name, and now its under the BCBG umbrella, which means I don't rate it very highly. I am usually not a fan of skin tight mini dresses that show a lot of skin (except for Christopher Kane's St. Martins graduate collection), it makes many women look trashy and I think it is a cop out (too easy to just "wear something skintight.") And if you've bought your bandage dress in the past few years, well then you've clearly been ripped off as they are out of fashion, and still priced well into the four digits. That means you're a fashion victim, and you've been cheated out of a grand.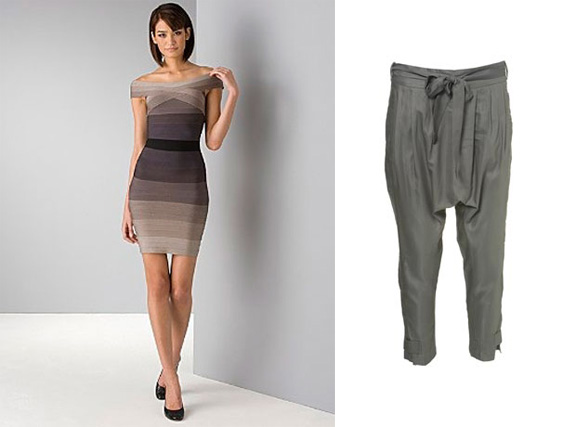 2. Harem pants. Yes, I have friends who wear these, and some of them can get away with them. But really, any trousers that are roomy enough to fit diapers underneath, or that emphasize the crotch, are bad news. I wouldn't even wear these to yoga.
3. Giant Lady Gaga glasses. Unless you ARE Lady Gaga (who can get away with anything on this list) those giant glasses just look ridiculous (sorry, Bryanboy, even you look a bit daft wearing those.)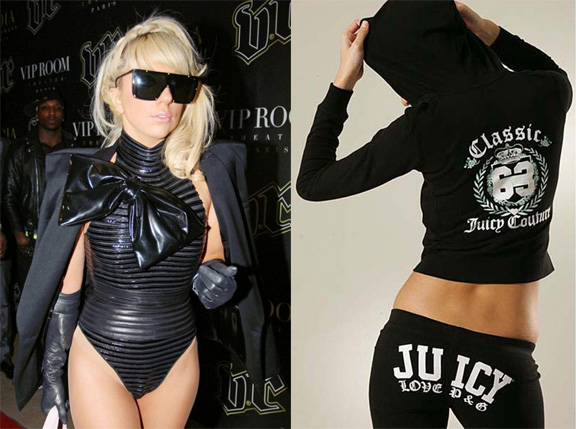 4. Juicy Couture tracksuits. Ok, I know that no one in their right mind would buy one of these now, but I'd just like to let you know that if you did buy one, way back when celebrities were wearing them (as if that's a reason to buy anything!), then YOU PAID $300 FOR A TRACKSUIT. And one you can't exercise in. That is the definition of a fashion victim.
5. Expensive ripped jeans. I have a pair of these. But they were given to me by a friend (so they were free!), who had originally bought them super discounted for $50 (down from over $200.) They look nice, so they might have been worth $50, but paying any more than that is a travesty. I never understood the point of designer jeans, as my best jeans have always been Lee, Gap, or Uniqlo. In fact, designer jeans are just a marketing ploy that fooled people into thinking jeans weren't good unless they cost upwards of $200. Did you fall into that trap? The worst ones were the ripped jeans. The ones I have tear further at the knees every time I bend down, which means I can probably only wear them five more times (and I've only worn them three times so far.) Why would you pay extra for someone to wear out your jeans for you, therefore decreasing their lifespan by a few years? The whole point of buying a luxury product is that it will last a long time, but here, you are paying A PREMIUM for someone to wear your jeans out for you. It is wrong.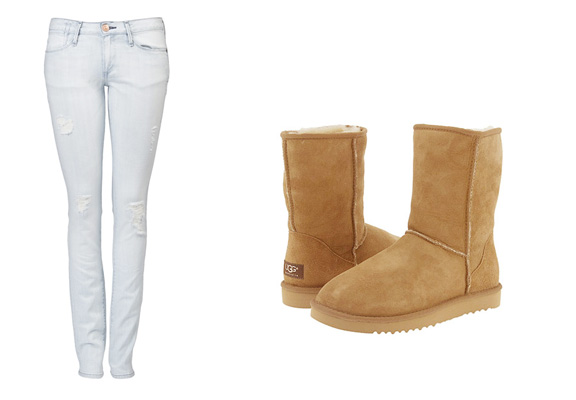 6. Ugg Boots. I don't care if they are comfortable or warm. So are a lot of other boots and shoes, and they don't look disgusting and cost over $200. If you want to wear something totally unsexy and warm and comfortable AND waterproof (which Uggs aren't) then here is my suggestion: got to Walmart, buy a pair of black rubber boots for $40, and then go to an outdoors store (or even better, buy them online as going into an outdoors store is very scary) and get yourself a really, really thick pair of knee high wool socks. Then wear the wool socks over your normal socks (so you aren't itchy) and put your feet into the boots and you have the most practical boots ever. They look better than the Uggs, and cost a quarter of the price. My rubber boots/wool socks combo got me through every dog walk down to the river this winter (except snow days, when I wore my Sorel boots) and I didn't look like a fashion victim once.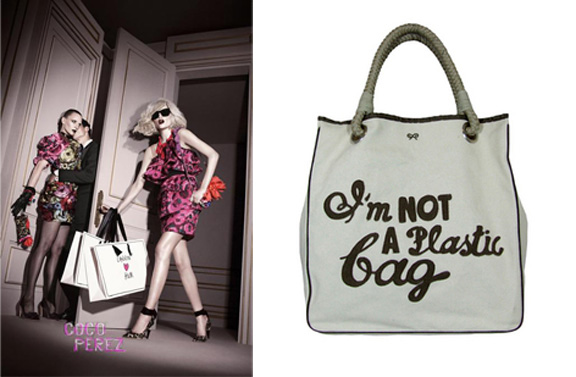 7. Any full-priced item of clothing that required lining up for more than 20 minutes. I say full-priced as I have friends who have waited two hours outside of an Yves Saint Laurent sample sale, but the discounts were 90%, and that is worth camping out overnight for. When a company makes you line up to buy their clothes, ESPECIALLY when this company could make enough to go around, but they choose not to so that people will line up, then we know their customers are fashion victims. Examples include the Anya Hindmarch "I'm not a plastic bag" bag and any H&M designer collaboration.
(But to be fair, if Anya Hindmarch hadn't launched the "I'm not a plastic bag" bag, then we would have never had these lovely parodies. Which one is your favourite? Mine is the douche bag.)

If you are male and wondering if you are a fashion victim, then here are two items to check for: a very deep V neck t-shirt, particularly if you are straight, and a fedora hat. If you have both of those wardrobe items, then you too are a fashion victim.
Read more fashion lists from Searching for Style.
Image sources: bandage dress, harem pants, Lady Gaga glasses, Juicy tracksuits, ripped jeans, Ugg boots, Lanvin H&M collaboration, Anya Hindmarch bag, parodies 1, 2, 3, 4, and 5.