When I was in London I bought my husband's wardrobe for the next two years. Ok, not quite, but I did buy him about eight or nine tops and/or shirts which should get him through the next year, at least. He doesn't really do trends, he just wears jeans, shirts, Converse or cowboy boots, and a biker jacket or pea coat. It is a pretty simple way of living, and in many ways, I am jealous.
Sometimes I try and encourage him to stray from the usual formula (I bought him a short-sleeved shirt in London!) and for the summer I am really feeling that he needs a pair of boat shoes. On holiday, flip flops aren't enough, and Converse don't look right in restaurants, etc… This is where the boat shoe comes in. It is the perfect I-am-casual-but-not-sloppy summer shoe. I know it is also a Dad shoe, but Dad shoes can be cool sometimes, right? Plus my husband is going to be a Dad by July, so he may as well get used to the wardrobe. Here are a few of my favourites for the season.
The Sebago dockslide (below left) is the ultimate classic boat shoe, and this black and white one is actually pretty good looking. Available online at Sebago for $150.

These Swims shoes (above right) are dangerously close to Crocs, because they are made of rubber. But they are good looking, something Crocs could never hope to be. They are made from rubber, and trust me, they are quite cool. I saw them in person. Available from Harry Rosen for $175.

The Quoddy leather boat shoe (above) is actually water-resistant! Perfect if you actually want to do some boating. Available from Mr Porter for $295.
The Lacoste Ordas shoe (below left) is great in grey. Available on Little Burgundy for $165.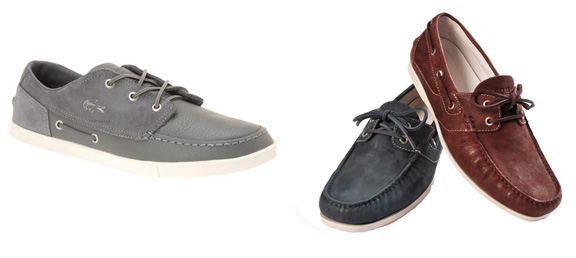 If you are like me and think that more expensive usually equals better when it comes to shoes (sad, but true) then the BOSS Black boat shoe (above right) is definitely the most expensive one shown here. Also available from Harry Rosen, $350 a pair.
I am actually thinking I'd like a pair of these for myself…as I am planning to spend most of my summer hanging down at the lake with my soon to be perfectly-behaved newborn baby…Wishful thinking….