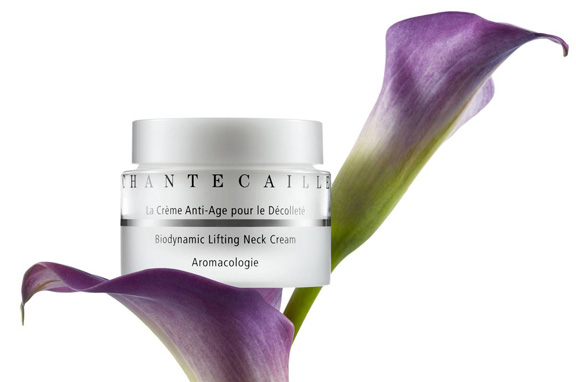 I interviewed Chantecaille's global makeup artist, Fernando Cadavid, a few weeks ago for Vitamin Daily, and during our meeting he introduced me to Chantecaille's biodynamic lifting neck cream. If you are like me, you probably thought "Neck cream? I don't use neck cream! SHOULD I be using neck cream?" After a minor panic about yet another neglected body part/essential skin care routine, Fernando explained to me why we need to take care of our necks.
First of all, there are no sebaceous glands in the neck (these are the glands that make sure moisture levels are optimum) so it is really important to moisturize in this area. (By the way, when we refer to neck, we are also referring to the decolleté, which is in the same category as neck.) Another issue is that there is no skeletal support of structure on the neck, just tendon and muscle, so the skin is more likely to loosen. Plus, the neck is the most moved part of the body after the eyelid, so it loses tightness faster than other body parts. Lastly, the neck is almost always exposed to the elements, which as we all know, is never great for skin and can often end in discolouration.
Fernando says the reason why there aren't many neck creams on the market is because it is very difficult to develop something that works well, considers all the above issues, and isn't super greasy (so that your clothes aren't stained.) Their neck cream contains poppy extract, which flattens fat cells into discs instead of spheres, and watercress, which diminishes the appearance of melanin. Plus a whole bunch of other natural, lovely ingredients. I've tried the product, and my neck definitely felt smoother and healthier. But I am sort of hoping I won't need to properly use one for a few more years… although that's just me being delusional about my age and skin condition.
Chantecaille Neck Cream, available at Holt Renfrew, $195.