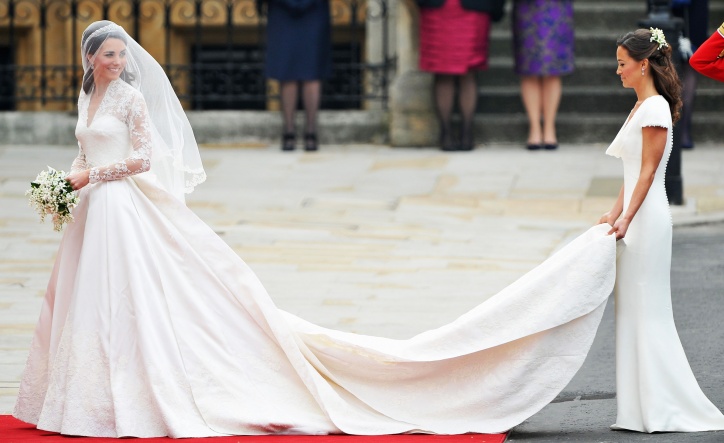 As I am not a fan of the royal family (you could go as far as to say I really, really don't like them), I wasn't intending on doing much for the royal wedding. I was planning on running to my computer the minute I woke up to see the dress, which was all I was really interested in. But of course, as the event approached, I ended up being infected with that horribly contagious royal fever…
First of all, as an assignment for Vitamin Daily, I had my hair done like Kate Middleton. This, I must admit, was a very fun press story for me, because I couldn't be more unlike her when it comes to personal style (although we have fairly similar hair.) It was nice to experience a look that I would never try myself… Have a look at the photos on the Editor's Diary.
Secondly, I was invited to take part in the Shangri-La Hotel's Princess Package, which involved a night in the hotel with a 2am wake up call, breakfast served in the private theater while we watched the wedding live, followed by high tea in the morning. Again, this is not normally the type of activity I'd choose to do, but to be honest, I'd get up at 2am to watch a hockey game in exchange for a night at the Shangri-La. Plus my Mom wanted to do it, so she came along. The verdict? It was fun. More on my amazing Shangri-La experience to follow in a few days…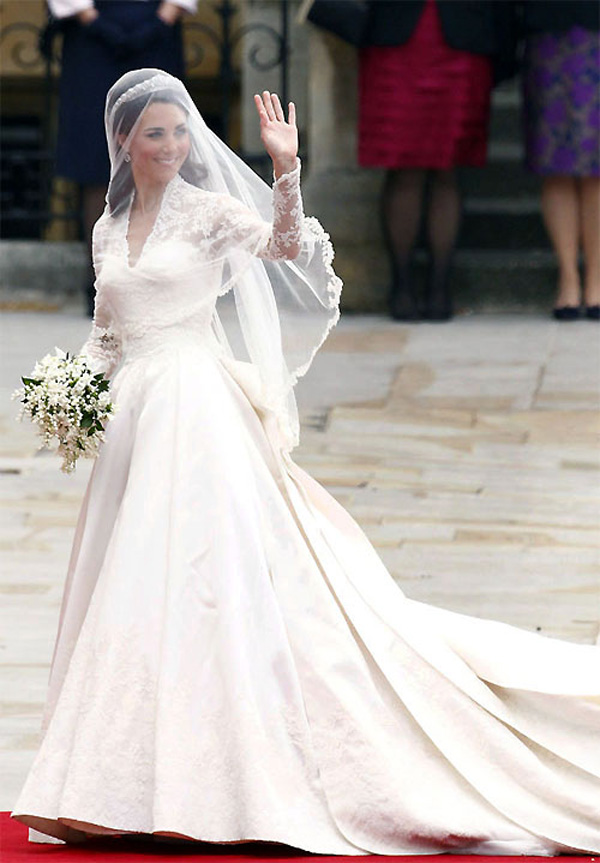 Anyway, I can't start the weekend without a few words on the dress. This will probably be the most critiqued dress in the history of time, so I will keep this short and sweet. I thought it was beautiful.
Ok, not THAT short. But I am so proud she chose Alexander McQueen as her brand, this shows that she not only has great taste, but that she is a modern royal. I loved the cut (come on, you weren't really expecting something crazy, were you?) Some people criticized that it wasn't very "McQueen", but for me it was more about the principle. Kate chose a leading British brand whose history include bumsters and armadillo shoes. It is a sign that she is nothing like her predecessors, which is a GREAT sign.
I truly hope that this will be the beginning of a sleeves trend. Strapless evening gowns are the bane of my existence, especially since most of us don't actually look good in strapless, and I can't wait to see people donning sleeves, not only on their wedding day, but hopefully much more on the red carpet too. For all the brides that have chosen a strapless wedding dress for their nuptials this summer, run to a dress maker and have them attach some lace sleeves. Now!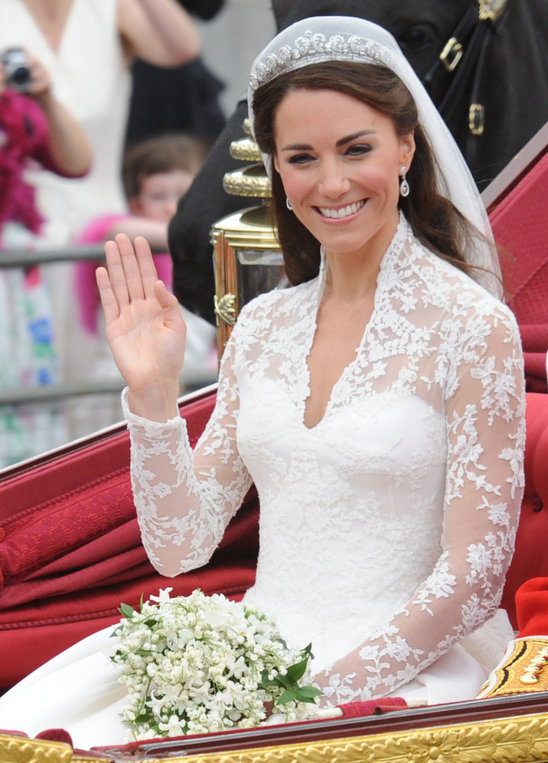 As far as the wedding goes, I really think that the entire expense should have been shouldered by the bride and groom's families. Apparently the British government spent £20 million on security, which I think it plainly wrong. The country is is dire straits financially, and despite this wedding being a very important national event, I feel the Queen should have paid for the entire thing. Twenty million pounds would been a lot of university scholarships, new trains, or a big injection into the NHS, which would have been investments that benefited a much larger group of people.
But anyway, it is too late to change this now, so let's just breathe a sigh of relief that she wore a great dress. (As did her Mom and sister.) Read Cathy Horyn and Vanessa Friedman's blogs for a great quote by Sarah Burton and the particulars of Kate's outfit.
Images from here, here, and here.