I am not a fan of Agyness Deyn, so the news that she is going to be making a modelling comeback is of no interest to me whatsoever. Actually, I could go as far to say I am a bit repulsed. First of all, to make a comeback, I'd suggest that the person goes away for long enough that people actually miss them. This is not the case with her. She hasn't been gone long enough for anyone to miss her. And another important element of a successful comeback is that she was well-loved to start with. I don't think Agyness Deyn was well-loved by the fashion community, I think she was a novelty model, favoured in particular by the Brits.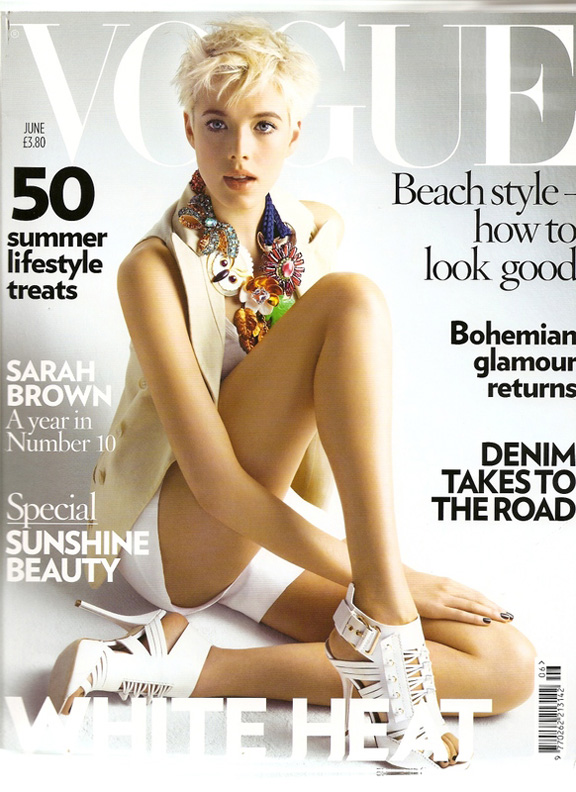 For me, a good model needs to have versatility, she should have a personality, but in many ways also be a blank canvas. I know this is a vague way to explain it, but when you think about some of the top models, Gisele, Kate Moss, or Daria Werbowy, even though their personality shines through, they have incredible versatility in their ability to portray different personas. Agyness Deyn did not have this ability, as she was always the lanky girl with short, bleached-blond hair, and kooky poses.
There are also other things I find incredibly annoying about her… While she has been on hiatus, she has been doing this terrible online magazine called NAAG, with one of her friends. It truly sucks. I also find it incredibly annoying that she blatantly promoted all of her talentless friends, her partner at NAAG, her sister's Uniqlo collaboration, and her never ending support of Henry Holland, who is possibly one of Britain's' worst designers. I know it is commonplace to help your friends out, but she has gone to extremes, given that her entourage is not exactly a bunch of creative geniuses. And don't get me started on the way the fashion world applauded her personal style. She can't put an outfit together to save her life.
So, long story short, unless someone manages to reinvent her and make her interesting/relevant/beautiful, and gets her to close her mouth, I am not looking forward to her comeback.
Images: top photo and bottom photo.