One of the most exciting things about Kate Middleton's wedding dress, aside from the fact that it was Alexander McQueen, was that it had sleeves. I hate strapless dresses.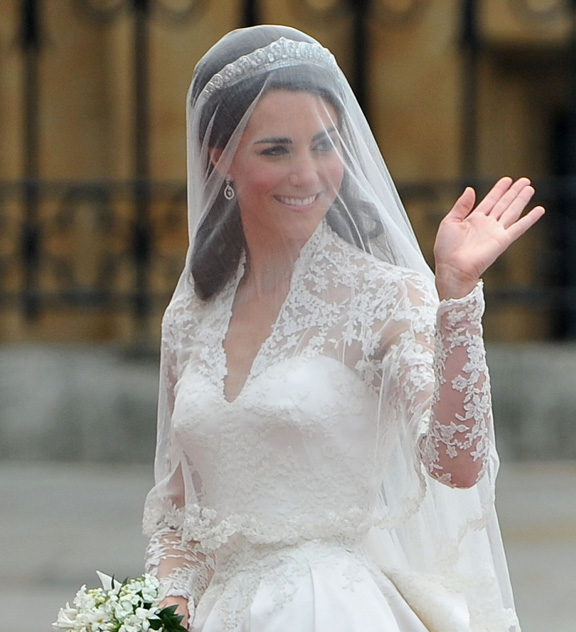 Don't get me wrong, some people look beautiful in strapless dresses. And some strapless dresses are beautiful. But most people do not have the shoulders to pull them off (me being one of them) and should resort to dresses with straps. For some reason, strapless cocktail and wedding dresses seem to be ridiculously popular, even for those without great shoulders.
Why? I don't know. It seems that wedding dress = strapless dress, particularly here in Vancouver. My friend Jason Matlo, who designs a lot of wedding and cocktail dresses, tries to add sleeves, but he always sells the strapless versions better than any other shape, although many can not pull it off. It is depressing.
(Another reason I hate strapless dresses is because Vancouver fashion students seem to have an obsession with designing them. If a student shows me a strapless dress design, it had better be super friggin' amazing, if not, I'll throw a spazz and make them go back to the drawing board. Seriously.)
Kim Kardashian's wedding dress was a hideous strapless meringue, and she is a prime example of a woman who should not wear strapless. I am not saying she looked fantastic in her two non-strapless wedding dresses (she had three dresses, all which were very unimpressive and unimaginative) but the strapless one was totally unflattering. It draws attention to her chest, but not in a flattering-I've-got-big-gorgeous-boobs way, in a one-boob-alone-is-bigger-than-my-head way. Seriously, look at her chest, and then look at her head. Scary shrunken head business going on.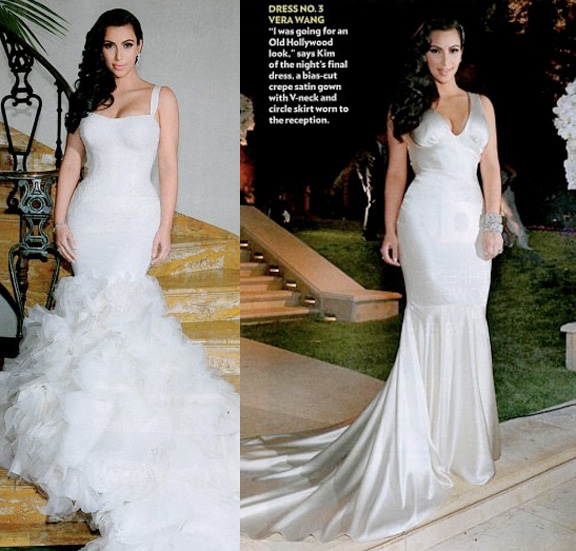 I'd like to draw attention to another one of my fashion loathes: the up do. Like most hair styles, the up do has its purpose, and can look good. Sometimes. But if you are already going to have a scenario where you boobs are going to look way bigger than your head, don't make your head look smaller by tying all of your hair back.
Kim looks better (note I said better, and not good) in her other two dresses, which have straps that can not only help to hold up her giant chest, but also lengthen her body instead of making her look like a giant set of boobs. She also has her hair down, which is far more flattering.
Anyway, all three of her dresses are pretty boring, predictable, and totally not special. Which comes as no surprise to me. Kim, you suck. So does Vera Wang, for designing them. And while we are on the subject of wedding dresses, can I get a HUGE round of applause for Sofia Coppola who got married in a pretty little lilac Azzedine Alaïa dress with her regular day-to-day hair and makeup. She looks perfect. We certainly can't say the same for giant-boob-tacky-dress Kardashian.

Kim Kardashian wedding images from People, and Sofia Coppola images from Fashionologie.
(Note to my friends who got married in strapless dresses: you all looked amazeballs.)