Vancouver's fashion scene had another boost two weeks ago when The Bay invited Brian Atwood and Erdem Moralioglu to the grand opening party of The Room (read about the amazing party here and their incredible new luxury space here.) I had a chance to sit down and chat fashion with both of them, so here is my interview with shoe maestro Brian Atwood.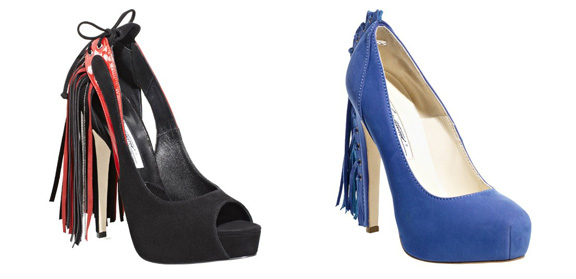 Alexandra Suhner Isenberg: Tell me a bit about your customer.
Brian Atwood: We are beginning to understand that these young girls are really into us, they relate some shoe brands to their mother, so they are grasping on to other brands. I was recognized at a restaurant by a 17 year old with her mother. That was really funny. She said "Omigod, I love your shoes." It says a lot about whose on social media, who is on twitter, who is following me. They want all of the information and they feel like they are part of what you are doing. Sometimes on twitter, if I don't have any ideas in my head, I will ask for suggestions for names of shoes and they do. My followers will feel like they are part of my creative process. They love that.
ASI: Since you have this younger customer now, do you find you have changed the way you design to attract them, or do you feel like what you do works for both an older and younger customer?
BA: Probably that. I am not alienating any customer.
ASI: I feel like the industry has changed so much in recent years, and I like to complain about how much the pace of the industry has changed so much.
BA: It's so fast.
ASI: I do catwalk reviews, and I can barely even handle the main four weeks.
BA: You travel to Europe?
ASI: No. Well, I sometimes do one week, like I did London last season but this season I couldn't because I has a baby four months ago. I don't know how people do all four weeks.
BA: That would be crazy.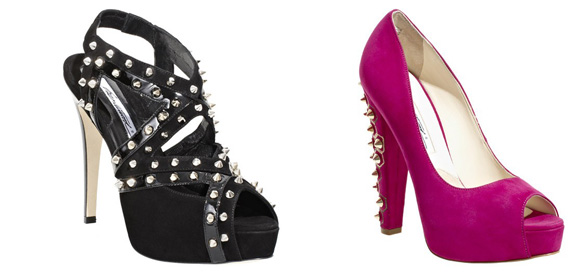 ASI: Sometimes you see some of the bloggers doing all four fashion weeks, and I think they are nuts.
BA: Yeah!
ASI: Even just trying to keep up with resort, pre collection, diffusion…
BA: There's more and more collections.
ASI: Do you feel that is impacting on footwear?
BA: Definitely. And you know, everyone is knocking off everyone, so you want to be a little more private as to what information you share, how much to you give to social media. I understood what Tom Ford did, very private, but there's got to be something that is not that private, but doesn't give everything away and still keeps people wanting it until you have it in the store. If not, people tend to lose interest after a while. I think there's a way to do both.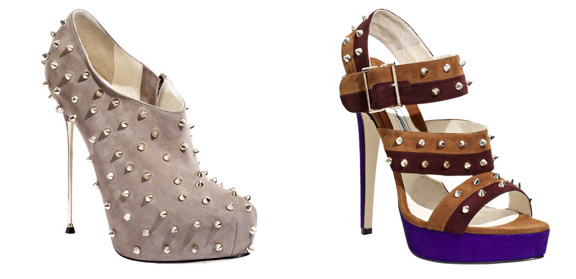 ASI: What do you think about all of the celebrities becoming fashion designers?
BA: Umm, well everyone is in a race to get their name on something. I don't think people without taste should be designing something. I think it is taking the word designer too lightly. If someone is putting their name on something, that isn't relevant, then they shouldn't be showing on the European runways. And it is insulting for the designers who know how to sew and who are in the ateliers working. Its not acceptable. I get that there is a place for it, but designers aren't trying to be actors. I understand that celebrities are creating a brand and they want to put their name on something, but it doesn't mean they need a fashion show. I respect Jessica Simpson, who has done an amazing job and created a huge empire, or the what the Olsen twins are doing with the Row. That's the integrity I like to see. I think it is more about those people having a passion for it, not doing it just for doing it. I think Victoria Beckham is doing a great job.
ASI: I'm not a huge fan of her stuff. But I agree about your points on the designer, I did my time in school, and people can't just decide they are going to be a designer tomorrow. That I find frustrating.
BA: Designers are someone who can be on their own with a model and fabric and know what to do.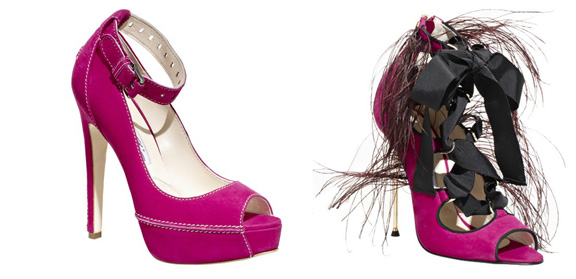 Or in Brian's case, can be on their own with a last and a great skin, and create a magnificent shoe.
I also interviewed Brian for Vitamin Daily, read the interview (and see me photographed with him) here.
All images from Brian Atwood fall winter 2011 collection.