Evening wear is the bane of my existence. Here's why.
1. The catwalks are full of evening wear. But why? How often do we wear evening wear? Hardly ever. I've worn full length evening wear twice: a my graduation, and to Jason Matlo's birthday party (because I have a full length Jenny Packham bias cut dress with a train that I know I will NEVER have another opportunity to wear!) I like the catwalk to be full of interesting separates, knitwear, day dresses, and great coats, stuff real people can actually wear on a daily basis. Not frouffy dresses.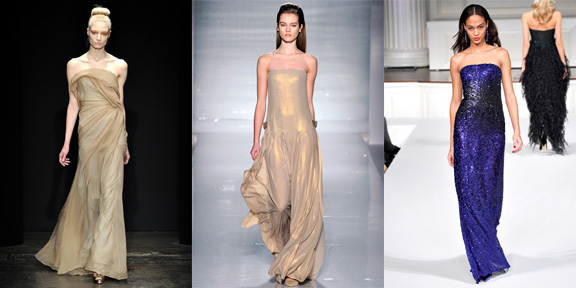 2. Evening wear is too frequently strapless. I HATE strapless dresses. Not all of them, but most of them. Not enough people seem to realize that you need to have great shoulders to look good in strapless, and not everyone has them. It is like a crop top, would you wear one if you didn't have a perfectly flat, toned stomach? No. So if you don't have beautifully shaped shoulders and a collarbone that looks "nice," then don't wear strapless. And don't think you NEED to wear strapless just because you are getting dressed up. The cap sleeve is totally underrated!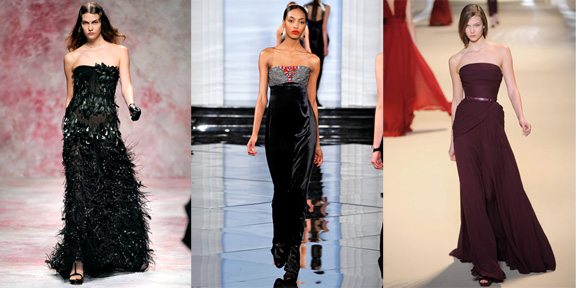 3. Evening gowns all look the same. Ok, not ALL of them, but so many of them. Imagine a long, tight, strapless dress in a fabric with a sheen. It is full length, maybe with a flared hem from the knees. Now, guess who made it? It could be ANYONE. 'Cause they almost all design one of those.
4. The red carpet is all about evening wear. And the red carpet seems to have such an impact on fashion (well, "they" say it does) but who cares if Angelina Jolie wore a long sleeve? Or Gwyneth Paltrow wore Pucci? Does this impact my life? No. But a bloody good pair of jeans that cost less than $200 sure would.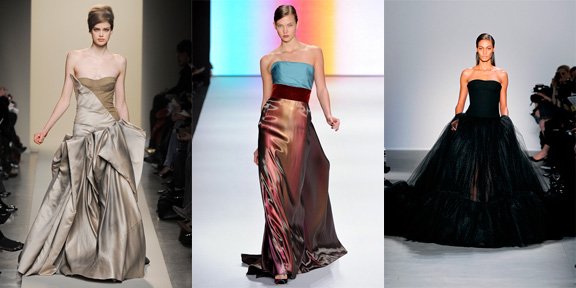 5. My students all want to design evening wear. It is crazy. I ask them, "How many evening dresses do you have? How often do you wear evening dresses." The answer is usually not many and not often. So why not design a nice shirt? Or a modern jacket? Why don't students want to design clothing that is cool? I hate when a student with great personal style designs dresses for a tacky mother-of-the-bride, instead of something they themselves would actually wear. I don't allow much evening wear from my students, because it usually looks lame, and is VERY rarely interesting. And strapless evening dresses are basically banned in my classes, unless someone is doing something that we haven't seen before. And THAT is very difficult to do.
Images from Style.com.
Answers (from left to right):
Top row: Roberto Cavalli, Versace, Ungaro
Second row: Donna Karan, Maxmara, Oscar de la Renta
Third row: Prabal Gurung, Ralph Lauren, Elie Saab
Bottom row: Bottega Veneta, Carolina Herrera, Giambattista Valli