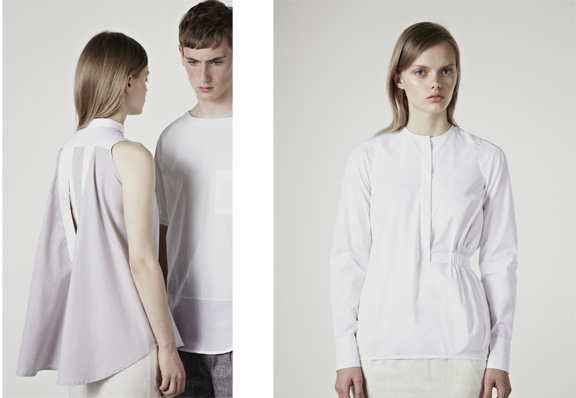 I've been wanting to write about Palmer Harding for ages, but for various reasons (me being slow, them having an exclusive with US Vogue, etc…) I am only publishing it now. But the good news is, you can actually BUY their lovely shirts today. Which is much better than me saying "Look at how fabulous this is! But you can't buy it for six months."
Anyway, I've got this email relationship with one of the designers, who wrote to me a few years back, and we've been in touch since then. Both Palmer and Harding are CSM alumni and their debut collection has been getting a lot of hype. It is all about a re-interpretation of the traditional shirt, which is a great product. I love shirts and in my fantasy world I'd be wearing a lot of crisp white shirts (that would also be a world where babies weren't drooling all over me, I had a top notch dry cleaners on my block, and I wasn't afraid of using an iron.) But back to the point, here is an interview with the boys from Palmer Harding, whose collection of men's and women's shirts is available from Avenue 32.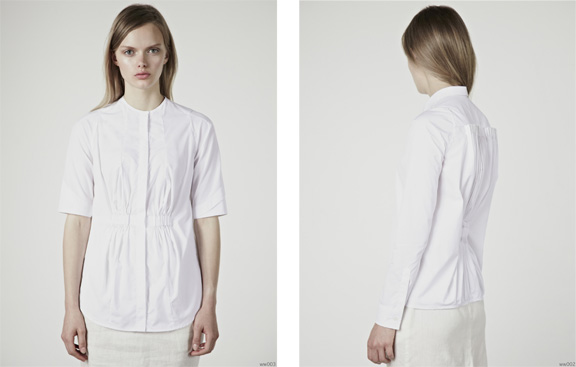 Alexandra Suhner Isenberg: Why have you decided to re-work the white shirt?
Palmer Harding: Foremost we saw a lack in highly designed shirting and felt that the shirt was a neglected garment in most designers ranges, usually being used as a styling element in a pop colour or print to complement a jacket, etc… As a wardrobe staple that always remains stylish and versatile, we felt there was a need in the market for highly designed shirts. We also feel it is important to retain focus in every aspect of design, in order to refine and execute great design. By focusing on a single garment, and one that hasn't been developed as a focus since Ferre, we were able to actually push our design abilities further by creating self imposed limitations and eliminating the need for styling, thus creating a distilled aesthetic in a singular garment.
ASI: You've worked wonders to the shirt by editing the classic placement, scale, and positioning of the shirt elements, like the placket and pleats. How do these ideas come about? Do you work primarily on the stand, or on paper?
PH: We start on paper by designing details and silhouettes inspired from our research first. From there we do a mixture of flat pattern and drape to develop a compromise between the calculated and the organic design process. Once a collection of drapes start to emerge, we then go back to to our initial designs and edit and adjust according to our new developments. It always remains an organic process and changes are constantly happening in order to try and push the design one step further than we thought aesthetically possible.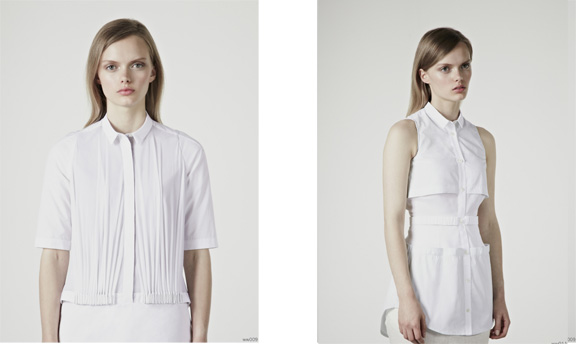 ASI: Like many of the young fashion talents today, you studied at St Martins. What are the most important things/skills/experiences you left there with?
PH: Mostly I would say it is conviction in your own ideas. The educational structure is quite loose and allows students time to play and make mistakes. While there are guidelines to all the projects, the end results can be as expansive as one's project may take them. It is also a great place to be around, like-minds from differing backgrounds, where you can grow and embellish your ideas in a communal environment.
ASI: Why does a woman need a white shirt in her wardrobe?
PH: It is the ultimate classic. It is season-less and always looks chic and contemporary. It can be dressed up or down and has an ease associated with it that feels relevant to today's modern life.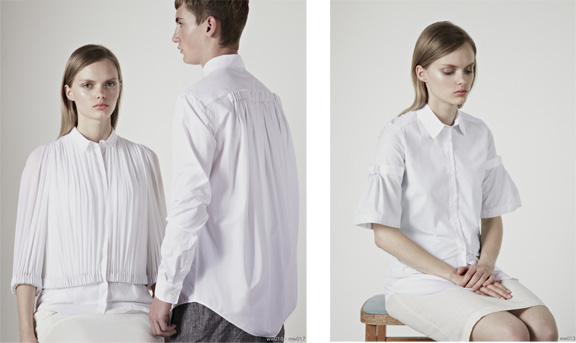 ASI: Tell me what the Palmer Harding woman is wearing today. Obviously, her white shirt, but what else?
PH: Aside from her white shirt she's in a multitude of things, that's the ease of the palmer//harding concept. By keeping all the garments in cotton it takes away the preciousness and pretension that some designer garments can have, but by contrasting this with directional design it maintains the same emotional connection and thought.
But back to what else she has on, for the daytime I can see our woman wearing her shirt with a pair of ACNE or Proenza Schouler chino's to run around town, meet friends for lunch, work and live in. But then I can also see our customer wearing the same shirt with a Carven, Christopher Kane or Azzedine Alaia skirt to give it a more evening or event feeling.That's the real beauty of the shirt. It encompasses all aspects of life and wardrobe.
Palmer Harding shirts, starting at $360, from Avenue 32.