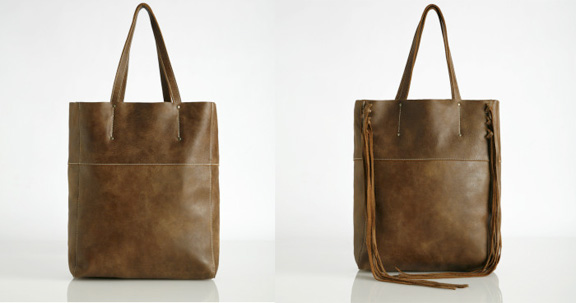 It feels to weird to be featuring Roots when there are so many amazing handbag brands, but I am really loving the look and the price of this Roots tote
. I have a Roots wallet which is similar to the typical zipped Comme des Garcons wallet, but it is better. It has lasted over 5 years so far (my friends who use the Comme wallets go through about one a year) and it has aged beautifully. I think this tote bag will too. Plus is it only $168, which is very cheap considering Roots do incredibly high quality leather and construction. Sure, their hoodies are incredibly tacky. And most of their bags could do with a re-design. But this is a beautiful tote in a gorgeous leather, and everyone needs a good tote, right? Thumbs up from me!
Roots tote
, $168.
Message to Roots: Your coin purses used to have the logo embossed, which would fade as the leather got worn, and become practically invisible. But now you have this horrible label stitched on, which means everyone can see you've got a Roots wallet/coin purse. I'm not too happy about this, at all. Please go back to the old branding, as not everyone wants to show off that they are wearing Roots.