Derek Blasberg was in Vancouver a few weeks ago, and The Bay's The Room hosted a cocktail party to celebrate the launch of his book Very Classy: Even More Exceptional Advice for the Extremely Modern Lady
. I'll be honest, I knew very little (truth: nothing) about this guy, so I did the google search, checked out his website, and read his book. I was impressed. I too am a stickler for manners (not as extreme as him) but I take great offense when people have poor etiquette when it comes to invitations. I also like that he says a lady must be on top of current affairs, that is another thing I dislike about a great deal of my students: they know the latest on Brangelina but had no idea about the civil unrest in Syria. That is just plain sad.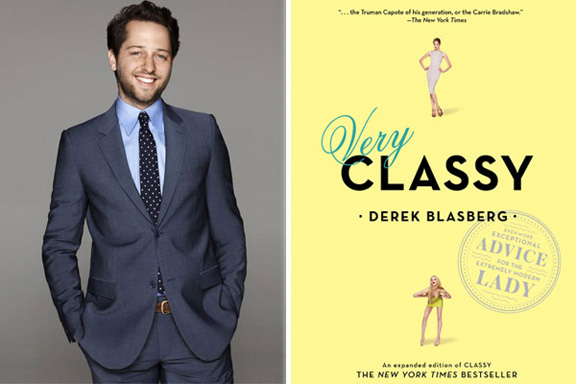 Anyway, he was fantastic to interview, I started by asking him some questions about being classy in Vancouver (read that part of the interview on Vitamin Daily) and then the conversation moved on to more general etiquette.
Alexandra Suhner Isenberg: I lecture, I used to lecture at St. Martins in London and now I lecture in Vancouver, and I feel that people's manners have gotten worse.
Derek Blasberg: Definitely. I'll be the first to admit I'm just as shocked I made the New York Times best seller list because I really didn't think that in this Jersey Shore world that people wanted to hear which fork is the salad fork or how to put on perfume. I thin there is more challenges with social media, and there are more negative influences. For me, when you see a girl or a guy with good manners, that is the one I want to hang out with, I want to hire, its the girl I want to put in the magazine.
ASI: Speaking of hiring, what impresses you when you are hiring people or hiring interns, aside from manners?

DB: I look for clean fingernails. I look for a little thought process behind what they are wearing. You want clean nails, you want clean skin, not too much makeup, a good resume, a lot of experience. A lot of it is self-awareness. You should know what you are coming in for. I've met dirty little tramps who haven't even opened a magazine in their lives.
ASI: What about email etiquette? I get emails from students in text message language…
DB: That drives me nuts. Whole words, please. Never use the number two when you are talking about where you are going to. There is a time and place for that , you will never impress anyone with text message. As a writer, I can't even do it on Twitter, I feel like I am cheating if I use "w/" instead of with.
ASI: I loathe Ugg boots, and I say that the only acceptable time to wear an Ugg boot is if you have a chalet and you are taking the garbage out.
DB: Or if you are a surfer and you are on the beach in Australia. I get the Ugg boots and I get the idea of comfort, but they are not a very sophisticated footwear.