I never thought Joan Rivers would have such a refreshing, honest, funny, and true outlook on fashion. Here's a quote from her Time Out Closet Case video, where she shows off what is in her closet:
"Fashion should make you feel happy. We're all our own Barbie doll. Anyone who takes fashion seriously is a fool."
After four weeks of back to back fashion shows, and "dramas" like the mystery of who will replace John Galliano, Marc Jacobs turning up to Miu Miu's show, and the appointment of Hedi Slimane at YSL, her quote really puts things into perspective. Sure, the fashion industry (if it is your job and livelihood) is to be taken seriously. But beyond that, a lot of people get wrapped up in what is essentially the business of making people think they need new clothes before their old ones have worn out. A lot of the people I spend time with these days have absolutely nothing to do with the fashion industry, and I am occasionally embarrassed to say I work in it. Many poeple think it is frivolous and silly, and most of the time, it is.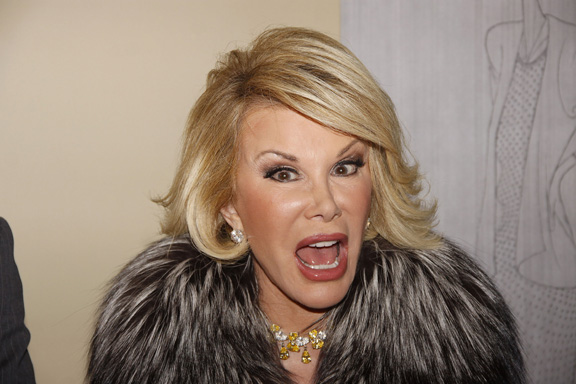 Joan goes on to talk about wearing the wrong thing, or something that doesn't "look good" on you:
"What's the worst that's going to happen? You're going to go out somewhere, and you're going to put something on, and you're going to look like an idiot. So what? You can take it off, and it doesn't matter."
Yes. You can take it off. You can wear something better the next time. People will forget. And if they don't, they clearly have nothing interesting going on in their lives. If they have space in their brain to register who wore what badly, rather than stocking their brains full of memories of doing fun things with people they love, then they probably have pretty sad lives. Just sayin'.
The video is worth watching. I love that she has Payless and QVC in her wardrobe.