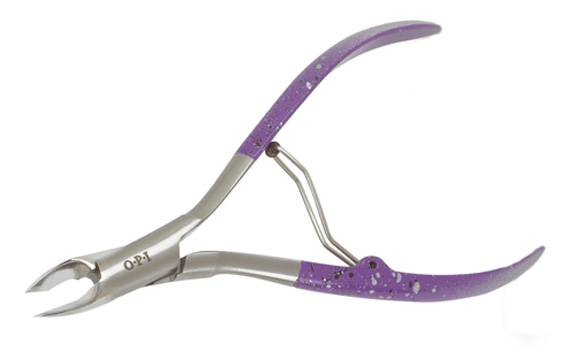 It is that time of year again, when our toe nails suddenly need a lot of maintenance. (By the way, can I just share with you my nails painting tip? If you drive to work, get into the car in the morning, put your seatbelt on, put your keys into the ignition, and release the emergency brake, then paint your nails. They dry while you drive! This works best if you have a long commute, like me. This also works if you go to work on a train, but you have to deal with dirty looks.)
Anyway, back to cuticles. OPI's Mini Nipper is a fantastic cuticle clipper and also deals with the dreaded hangnail. This is going to be my go-to for summer, since I don't have time to get my nails done every few weeks. OPI's mini nipper has contoured cutting edge, a retractable spring, and handles really well (I've tried it. I know.) They'd also like us to get excited about this limited edition purple version, although I don't care what colour it is. In this case, I'm more interested in efficiency, and if it does what it says on the box. This product most definitely does.
Available at salons and spas for $21.95.