I interviewed Mary Katrantzou a few weeks ago, when she was invited by The Bay to visit Vancouver. She brought along a whole bunch of runway samples, and I must say, seeing the pieces in the flesh was very impressive (I did see her FW11 show in London and the pieces in the showroom, but I just don't remember them being so incredible.) I started by interviewing her for Vitamin Daily (read that here), and then we chatted a bit about St. Martins, those new internship laws, and what makes a great employee.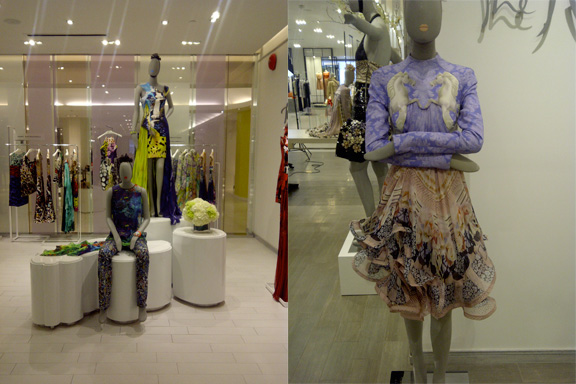 Alexandra Suhner Isenberg: People often write to me about wanting to be a designer and wanted to go to St. Martins. What was your experience with Louise Wilson? She has turned into a legend, the Simon Cowell of fashion, they are calling her.
Mary Katrantzou: When I did the MA, I hadn't really realized what I wanted to do, I came from a textiles background, so she pretty much taught me how to define what I do and how to find my own style and stand behind that. She also took me from somebody who had the technical skills to somebody that has a voice and something new to say. I think this is all you can ask from a mentor and someone who is really important in your education. To be able to channel your skill in the right direction. And also to develop a tough skin, no one does it as well as Louise does. It is so inspirational when it comes from someone doing that through education. Simon Cowell is Simon Cowell, but she is integral in people's education in the fashion industry. There have been so many people coming out of St Martins and she has been such a big part in their growth and formation. I hold her very, very close to my heart. She is an amazing woman, and she doesn't have time to wasteon things, so she will tell you things like it is, and you will know when it is good.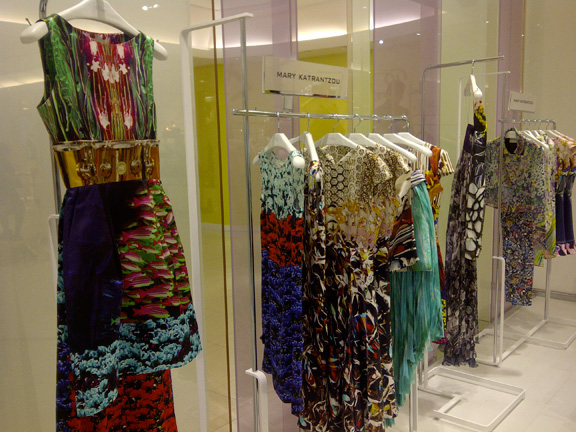 ASI: When I graduated it was right after 9/11 and there no jobs. Everyone went off to start their own collections, I had worked at Sonia Rykiel and I knew that it is tough to start your own collection. I was looking at your bio and you pretty much started your collection right after the MA.
MK: I had no plans to. I never thought a printer could have their own label, I always thought no one knows about them and that's not the way to go. I thought I had to build up my portfolio and find a job at a fashion house. But Sarah Mower mentioned my collection on Style.com and Browns wanted to buy the collections, and a lot of my classmates were applying to New Gen (a fashion funding program) and I started to have the idea that I should try it. And I thought, I should try this, and if I got it, then I would have to take it seriously, and if not, I would take the route I originally planned to take. So applied for New Gen and I got it, that was the defining moment. If I hadn't gotten New Gen then I probably wouldn't have tried again, because I didn't come into it with the ambition of having my own label. And then it grew so fast, and my ambition changed within that. I am glad I went into it so naively because if I had known of everything that was going to come my way, I would have been more afraid.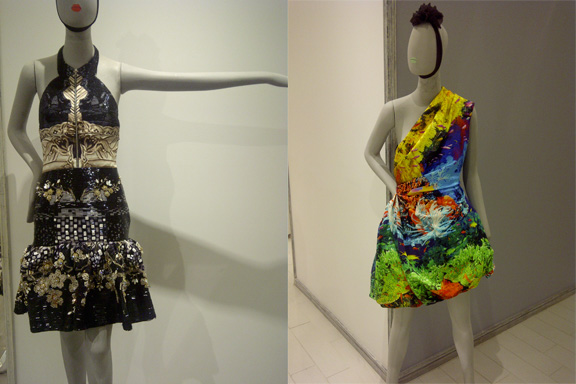 ASI: It seems like that is what a lot of people say. I started as an intern in production at Sonia Rykiel before I got hired on the design team, and knowing what I knew, I was hesitant to start my own company. I always tell students not to try and start your own company right away. It is interesting that the naivety and ignorance is maybe a very good thing.
MK: I was also very determined. I think it is a combination of the two, I went into naively, but I was also very ambitious. I wanted to everything myself, I did the production myself, I did the finance myself and sales myself, until other people stated joining the company. But at the beginning, I did everything myself and it helped me to understand it all. I didn't even know how to do an invoice, and proforma was completely inexplicable. I was so determined to make it work, I was investing so much energy and so much time. You mature very, very fast when you start your own business without having worked in the industry before.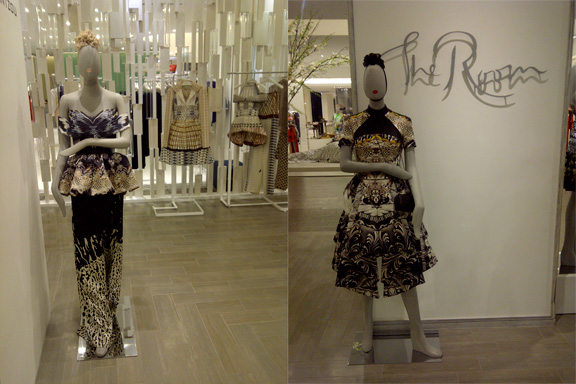 ASI: Speaking of your team, there has been a lot of press recently about the British government cracking down on interns. I see it as a two sided argument, I know a lot of students who would go into internships doing fourteen hour days, six or seven days a week, for 6 months or a year and no chance of a job, which was unfortunate. But, on the other hand, it is a labour that smaller businesses depend on. What are your thoughts on this?
MK: I think the tiny businesses, the ones that just started, will suffer from this change, because you do rely on interns when you start, and also is the fact that we have 15 people now, and twelve of them started with me as intern. Our head of design started as an intern, our head of sales started as an intern, our studio manager started as an intern. The company was built on that. That won't happen anymore. You won't be able to join a company and start from scratch and become the head of a division. But also, I am talking from a standpoint from somebody who has been very lucky with their growth. If we hadn't grown so fast, that wouldn't have happened to us. I think it is fair that if you take on people, after a certain time, you pay them for their skills, if they are skilled. I think this is something the government should look into, for real start ups, for companies in their first two years, there should be exceptions. If someone wants to learn with you, there could be huge benefits for you. I also understand that people at some point are taken advantage of, but with us, there has always been a job, and it would have been a shame if we weren't able to do it. I understand both sides.
ASI: I get a lot of people writing me asking about how to get jobs. The people that you have hired for your company, who started as interns, what were the qualities that made them worth hiring.
MK: I think it is three things: it is a level of ambition. Two, it is somebody who starts to really understand your product, because they have worked there in so many different environments, they become integral to how the product grows. Third, there are a lot of different places to go within a new company, you can find what your skills are when you are an intern, and develop that. When a company is growing really fast, there is flexibility on where you can end up being. For example, we never had a sales agent, we were doing our own sales. So when Alexander joined me (part of Mary's sales team) he was the first person to come to the showroom with me. He had background in sales, but from a different environment, and as the sales grew, he became vital. Then suddenly, I didn't need to be in the showroom anymore. I think that is a great way to build a small company, much better than having someone join you who has come from a company ten times your size and doesn't understand what you need to deal with and the reality of building something from zero.
Want to read more of my interviews? Here are a few more: Derek Blasberg, Jason Wu, and Mark Fast.