As the first (bad) reviews of Madonna's tour start to come in, I remain perplexed. Perplexed that a woman who was known for racy bedroom scenes and conic bras on stage thirty years ago is STILL DOING THE SAME THING. I'm over it. She needs to grow up. Here's why.
1. You shouldn't wear the same trend twice. We may not be talking about fashion trends here, but just like a hippy that wore bellbottoms in the 60′s shouldn't be sporting them again in the noughties, a woman who popularized the conical bra in the 90′s should not be wearing them again now.
2. Blond Ambition was concert tour perfection. Never, ever try and re-create it. Not the costumes, not the sexy dancers, or the sets. And apparently this recent tour does some of those things. An artist would never try and repaint a masterpiece they did thirty years ago, a fashion designer would not copy a collection from thirty years ago, why can't Madonna just let go, and move on to something more… age appropriate.
3. She is in her fifties. Its just not cool to be dancing around all sexy with slutty outfits on when you are in your fifties. I'm not an ageist, and I am not saying you can't be sexy in your fifties, but you can't be sexy in the same way as you were thirty years ago.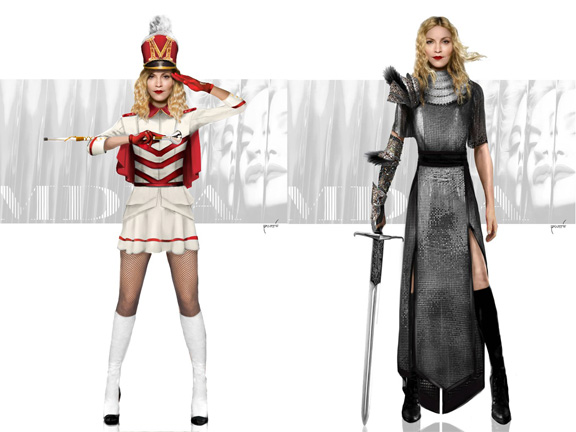 4. We are bored of Madonna doing the same thing, over and over again. She needs to move on. Try something new! How about basing your show on talent, not controversy? Do something that's not all about being sexy and slutty. We've seen it a million times, and now, we are over it.
5. People need to learn to quit while they are ahead. Of course Madonna has missed the boat on this, because if she'd wanted to do that, she should have quit after The Immaculate Collection. We are clearly too late for that. However, she hasn't totally ruined her career, so it would be really good if she just retired now. Or started singing lounge songs. Or producing music from new, young musicians. And by the way, one thing she should NOT do is continue to encourage her daughter to be a "designer." That is just tragic and pathetic.
p.s. By the way, MDNA, if you are in your 50′s, you really shouldn't be removing vowels from your name. That's for the under thirties, please.
Images from WWD, The Guardian, and Zimbio.