This is actually a response to an Ask Alexandra request, one of my readers wanted to know what a buyer does, but I have structured this as a Fashion 101. There will be three parts, each describing different types of buyer's roles. The first part is from one of my ex-students, Katie, a buyer's admin assistant (BAA) at Topshop in London. She very kindly described a bit about her role, and also talked about what her boss, the senior buyer (SB) does.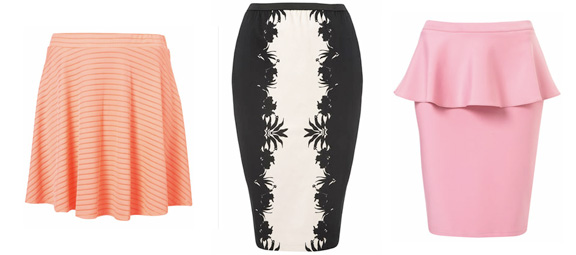 "I am a BAA for 2 departments (skirts and shorts – when I joined I only worked on skirts but the shorts department has now merged with skirts to be overseen by the same SB) – our team structure is:
One BAA for skirts and shorts
One Assistant Buyer for skirts
Another Assistant buyer for shorts
One senior buyer for both skirts and shorts
(Our merchandising side is one senior merchandiser, one assistant merchandiser and one merchandising admin assistant).

My main responsibilities are:
Manage critical path and delivery schedule so that we fit things on time and approve production on time before it goes into store – really crucial so that we don't miss trends and products sit in store together with products from other departments (particularly if its the same print/colour palette, etc…)
Type notes in the fit sessions to send to suppliers
Pull outs for meetings (getting specific items out/on hangers/labeled, etc…) – this could be for many reasons including Philip Green meetings with management, internet team meetings, visual merch meetings etc etc
Sending approvals to suppliers for bulk cloth, trims etc
Sending out lab dips, sketches, new development, etc…
Put orders on the system and make any amendments (selling price, delivery date, quantity, cloth compositions, tag requests, etc…)
Keep sample cupboard tidy
Email requests from assistant buyer and SB to suppliers – for cost prices, delivery dates, etc…
Liaise with PR for press samples – especially as we now have a PR team in New York
Internet descriptions for website
General filing
Competitor research
My SB's main responsibilities are
Managing and building the range
Supplier meetings
New development – working with designer
Trips to meet suppliers, mills, PV, etc…
Working with merchandiser to ensure the money we are spending is backed up by stats – e.g if it's the season for maxis then have we bought into it enough, what sold well /didn't sell last winter etc and making sure that's where we're spending or not spending the money
Presenting product reviews – these happen every 8 weeks approx. The director of Topshop and all management are presented with where the range is going and why, merchandising backs up with figures, etc…
Math skills are very important! You do a maths test before you even get an interview. It is really crucial for me when I'm negotiating with suppliers so that I can work out the margin, currency conversion, uplifts, etc… It is also really important for looking at daily/weekly sales – although you don't have to do any calculations, it is good to be able to understand the figures so it's not a foreign language.
Maths is even more crucial for SBs as they work with the senior merchandiser a lot (who are very numbers focused) as they have to justify spending. So if you can't get to grips with it at BAA level, then it would be really hard at SB level.

An average day for me would be:
Lots of emails liasing with suppliers regarding fit samples, critical path queries, cost prices, negotiating, chasing samples/new development
Pull outs for meetings
Fit sessions
Mondays – best and worst trade meeting – looking at how the previous week has been in terms of sales for the departments as well as for the whole brand. What has sold well/hasn't sold well and what we are going to do about it… can we cancel any stock, repeat orders in other colours, how can we move it on in terms of trends, if it is good, etc…
Average day for SB would be:
Working with design – colour palettes, new trends, new prints (we have an in house print team)
Looking at new sketches from the designer – how can we develop them and with which supplier
Looking at daily sales – what actions do we need to take?
Meeting with suppliers – what new fabrics do they have, new prints, new techniques etc
Asking BAA and assistant buyer to send out email queries
Fit sessions
Most important skills to have to get into a BAA job:
Stand out from the crowd! The competition is so so high
Fashion degree
Personal style
How do you keep up to date with fashion… but not just the norm including blogs, vogue, magazines, LFW etc – nowadays I think HR expect candidates to actually have their own blog to really show how dedicated they are to fashion outside of work or university
Work experience – as much as possible
Confidence – in interviews as well as in general as BAAs have to present to a group of approx 30 people every week
Positive and hardworking – understanding that when you join as a baa you will be doing lots of filing and admin based work – not the typically fun jobs that people imagine
Understand the job role and what is expected of you
the buzz word in the office at the moment (and has been for quite some time) is 'raising your profile' – be known on the buying floor, not just on your own department. How are you going to stand out and become known.
Be inspirational and full of ideas"
Thank you SO much Katie for this very interesting information.
All shorts and skirts from (you guessed it) Topshop.com.
Read more Fashion 101's
Fashion 101: What Does a Stylist Do?
Fashion 101: Where do Fashion Trends Come From?