Before I start my rant, I must say that Joe Fresh has been a much-needed injection onto the Canadian fashion scene, it is nice that we can buy cheap fashion from a Canadian company (although, I must say, I sort of hate their parent company, Loblaws, but that's another story.) The problem here is not with the clothes, which are actually very stylish at extremely reasonable price points. My problem is with the Granville street store.
I'm not going to start on the super long line ups at the change rooms and cash tills. They never seem to be operating at capacity and that annoys me. But not as much as the signage on their front window. This is the text that is part of their current window display: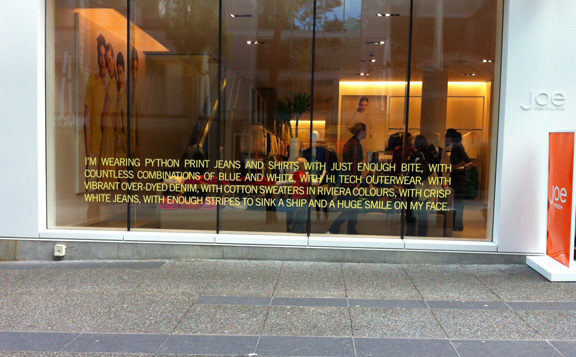 "I'm wearing python print jeans and shirt with just enough bite, with countless combinations of blue and white, with hi tech outerwear, with vibrant over-dyed denim, with cotton sweaters in rivera colours, with crisp white jeans, with enough stripes to sink a ship and a huge smile on my face."
I can deal with the line ups and with the fact that when I buy something at Joe Fresh, hundreds of other people are going to have it, too. But I can't deal with the fact that they are trying to be philosophical and dramatic. That is just ridiculous. This is fast fashion people, not prose.
Here's my suggestion for a new message for their front window:
"We make really nice clothes. And they aren't expensive. Enjoy."