Vancouver is very lucky to be the home of a new fashion and lifestyle concept store called Secret Location. Think Colette meets Dover Street Market meets Corso Como, but in a small city with no super famous owner. There's no giant installations by Lanvin or mini Chanel houses built into the front entrance, but to be honest, those stores are less about the big brands and more about the amazing discoveries you find. In the case of Secret Location, it is brands like Maria Behk, Fleet Ilya, United Nude, and an array of curated goods and garments that make a wardrobe unique. (And yes, I know those brands are nothing amazing if you live in London and Paris, but this is Vancouver, and it is pretty damn exciting to have access to them.)
I was very fortunate to play a very small role in the opening of this store, as I was given the opportunity to interview four of the guests invited to the opening party. That included Yvan Rodic from The Facehunter, Rad Hourani, Maria Behk, and Catherine Teatum and Rob Jones from Teatum Jones. Like any fun interview, the conversation with Teatum Jones strayed, so here I have published a few bits of the interview where we ended up going off on a tangent. Read the main part of the interview here, on the Secret Location blog. And if you live in Vancouver, go, go, go! It is a must-visit shop.
When I sat down with Catherine Teatum and Rob Jones, we talked about their research process, the changing landscape of the fashion industry, and London's fashion scene (read all about that here.) I wanted to share some of the details of their development process, which I found to be very interesting. In this world of celebrity designers, fast fast fast fashion, and catwalk copies, it is nice to hear of a brand and designers that take a truly creative approach to their design process. No store-bought trend forecasts, street style mood boards or runway inspiration here…
Alexandra Suhner Isenberg: Tell me about your research and design process.
Rob Jones: Conversations will start to happen between us…
Catherine Teatum: For some reason it is totally organic, which sounds a bit cheesy but it just happens and we both start naming cinema references… We have very filmic approach to design, we actually create, I guess what you'd call it, a "treatment".
RJ: I create a score and playlist, really for kind of a specific film, to create a bit of emotion and Catherine will start writing about characters. We'll go and spend days in the library, there will be images from films or artists or architecture, we always use a lot of architecture and sculpture on our boards. And then from that we then start to get emotionally hooked and develop key story lines.
CT: So we'll be draping whilst having this playlist going on in the background and we drive our interns crazy because we just play this music twenty times a day.
RJ: Then from that we'll start to drape but at the beginning we're very open and we really kind of push where we're going and it generally is just about shape and ideas. For instance, our first collection was based on the Tower London and it was about the people who were executed in the tower.
CT: And that single moment just before [execution].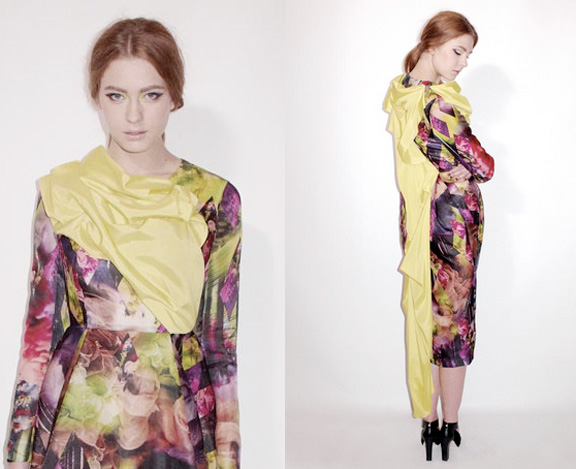 RJ: We read all the articles of kind of Lady Jane Grey who was 15 years old when she was executed and she must have been petrified but there's no kind of account of her completely freaking out. You know she walked up there, she kneeled and she kind of took it in her stride. To have that strength… we were almost saying that there's a weight on your shoulders but on the outside they're composed. We wanted to do something very draped and beautiful and light; very composed but we starting injecting weights into the hems of dresses and stuff so when we were draping we were literally getting bricks, just putting the draping fabric on the stand and then adding in bricks.
CT: Kind of like stitching in channels and putting in bricks…
RJ: …to get the weight. And then we would take photos of that and then when you start to see it on a stand, you can see nice shapes, nice lines.
CT: It's about creating a balance between that tension and the controlled lines. For the print for that collection, we looked at sixteenth century Spanish artists and a lot of religious painting, crucifixions and all the draped fabric within those paintings and literally took the images of draped fabric from those paintings and super imposed on the top of it we found a…
RJ: …skin cell and..
CT: [An images of] what happens to a skin cell when you experience fear.
RJ: But it's completely blown up, so we laid that over the calmness of draped fabric with this print. It kind of took on an animal print kind of look to it. It's panic, it's hidden. (See image above.)
CT: Everyone loved the print, I think one person kind of got where it was. They were like "is that some sort of microscopic image?"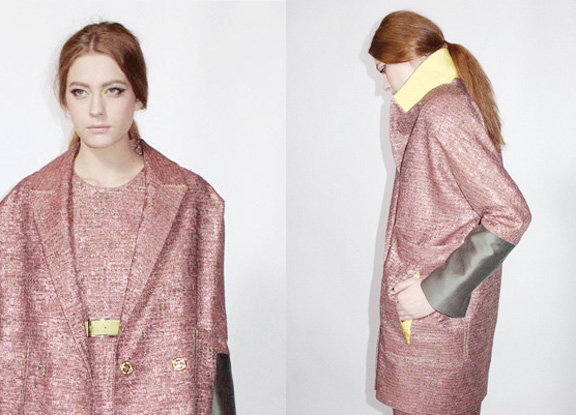 RJ: We like our prints to be quite cryptic. Though we're quite open at the beginning stages, once we start to cut and fit it, we start to strip things back and really edit and refine. Not losing the concept, but refining it is proper fashion.
CT: It's like bringing it back to that kind of filmic approach, shooting tons and tons and tons of footage and then we start to go and cut it back and back.
RJ: Not all of [the footage] should go into a film and the best films are always the best edited ones. We love editing and were literally strip things back.
CT: Only the key looks find their way into the collection. The ones that have 100% synergy of the idea and they completely represent the narrative, the idea, the concept behind it.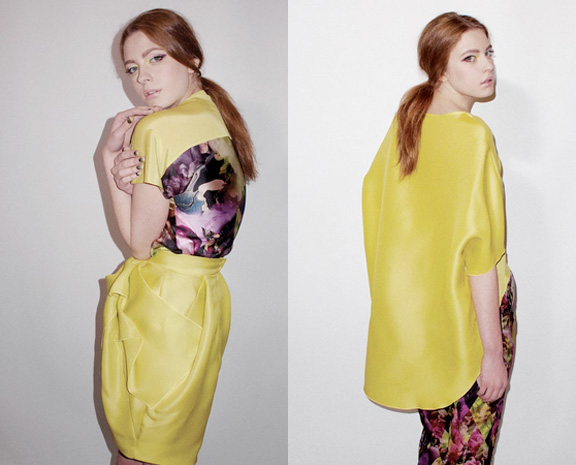 And that's a bit about how fashion designers work! Thank you Catherine and Rob for sharing this exciting, intimate process with me.
Read the rest of the interview here. And check out Secret Location, 1 Water St. Vancouver, BC. More interviews to follow soon!