This is one of my favourite fashion chat interviews, with a guy whose story is at times unbelievable: started working in fashion at age 12, got sued by Louis Vuitton because of a bondage mask made in their monogram, and hanging out with the Beastie Boys whilst eating Smurfberry Crunch. Anyway, I am not only republishing this because I think he is cool, but also because I recently got a copy of Walt Cessna's book (which was released far later than he implied in the interview, it has only been out a while.) Full of sordid stories about drugs, drinking, and sex (some gay, some straight) the book features short stories that either remind you of times you want to forget, or tell you stories of things you're glad (or sad) that you were never part of. Buy his book here.
Originally published in June 2010.
I was first introduced to Walt Cessna (well, introduced in the phone/email sense, since we have never met in person) through an American brand development agency, Lambesis. We were both doing trend reports for them (and Mandana Towhidy was our editor, read more about her here.) Then I noticed he contributed to Diane Pernet's blog, A Shaded View on Fashion, which is pretty much one of the best insider fashion blogs out there. So thanks to Mandana, I was able to set up an interview with him for Fashion Chat, and it wasn't until then that I realized that Walter Cessna is a GEM. His stories are insane. Read on, and enjoy.
Alexandra Suhner Isenberg: How was your day?
Walter Cessna: ok. I'm in Florida taking care of my mom till Thursday and booking my summer schedule- I'm in 5 shows this summer and trying to do about 50 portraits before September. Also, I just started a new short story cause I write quite a bit when not shooting.
ASI: All photography shows? What cities?
WC: All NYC. Just had a one man show in Feb to coincide with the release of my first photo book, FUKT 2 START WIT (see below.)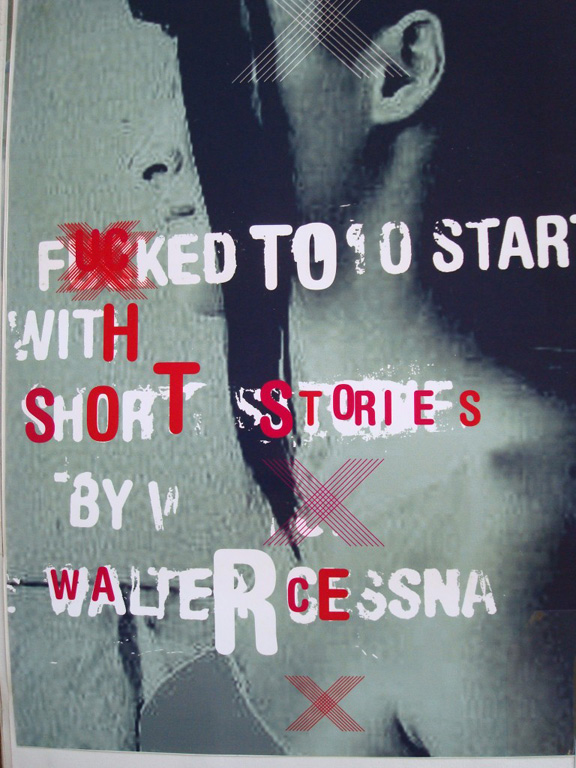 ASI: The bio on your website is SUPER impressive. I was particularly excited by the fact that you were working as a fashion designer in your teens, and that you managed to sell your anti-fashion zine, THE KEY, to a major publisher at the age of 17. With the help of fashion designer Norma Kamali. How the hell did you manage that? Tell us the story.
WC: Ok, I was very lucky to be friended by the late make-up artist Way Bandy, who gave my zines to the late Stephen Sprouse, who I did a bit of modeling for. Between him & Norma I was introduced to a publisher and that became my first of 4 independent publications.
ASI: You were SO young. I started in the industry young (although not as young as you, I was on the design team at Sonia Rykiel when I was 20) Are there any disadvantages to starting off so young?
WC: I started at 12 on 7th ave as an assistant at Jack Mulqueen. Went back to school, ran away to Hollywood, got arrested, convinced my folks to emancipate me and started working full time at 15 for Fenn Wright & Manson, then Carol Horn, then a string of India-based junior sportswear companies. I stopped once I sold my zine.
Then I started writing & styling full time for mags like Elle, The Village Voice & Interview, but at the same time I published 3 more mags- The Form, STOP & CSNA (which I was sued by Louis Vuitton for.) I was obsessed with fashion as a child and my mom taught me to sketch fashion illustrations.
ASI: Wow, you have been in the industry a long time, but started at such a young age, that you are still young. What do you love about all the changes that have taken place in fashion and media over the past 10-20 years? Does anything scare you about the way the industry has changed?
WC: I dropped out of the biz in 2006 after working as an editor at PAPER. My last shoot was with Mike Ruiz and I was sick of being an editorial stylist considered too edgy for advertising so I was always broke. Plus, pardon the expression, I was sick of cunty, pretentious, bitchy fashion trolls and the whole luxury/celebrity thing. BORING
As for disadvantages starting young, I really didn't have a childhood, was given way too many drugs at a young age by adults who treated me like I was one, and was going out to clubs every night from the age of 14. Mudd, Danceteria, Area, Palladium. Plus I worked at all of them producing fashion shows.
ASI: The stylist thing leads to my next question. You've styled some pretty amazing stars, like Trent Reznor and The Beastie Boys, any fun/crazy/interesting stories you can tell us?
WC: I was friends with the Beasties until they kicked Kate Schellenbach out of the band so they could go more rap and she was my best friend and assistant at the time. As for Trent, I styled the Downward Spiral tour and CD and was the first stylist he ever worked with. I had (Stephen) Sprouse do him for the cover of STOP in 90 and by 93 I was working with him. He was cool, but paranoid about the fact that it might get out he was working with a stylist.
After that I did Milla (Jovovich) for the cover of High Times and then worked on her CD. My last band was The Crystal Method – nice boys, but too much speed.
ASI: Yeah, The Crystal Method and speed probably go hand in hand.
WC: The Beasties used to hang out at my apartment and eat Smurfberry Crunch. Trent was rather cool and I used all the money from that to start my own line called Dom Casual, which was carried in Patricia Field & Macy's until I was sued by American Airlines, for stealing their blankets and turning them into mini dresses.
ASI: Amazing! I thought everyone stole airline blankets from time to time. I guess we don't all sell them as dresses though…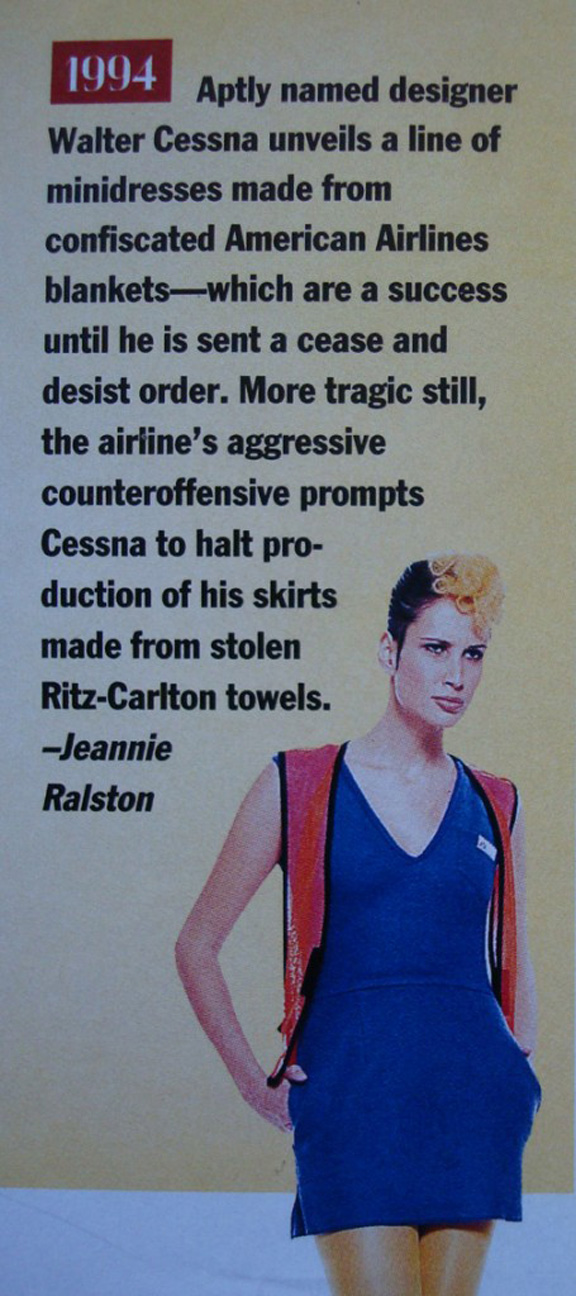 WC: (Harper's) Bazaar shot one and the president saw it and sued me. But I called The New York Times and turned it into great press which helped me finance a series of short films based on a series of short stories I had been writing for Paper, most notably CHILDREN OF THE RAVE & THIS IS NOT A LOVE STORY. This is like a year before Kids (the movie directed by Larry Clark.)
ASI: Fuck, you are so on the ball!
WC: I also had a model agency at the time called The Top, where my kids included Chloe Sevigny, Glenn Fitzgerald & Julianne Nicholson.
ASI: So, speaking of bitchy fashion trolls and the whole luxury/celebrity thing, what do you think about the celebrity stylist that exists today, the Rachel Zoes and Patricia Fields of this world. How has that changed for other stylists? I mean, they suck, but are they necessary, in a way? or just a total waste of space.
WC: I actually like Rachel Zoe because when she does style editorial she turns it out, but she's no Grace Coddington. Now that's a genius. Celebrities are necessary but overrated, that's why it's nice to see Lara Stone, Karen Elson and Karly Kloss. I think people like Andre Leon Talley, Hamish Bowles and all those Vogue trolls should be shot.
ASI: Agree, I was just getting annoyed today about the fact that Anna Wintour decided there needs to be more resort catwalk shows, and therefore everyone is doing it. I don't get how the hell she manages to force everyone to do MORE work, like they aren't busy enough with their 18 collections a year, fast fashion collaborations, Twitter, posing nude (Tom Ford and Marc Jacobs), whatever…
WC: The era of Anna shall soon be over, but I have a feeling she will be replaced by something even more evil. Marc was actually a very good friend of mine back in the day, but when I got sued by LV for putting a converted LV bag turned into a bondage mask on the cover of my mag CSNA, he wouldn't even take my calls. I guess if I had that body I'd show it off too, but maybe a bit less obviously.
ASI: Yes, I have met him before and he is really cool, I just think the naked perfume ads are lame.
WC: I did it (the Louis Vuitton bondage mask) originally for PAPER but Kim (Hastreiter, editor & publisher of PAPER) pussied out because they advertise. Plus she has got to be the biggest poser ever. She pays no-one but buys $8000 bags. GROSS
ASI: Don't hate me for asking this, but I am sure you'll have something fun to add to my collection of anti-SATC2 quotes. Sex and the City 2….what are your thoughts? Do you give a shit? Love to hate? Or were you at opening night? 😉
WC: SO over it. Pat Field has become the worst excuse for a fashion insider. The show was great cause it always had a bit of a lesson at the end. The movies are an exercise in over aged style masturbation masquerading as some kind of mid life fulfillment with too many accessories and really obvious product placement – Hello, Sarah Jessica Parker & Halston…TACKY
ASI: The Halston thing makes me want to cry, cause I love him. His stuff, and Helmut Newton, are my go-to's when I need inspiration. Now the brand is going to be ruined. It's depressing.
WC: Me too!
ASI: Tell us about the Get Christy project. The photos look amazing.
WC: My father was dying of cancer and I was stuck in Pennsylvania caring for him. My boyfriend saw my sketches and said I should make them 3D, so I got a black Barbie (cause the blonde is so tired) and started creating all these mini felt dresses. Then I got a digital old skool floppy disc camera and realized if I shot them solarized they looked almost alive. So in 3 years I made 500 dresses, took 5000 photos and had a very personal relationship with over 20 dolls that I customized and redid. MAC saw the pictures and sponsored my show in San Francisco. I lied and said the make-up was MAC. It was all Sharpies.
ASI: Sharpies are the best. My dad gives me mini ones that attach to a key chain.
WC: I got more emotion out of those dolls than I ever did with some of the biggest models I've worked with, and I've worked with them ALL. I'm going to do a book on the whole thing after my next one. It's called THY WILL BE DONE and documents a 3-year relationship with my ex, Will. Very Nan Goldin meets Larry Clark with better lighting.
ASI: Nice. I lecture a lot of fashion students (and there are WAY more of them today then compared to 10 years ago.) What would you say to people trying to break into the industry now?
WC: GO FOR IT! If you're looking to make $ though, give up your soul because it just doesn't work that way anymore.
ASI: Yup, too true.
WC: This is the best time ever for new fashion. Just check out Diane Pernet's site. She proves it every day.
ASI: I was going to ask you about her, but I am running out of time. I love her blog.
WC: I contribute to her blog.
ASI: I know!
WC: She is my HERO!
ASI: I love her too. So, aside from you and Diane, who else is doing amazing things at the moment? Anyone we should be checking out?
WC: I live for the performance art scene in NYC which hasn't been this exciting since the 80's. LEA PECKRE is my favorite designer right now. PERIOD. I still live for Isabel Toledo and there will never be another Sprouse or McQueen.
ASI: RIP
WC: Ditto. And Beth Ditto is my fashion icon.
ASI: I'd like to chat to her, I'm curious.
WC: Me too!
ASI: That's it! Thanks SO much.
Check out Walter Cessna's website and Facebook page.
Read other Fashion Chat posts: