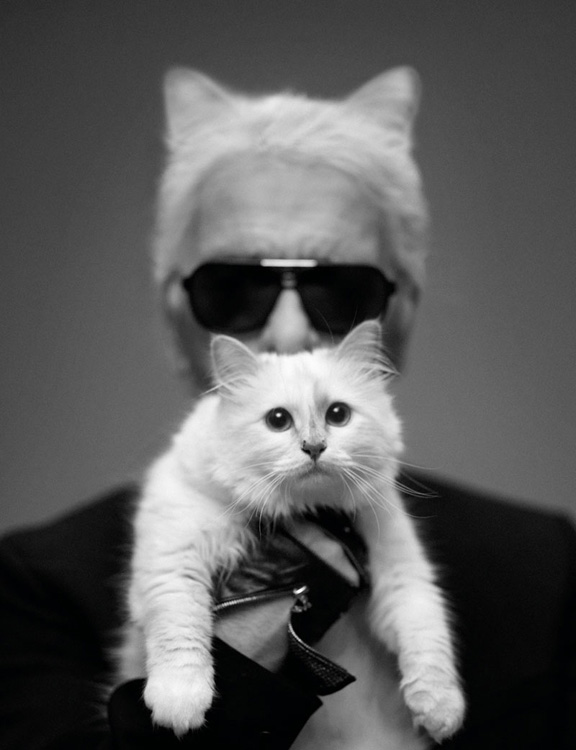 Initially I didn't have a problem with Karl Lagerfeld's cat, but now I am getting annoyed at the amount of pointless media coverage Choupette is getting. Yes, I know this is August and there is nothing going on, but that doesn't mean we need cat filler. While scrolling through my Google Reader earlier this week, I noticed two BACK TO BACK articles about her on The Cut, with ridiculous headlines, one about the fact that she didn't eat cake for her birthday (she had prawns, in case you are wondering) and then one speculating on the type of perfume Choupette would wear.
Now I know The Cut is not the Wall Street Journal, and sometimes they like to publish a bit of (white, groomed) fluff (that's why I like them) but do we really need multiple articles a week about a silly cat? This cat has three maids and goes to the vet every ten days, just to make sure she is "ok." When she's not busy posing for ad campaigns, she is tweeting as Choupette's Diary. God, I feel sorry for this poor animal.
Since Choupette seems to be so popular, I thought Searching for Style would start a weekly, no, let's make it daily, column about my dog Wanda. Wanda is a mutt whose Mom was a husky and whose Dad went MIA after he fooled around with her Mom. She came from up north and was rescued from being chained to a fence all day. Her favourite perfume is dog bone or her boyfriend Bud's ass (he is also a husky mix.) She doesn't have three maids but she does have a fancy daycare where she gets to play with 20 dogs in two giant horse paddocks, and a dog walker two other days of the week (he is ten years old.) She only goes to the vet for her yearly shots.
Wanda doesn't eat prawns (unless they are washed up on the beach), but her diet does consist of fancy kibble in the morning, and fancy raw food in the evening. Sometimes she gets a giant bone to chew on, or in the winter during salmon runs, she supplements her diet and skincare routine by eating and rolling in the dead salmon she finds out on our walks. Wanda loves sleeping, teasing her pitbull friend Nova (my tenant's dog, he lives downstairs), swimming in rivers and lakes, and belly rubs. Wanda loathes her harness, when Viktor (my son) charges at her screaming, and busy city streets. She doesn't wear any clothes, aside from the occasional bandana when she wants to look cool. And there's no plans to star in any major ad campaigns as of yet, but she'd totally be up to making a cameo on Givenchy's next haute couture runway.
Stay tuned tomorrow for a feature on what Wanda had for breakfast, and her morning grooming routine (wake up, put collar on, ready to go.) Later next week Mert & Marcus are shooting an editorial of Wanda, which will include some action shots of her swimming in the river, and digging a hole in the sand. We will do a behind the scenes video of this which will be featured on this site, but you'll have to wait for Carine Roitfeld's magazine to come out, if you want to see the shoot in full.
Images sources: Wanda photos taken by Mario Testino and Annie Leibovitz. Choupette images from here and here. Click here for an awesome puppy photo of Wanda, or wait until her biography gets released, due for release early 2013.