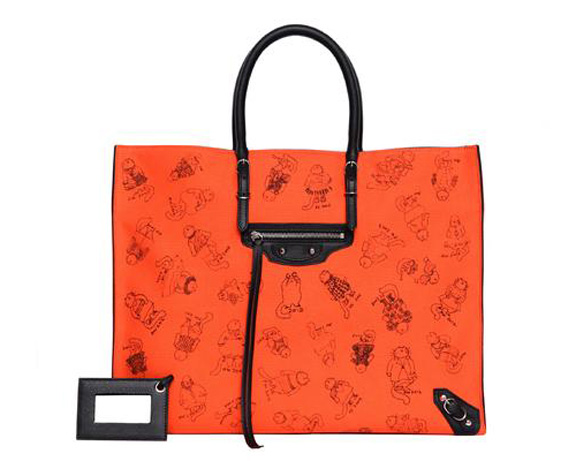 Yesterday we talked about Balenciaga things we LOVE, but today, it is a different story. Grace Coddington may be a great, ok, decent, creative director for Vogue, but are we not all sick to death of her cat antics? First there was a book
of illustrations of cats, now there is this silly Balenciaga bag that features, you guessed it, drawings of cats. But not just ANY cats, HER cats, wearing Balenciaga from the past decade. 'Cause cats love to wear Balenciaga, right? (Except Choupette, she wears Chanel.)
Um, hello? Did someone miss the memo that silly cat drawings are not cool on handbags? Especially handbags that cost $1000?!?! And while I am not surprised that Coddington would agree to design something like this, I am truly shocked that Balenciaga is the brand that is responsible for this capsule collection (oh yes, there is more: two scarves with the same motif.) Plus, the bag itself is in a pretty ugly colour, and the shape is SO uninteresting, it looks like the kind of tote you'd buy for $70 from a department store. In fact, the tacky illustrations are also reminiscent of something you'd pay $70 for, in a department store. But if you aren't a fan of $70 department store bags, then go ahead and buy this one, which will be launching on Fashion's Night Out in NYC.
Speaking of Fashion's Night Out, don't forget about Vancouver's event on Thursday September 6th! Get all the exciting details here.
p.s. If Balenciaga approached me and asked me to draw pictures of Wanda for one of their bags, I'd SO be in there!