Ask Alexandra is my advice column. Have a fashion question you want to ask me? Fill out the form here.
Dear Alexandra,
How do you feel about designer collabaration such as Jason Wu or Missioni for Target? How does a designer design clothing for these collabaration to sell in lower end stores? Do they have to subconciously design worse?
Hi Shana,
Great question, which gave me a giggle, as you make an excellent point about "designing worse." To answer the first part of your question, I am sick to death of designer collaborations. However, I recognize their importance, and don't see them going away anytime in the near future (I just don't really buy them, because I refuse to line up for them.)
The designer collaborations are an excellent way for designer brands to increase their profile or to make money. When designers like Karl Lagerfeld does them, you know it is just a money grab as he doesn't need to raise his profile. But when companies like Jason Wu or Viktor & Rolf do them, it helps them to increase their profile and gain a new audience (which will hopefully increase their main brand's sales, even if it is just perfume or accessories.) It is also a great cash injection, when a young brand does a collaboration with a big fast fashion retailer, they get money which they can then use to grow their own company.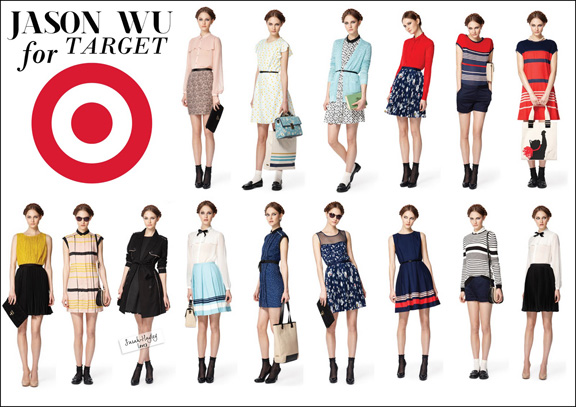 For the fast fashion retailers, these collaborations give them credibility and drive traffic (think about the line ups at H&M.) In general, these partnerships are very important and MUCH more preferable to celebrity collaborations.
With regards to the garments, the main difference will not necessarily be the design, but instead the construction and materials. Jason Wu's designs aren't exactly groundbreaking, but he uses sublime materials and embellishments that come from some of the best ateliers in Paris. When he does Target, he will need to use lower quality materials and less complex designs, in order to make a garment that is much cheaper. Even if he doesn't design "worse," his own label will be more valuable because of the label on the back, and the fact that it is made in much smaller quantities.
So generally, the answer is no, they don't usually design "worse", they just design differently. The designers will need to alter their usual designs in order to create a product that is more commercial (they will be selling thousands instead of hundreds) and cheaper to produce. Most will take some of their signature shapes and designs and tone them down for these collaborations. And to be honest, it is usually more challenging to design something special when you have a much lower budget and a much larger audience. As a result, the fast fashion retailer gets something they can produce for cheap, that is accessible to a larger market, and will get people lining up outside.
Image sources: Missoni for Target, Jason Wu for Target, Karl Lagerfeld for H&M, and Viktor & Rolf for H&M.