While I hate to even contemplate a fall wardrobe when the sun is still out, it is also not a good idea to put off researching and buying winter clothes too long. If you wait, then all the good stuff will be sold. This seems to be the case in particular with winter boots, because a great pair of winter boots is hard to find, and they tend to sell fast.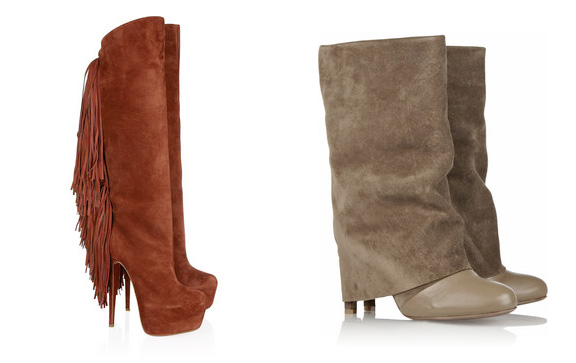 A complete wardrobe has a few pairs of winter boots, because one pair is not enough (when was one pair of boots EVER enough?) I think a great pair of motorcycle boots is a must, they are comfortable, cool, and are great bought a little bit big so you can wear thick socks with them when the weather really sucks. I'm also a fan of a rubber boot, although I don't ever wear them to work or downtown, they are super practical for errands.
Then there's the perfect 3 or 4 inch knee high boot that is my everyday winter basic. Needs to be in leather (but add a rubber sole for protection), needs to be easy to put on, no delicate fabrics that aren't up to facing winter weather, and a chunky heel that will survive everyday wear and tear.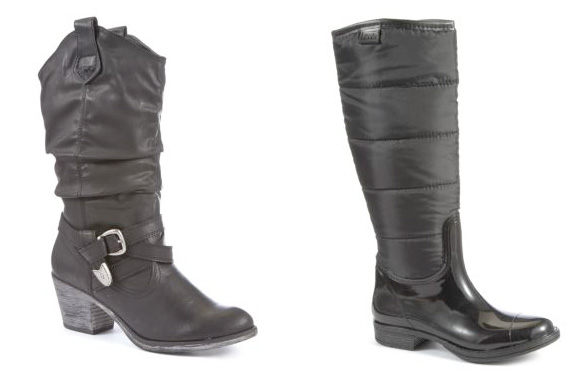 After you've got the boot basics, the rest is up to you. I like a few ankle boots, some with 3 inch heels, some with five, and a pair of "fancy" knee highs, so in a great colour or with a fantastic heel. I also have a pair of over-the-knee boots, which have a huge wedge heel, and I'd consider getting a flat pair. Riding boots also make a nice addition to any closet. I have a few crazy pairs of boots with stiletto heels, in mad red metallic leathers, or with conical mirrored heels. Unfortunately, they spend a lot of time sitting in a box, as they aren't exactly practical.
New Look women's boots selection is fantastic at the moment, they are the best British high street retailer for shoes (I have tons of their ballerina flats which are in 100% leather, have really nice shapes, and are SO cheap.)