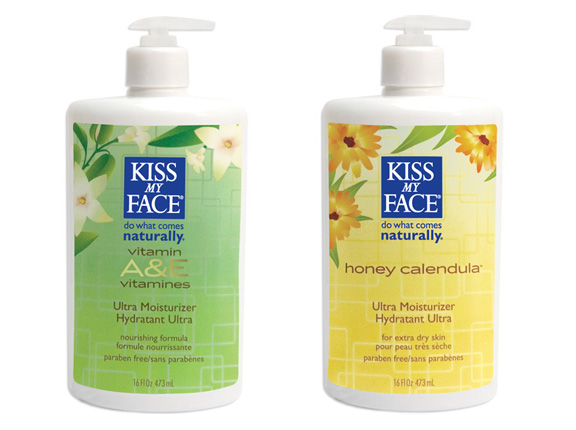 I've almost found the perfect moisturizer, which is a big deal for me since I have searched for this with varying degrees of success for a long time. The main problem with Kiss My Face moisturizer is the packaging, but I'll talk about that in a moment.
I use a LOT of body cream, so my requirements for a moisturizer are that it comes in large bottles/tubes/pots and that it is not too expensive (if not I'd be spending $20 a week on cream.) It needs to absorb well, not be too greasy, and moisturize! Also, it has to be natural, paraben-free, phtalate free, and basically missing all the yucky chemicals you find in most beauty products.
On that note, I recently tried a very famous beauty brand's very famous body cream, and I was dry and itchy by the end of the day, which lead me to believe that the chemicals used in it are not good for the skin, and make you addicted to the product so you use more and buy more. I had a similar situation when I tried another famous beauty brand's "dramatic" moisturizer on my face. Within a day I was "needing" it twice a day, because the chemicals in it make you addicted to it and then you buy more and think it is doing such a great job because it temporarily "solves" the dryness. Lip balms work on that concept, too. The beauty industry is a scary place. But I digress…
Anyway, Kiss My Face is free of the yuckies, is cheap ($11-$15 for a big 16oz bottle), absorbs quickly, and moisturizes. The only problem is that I hate pump bottles, in fact, I hate almost all moisturizer packaging EXCEPT pots. Reason being, I use so much, I don't like squeezing out of a tube, or pumping a million times (and if there is any dried product on the nozzle it squirts all over the place. Plus, when you get to the end, you have to leave the pump bottle upside down, open it up each time, try and get the leftover product out, and it is a ROYAL pain in the ass. You don't have that problem with pots. Plus I am sure they are much cheaper to produce.
Who knew so much could be said about moisturizer? Anyway, if you need bulk quantities of fairly natural body cream, Kiss My Face is a good choice. Available in loads of health food stores, there is a store locator here.