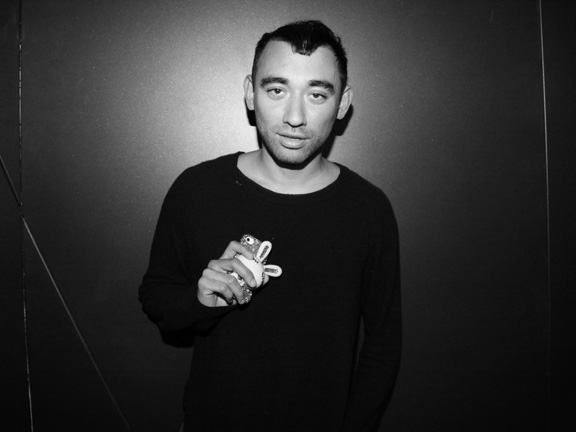 I wasn't sure what to expect when meeting Nicola Formicetti. The superstar stylist and creative director of Mugler came to The Bay for a public appearance, which included a mini-exhibition of vintage Thierry Mugler couture. While I was very excited to see the couture, I didn't know where the conversation would go. In the end, I was pleasantly surprised. Despite the fact that his latest celebrity "muse" is a trashy reality TV star (read on, to find out who!), it was really interesting to hear how he worked, and how his styling background made him tackle design with a very different approach than a traditional designer.
Alexandra Suhner Isenberg: It can often happen that when a new Creative Director comes in to revive a brand, they sometimes try and separate themselves from the archive. For example, when McQueen took over at Givenchy, he said horrible things about Givenchy (which upset me.) I think it is interesting that the archive is still playing a big role in the collections at Mugler.
Nicola Formichetti: We were very lucky to have amazing archives, we were like kids and playful, enjoying the past. But it is a balance, there are only a few types of women who can wear that type of clothing now, we want to do something much more contemporary. For next season, we are going much more street and urban, and that has never been seen from a Mugler collection before. That is a fresh direction.
ASI: Will this be a diffusion line?
NF: It is the main line, but it is less red carpet. We want to do those things for special projects, like movie stars and singers. We don't want to shut the archive off, we love it, every season we play around. It is always a starting point for us.
ASI: A lot of the archive shapes could really easily be translated into more commercial pieces. There is so much there, in the angles.
NF: Totally. You can always re-interpret the 80's shoulder pad. Mugler was amazing with that. How many times can you do a shoulder pad?
Sébastien Peigné (Design Director at Mugler): For winter we created 23 shoulder pads, it depended on the fabrics and the shapes. There was a round shape, pointy, the atelier was going crazy.
ASI: I love the idea of a Mugler shoulder pad archive. Just to see them all in a row.
NF: It is a piece of contemporary art.
ASI: One of the things I explore on this blog is celebrity fashion and how I don't like how celebrities decide to become designers. I thought it was quite interesting how you worked with Lady Gaga, because it was a muse and spokesperson role, done in a way that I felt was more refreshing than what we see with a lot of the other celebrities. Do you think that is a way to move forward with celebrity desiger collabaoraionts?
NF: She is very creative, she loves fashion, and she is really into what we do. For us, she is just part of the team. She uses her body to express. She is a performance artist. I don't consider her as a celebrity, last time she just did the music for us. It is very organic. It is difficult to come by (this kind of relationship.)
At the moment I am really into working with Kim Kardashian. I think she is so fucking hot, she represents this sensual, new body in fashion, almost retro. She isn't just a pin, she is much more sexy. I want to see her interpret what we do. We are doing a project together, we will see. She is already a big supporter of the collection. We work with her in a completely different way than Gaga. Celebrities are important, women should have heroines, someone to look up to. Movie stars, reality shows, I think it is something you can dream about, you can see yourself in. Kim represents a very important woman now, she is multicultural, and we know everything about her. I know what her pussy looks like, we know her problems, she is so great. I am really into her. And she is completely different to Gaga. Before that, we were working with Azzelia Banks, a cool New York Harlem girl, and she was working with us with the music, giving us this attitutde. It is kind of a give and take, we inspire each other. We use celebrities that way, and I think that is fine.
ASI: So you feed off them?
NF: Totally. I NEED people like Gaga and Kim, they could be models too, or our friends. That is the correct word.
ASI: Maybe that's more where the styling background appears, because you are used to that, working with a model or celebrity and dressing them. A lot of designers might have a muse, but this approach sounds very organic and quite unique and most likely differs you from the traditional approach.
NF: Yes, normal fashion brands just take the collection from the runway and give it, exactly how it was styled, to an actress so that people don't get confused about the images, blah, blah… Also, we are smaller than other brands, we want to experiment a bit more, give a new way of expressing and marketing a brand.
While I disagree that women need heroines like Kim Kardashian or any other reality TV star to look up to, I do think it is interesting how Formichetti uses feeds off his muses for creativity. Now if only I could see some of those shoulder pads…
Portrait of Nicola Formichetti from here.