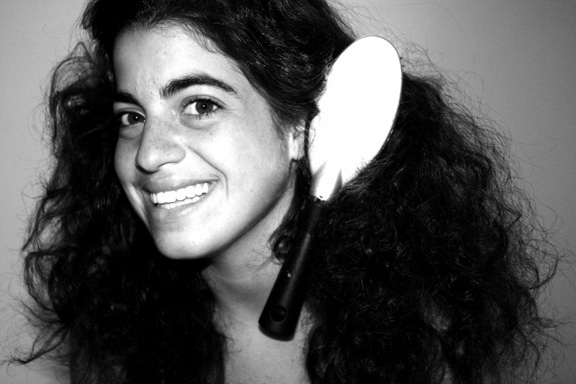 Secret Location, one of Vancouver's coolest fashion stores (and probably the only one that has spectacular visual merchandising) invited Leandra Medine, aka the Man Repeller, for an event last month, and I got a chance to interview her. I won't lie, this wasn't the most riveting of interviews, but that had less to do with her as she is very well-spoken and has a lot of interesting things to say. I just couldn't think of very interesting things to ask her. I guess I had some sort of interviewer's "writer's block." Anyway, I managed to get a few good bits out of the time I had with her, and I learnt a few things about interviews. Firstly, don't go into an interview without at least twenty questions, secondly, some interviews won't be as good as you'd like, and thirdly, if there is a Clueless connection, ALWAYS bring it up. That was the only topic we both got excited about, but we just gushed, (again, I couldn't think of anything good to ask about it) so I didn't bother to include that part in this piece. Leandra, if you're reading this, I AM a Clueless person and proud.
Alexandra Suhner Isenberg: Do you ever get tired of being in the spotlight and people expecting you to look like a man repeller?
Leandra Medine: I don't think that people expect me to look like a man repeller and I don't feel like I am in spotlight all the time. I don't do this very often, I happen to really like this store and wanted to support a movement of avant garde fashion in a place where it is not very prevalent. In the same way that I don't dress for men, I don't dress to appease other people, I am not trying to be particularly man repelling in everyday conquests.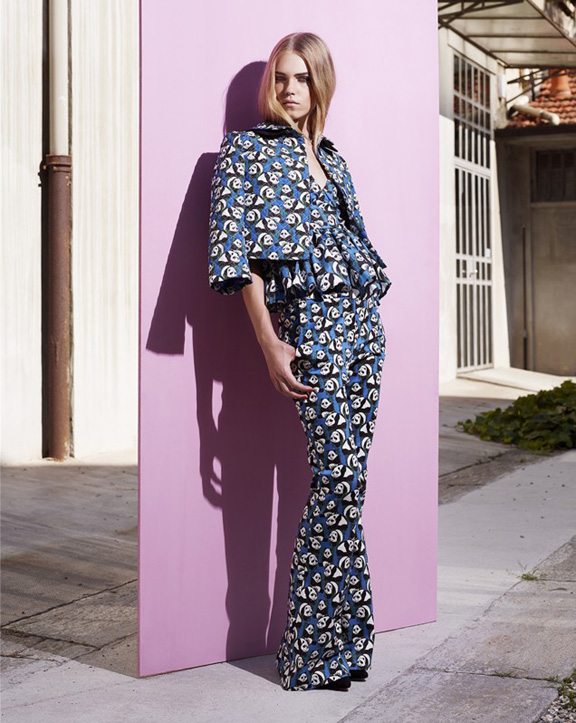 ASI: What kind of younger brands have you seen lately that get you excited?
LM: The are a bunch, right now I am really into this brand called Au Jour Le Jour, which is an Italian brand and they make these really cute panda and elephant print dresses and bell bottoms and blouses. I find it so awesome, and I thought, I need to write about this brand and they are so cool, people need to know that they exist. (Pictured above.)
ASI: When I started in the industry, it was mostly about the old guard, and now there are so many young newcomers. You started the blog when you were 20. Do you find it intimidating sometimes? What are the pros and cons of being such a young figure in the industry?
LM: I don't really think about this very often, and no, I definitely don't find it very intimidating. Pros, you have a very unfiltered, untained, unscathed perception of the industry. Cons, less people are likely to take you seriously. When you are at a big event and very important, notable people are among you, you feel like you should be a little fly on the wall, you shouldn't be a human just standing there. But then again, because I am so young and my fashion experience is only six years, the novelty aspect of fashion hasn't worn off yet. I don't feel like it is just something I am doing, I feel like it is still very much a part of who I am. I definitely fear that ending, but I guess I will cross that bridge when it comes.
ASI: I think a lot of people, as they get older, start to get jaded about the industry.
LM: Yes, and you become more theoretical and other things are important to you. You start recognizing what is going on in the actual world and thinking "why am I marginalizing my life?"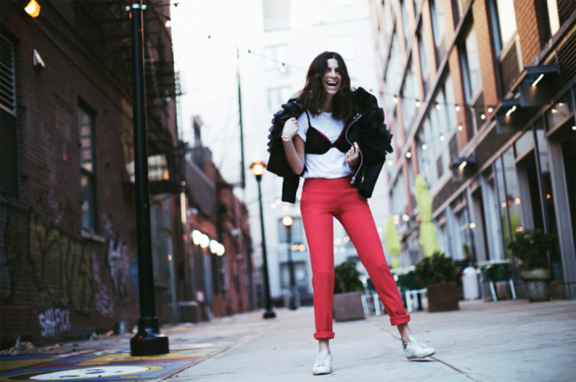 ASI: But you seem to have an idea of that, and the way you kept your personal life separate from the blog, shows that you do have that side.
LM: Absolutely. You know, we had a terrible hurricane on the East Coast a few weeks ago, and it was so strange to me that there were New York-based bloggers that were just ignoring the hurricane. Ok, I understand it isn't their content, but maybe they could tone down the photos of themselves in fancy hotel rooms wearing expensive footwear. People are without power, without clothes, people are hungry. Things like that get to me.
ASI: In some ways, that is very in line with the way fashion works sometimes. The whole concept of Dior's New Look was "let's use 30 meters of fabric in one skirt" after World War II when people have nothing. In Linda Grant's book, The Thoughtful Dresser
, she talks about how on 9/11 the Yves Saint Laurent store on Madison Avenue got fourty calls about whether the purple gypsy peasant blouse had come in, and whether they were open. I think sometimes fashion is almost…
LM: …a means to escape. That is definitely true.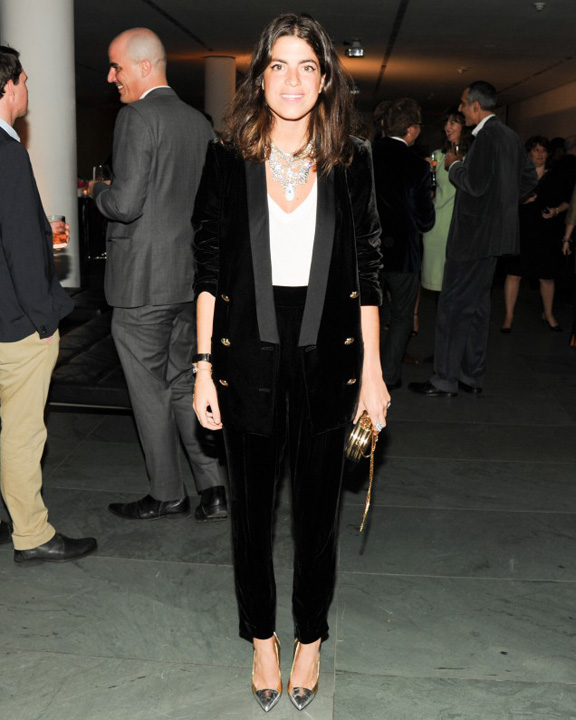 ASI: In terms of the design and styling projects with brands, you obviously have fashion experience but not training in design. How do you approach those projects?
LM: I am not designing now, it is not a thing I am doing. I do have a collection coming out, but I didn't design it, I just dictated it. Everything I do is very authentic, I mean, uncalculated. When an opportunity comes to me, I don't sit on it, and mull it over, I either say yes or no, I either go with it or I don't. When I am dealing with something like designing a collection of jewelry or a pair of pants, I think about what I want to exist in my wardrobe that doesn't, and make that happen. (Searching for Style note: I don't really approve of this "approach", but I'd much rather see established fashion bloggers working on fashion collections than I would ridiculous celebrities.)
ASI: Bloggers tend to be fairly alienated, it is a solo job. Do you find that frustrating sometimes?
LM: Yes, it gets lonely, especially when you are writing lengthy pieces every day. The only thing lonelier than being alone is being alone in your head. I would love to bring people on, but I fear that the site has become so personalized to who I am, that it wil be hard to expand. But it is doable.
ASI: Since you studied journalism, do you think you would move into more traditional journalism? That is a skill that not very many bloggers can do.
LM: When I was completing my journalism degree in college, I realized that it wasn't a journalist I wanted to be, it was more of an expositional editorial writer, I wanted to write lengthy pieces on interesting people, that read more like a Gay Talese profile, than say, a regular interview in the New York Times or Globe and Mail. Gay Talese was famous on writing a profile on Frank Sinatra, he was supposed to meet with him but he couldn't because Frank was so sick, so the entire profile, 4 pages first released in Esquire, was about how he tried to meet with him and sort of conjured up this person without actually ever having met him. The profile is called " Frank Sinatra has a cold." That was interesting for me, and I thought that was the kind of writing I wanted to do. I guess that is new journalism, that is the kind of writer Hunter S. Thompson and Joan Didion are too, and those are two of my favorite writers.
ASI: Have you been approached to do that kind of work?
LM: Not necessarily in that same capacity, but I am working on a book right now, which has proven very time consuming and difficult.
ASI: I have heard the book delves into your personal life. How do you approach this, given your age, and the fact that most people have biographies written about them a lot older in life?
LM: I am not really looking at it as a biography. It's hard, when I say "about me" it seems very memoir-esque, but I am using myself as a vehicle to convey experiences that other girls are going through. The premise of the book is that the female memory is so driven by fashion, so I am using myself to portray that. One chapter is called the Bermuda Shorts, and that is about a pair of shorts I wore the summer that my brother called me really fat and told me I needed to lose weight and then I lost thirty pounds. Small stories that tackle larger issues.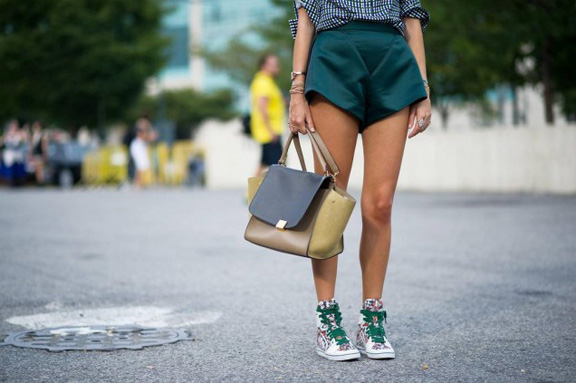 ASI: The whole concept of your blog is the man repelling clothing, but how often do you find yourself in situations where you want to dress for a man?
LM: Not often at all. That has never been my MO. It is not just a man though, I don't want to dress to appease my parents, I don't wnat to dress to appease my friends, it has always been about about self-expressive dressing. When you can internalize fashion and fashion is more than just the clothes you wear, it becomes the identity you project. That is what I tried to do.
ASI: When did you discover that this was your approach?
LM: I think I always knew, I just first verbalized it right around the time I started the site.
ASI: Have you tried to do it — and felt wrong about it?
LM: I suppose when I was younger, 16 or 17, I would dress for a boyfriend. But I found that every time you dress with bad intentions, not too appease yourself, you always end up looking far worse than you would if you had just worn what you wanted to. You go to a party and you're like "why did I wear this?"
ASI: What do you say to girls who struggle to get away from that concept of dressing for men?
LM: That their happiness is the most important. Always. Don't think about the external forces athat are trying to put a mini skirt on you.
Images from The Man Repeller. Watch out for my interview with The Sartorialist very soon!