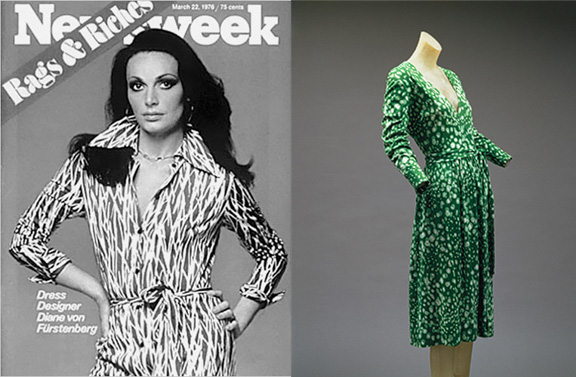 Diane Von Furstenberg's iconic wrap dress made its debut as a top in 1972, inspired by ballerina's wrap sweaters. Two years later, the wrap shirt was elongated into a dress, which became Diane Von Furstenberg's signature piece. Can a fashion business be built on a single item of clothing? In this case, yes. The wrap dress's popularity was based on the fact that it is a very flattering shape, and suits many body types. This was the foundation of the DVF brand, and even though the brand now sells a full womenswear collection, the brand's story is based on making flattering clothing for the modern woman. On a boyish figure, the wrap dress emphasizes curves with the belted waist, and on a more womanly shape, the waist closure creates an hourglass figure. The wrap dress is most frequently seen in DVF's signature bold, colorful prints.
Here's where to read more Fashion Classics.
I am on maternity leave until the February catwalk shows. I'll be checking in, but until I am back in action, please enjoy some little interviews with my favourite fashion folk, and a series called Fashion Classics, documenting some of the industry's most iconic garments and accessories.