BROUGHT TO YOU BY LIPSY
Lipsy is a British fast fashion brand that does inexpensive, fun, flirty clothing. It's the type of brand where you'd find the perfect dress for a crazy night out clubbing or to wear to a fun houseparty (two types of outings that seem totally distant to my life, but thank god I won't be pregnant forever.) In Britain we call this "cheap and cheerful" and that is exactly what Lipsy dresses are. Easy to buy, easy to wear, and easy on the wallet.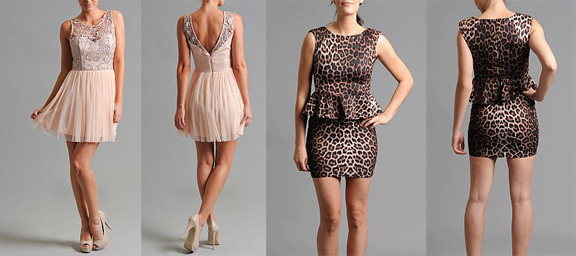 The dress above left makes me think ballerina-off-duty, and would actually look really sweet with a pair of ballerina flats. The dress on the right combines two of the greatest fashion elements: leopard print and a peplum. Below left is a nod to the print designers of London, and would look great over-accessorized with loads of colour, and the bottom right dress is a great example of how horizontal stripes CAN be very flattering. Now, who's in the mood to dress up and party?