Anya is part of our fantastic editorial team at Vitamin Daily, Vancouver correspondent at Flare magazine, and the blogger behind I'm the It Girl. She's best known as a beauty guru, whose bathroom is probably piled high with product samples, but also writes about fashion and style. We share a love of Clueless, a loathe of Sex and the City, and she never fails to amaze me with her determination and lack of laziness when it comes to lining up for H&M designer collaborations. She's got it down to a fine art.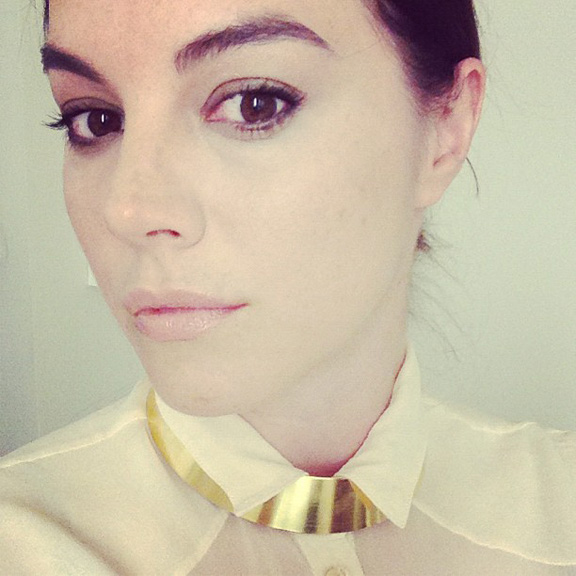 The collection I loved most from the SS13 catwalks was… Jil Sander. Not only was the collection pretty close to impeccable, but it was great to see her back at the helm.
The thing I loathe most about the fashion industry right now is… too many celebrities everywhere: they are acting, modelling, designing, even writing!
I love when I spend my weekend… strolling around Vancouver with my husband and my dog, visiting stores and city's delicious food carts.
I love my job because… after studying design for eight years, I'm just happy I have a job that's in the creative spectrum. Being surrounded by beautiful things doesn't hurt.
The part of my job I loathe the most is… being surrounded by fashion clichés, constant talk about dieting, and dumb Sex and the City quotes.
If I wasn't so busy, I'd love to spend more time… reading novels — I miss them! I spend way too much time reading magazines and fashion sites.
If I had a lot of money, I'd love to buy… a YSL — oops, a Saint Laurent — Le Smoking.
I really loathe the fact that I bought… cheap fast fashion crap I wore only once — these things add up!
The item I love the most in my wardrobe is… an antique turn-of-the-century silver purse passed on from my great-grandmother.
This year I would love to… travel more — although I went to four different countries this year, it's never enough!
Find Anya on her blog, Twitter, Facebook, and Instagram.
Read more of my interviews with great fashion people.
I am on maternity leave until the February catwalk shows. I'll be checking in, but until I am back in action, please enjoy some little interviews with my favourite fashion folk, and a series called Fashion Classics, documenting some of the industry's most iconic garments and accessories.