I'm struggling to ignore the fashion travesties on my maternity leave, so here are a few things that really annoyed me from January.
1. London Collections: Men. London is known for its eccentric fashion, but some of the designers at the men's fashion week took things a bit too far, notably JW Anderson. My course director at St. Martins, Louise Wilson, always used to say "It's easier to do 'freaky deaky' than it is to do real clothes." Judging by the stuff we saw on some of the men's catwalks, the London designers decided to take the easy way out.
2. Beck for YSL. Hedi Slimane's attempt to be some sort of hero to the indie crowd is making me sick. I used to have respect for Beck, but now that I've seen him in YSL's most recent ad campaign, it's lost. With his budget and the brand name, Slimane can probably attract some pretty impressive models for his campaigns, but that's not going to solve the real problem: his collections are shite and he is an arrogant prick.
3. Oh, and while we are on the subject of YSL, Wallpaper* (yes, I put the silly asterisk next to their name) awarded YSL, or shall we say SL, the 2012 rebranding of the year award. While I'm somewhat sickened by the Wallpaper* stuckup-edness (it was worse when Tyler Brulé was there, in a bad but sort of good way), I do normally respect their design opinions. So I was confused about this award to YSL, which was totally not deserved. The whole re-branding, which seems to include a new "attitude" that is not making them any friends in the fashion industry, seems like a giant fail to me. Of course, time will tell, but hopefully they won't give Hedi Slimane the time, and put him out on the street quite soon.
4. Rihanna is showing at London Fashion Week. Ok, it is her collection for UK high street fashion retailer River Island, but still, this is tragic, and makes LFW look like a joke. They have worked so hard to build a reputation for this "underdog" of the major fashion weeks, and so many big British designers have returned to show there, but putting this on the bill does nothing for their reputation. A celebrity designer fast fashion collection never deserves a presence on what should be a high profile, international fashion week.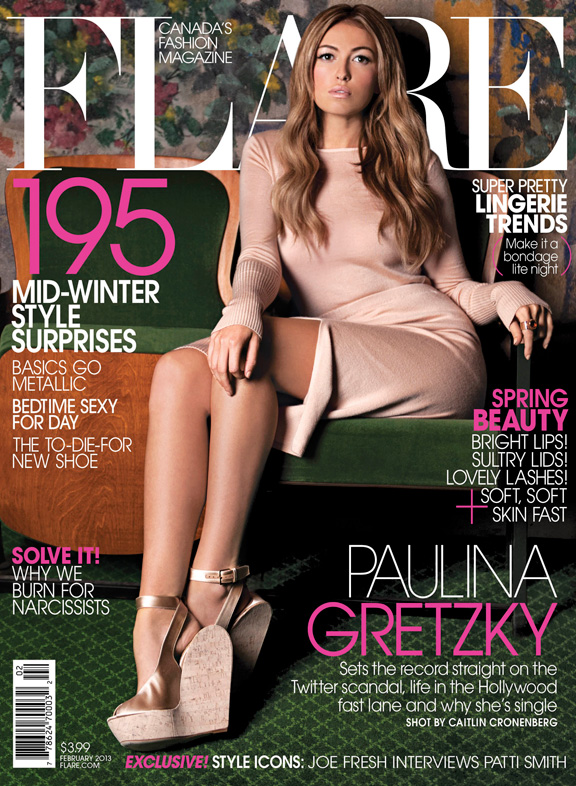 5. Paulina Gretzsky on the cover of Flare magazine. I was devastated when one of my favourite Canadian magazines, Flare (which used to have a great editor who put lots of models on the cover) featured Paulina Gretzsky on their February cover. Aside from being the daughter of a famous hockey player, and trying to be a singer, she is famous for nothing aside from bikini photos on Twitter. Flare, seriously? This is effing tragic.