Edeline Lee is one of many talented Canadian designers based in London. We went to high school together in Vancouver, and both ended up in London working in fashion. After taking a brief break from the fashion world, Edeline launched her first collection last year, and her designs have caught the eye of some major industry insiders. It is so nice to see someone making beautiful, simple, flattering dresses that don't involve too much print or sexiness, she has created the perfect balance of modern, vintage, sharp and elegant. While I love what she is doing, I will say that her answers for this interview were a bit safe, but I didn't want to exclude this piece as it has been some time that I've wanted to introduce you all to her work.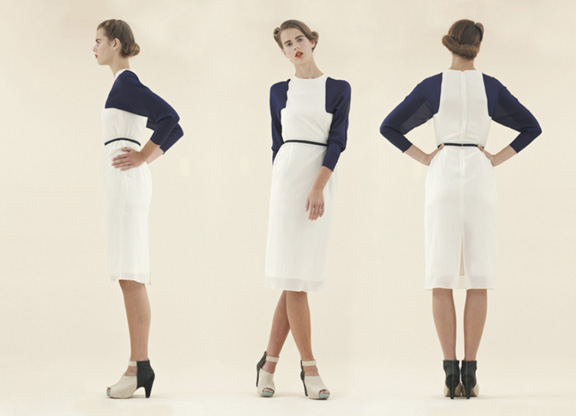 The collection I loved most from the SS13 catwalks was… I liked how designers made a move towards monochrome and black & white. I work often in these colors because I find that both structure and decorative elements are often more pure in this colorway.
I love when I spend my weekend… toodling around antique shops and farmers markets.
The item I love the most in my SS13 collection… I was really happy with the Eluard Dress (below.) It's a hand-pleated and draped silk georgette dress and looks great on many different body types. The pleats drape over the shoulder and are hand tacked in place so that there is no shoulder seam. One side is cream, the other side is blue and the part in between is screen-printed with the typewritten words "blue blue blue" in black on cream. The print was based on a Fluxus idea and was my way of adding a third "color" to the design.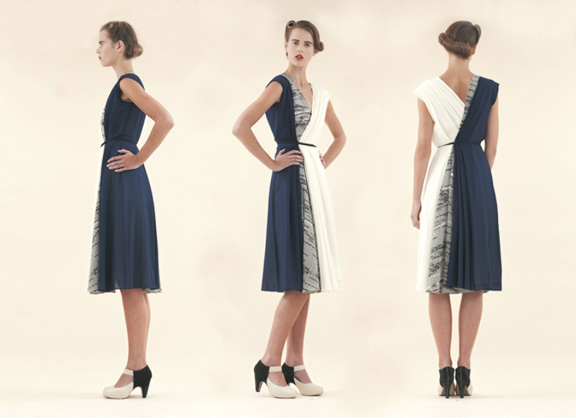 The thing I love most about London is… it manages to have all the advantages of a big city with the heart of a small town. There's an intimacy here that you don't find in a lot of other big cities. But at the same time, there is the culture, creativity and energy of a metropolis.
I love my job because… it allows you to be creative on so many levels. Every new collection requires new concepts, shapes, colors, textures, techniques, fabrics. I love also that it is such a social job – you get to work with and learn from so many people that are skilled in different areas.
Find Edeline on her website.
Read more of my interviews with great fashion people.
I am on maternity leave until the February catwalk shows. I'll be checking in, but until I am back in action, please enjoy some little interviews with my favourite fashion folk, and a series called Fashion Classics, documenting some of the industry's most iconic garments and accessories.