Julia is the founder and designer at Finsk, my favourite shoe brand. We met in London working on a project and I forcefully became friends with her so that I had access to her shoes. Just kidding, we got along really well, and the access to shoes are just a bonus. She is Finnish and is based in London, and in addition to sharing taste in style, she was one of the only people I knew in London who also went to a gym (aside from the people I met IN the gym.) My favourite thing about Finsk is that the collections include some extremely wearable, comfortable (yet super interesting) pieces, as well as some ridiculously crazy footwear that deserves to live in a museum. I have a mixture of both from there, and look forward to growing my collection!
The collection I loved most from the SS13 catwalks was… It's difficult to say one collection, but I like the simple shapes and colours of Martin Margiela, Balenciaga's slightly toned down but still interesting collection, as well as the unusual colour combinations of Marni.
The thing I loathe most about the fashion industry right now is… because of the economy, a lot of buyers "play it safe", don't want to buy in new brands and all the stores end up looking the same. And actually I think now is a time when individuality and small run handmade products attract the people who want luxury, not just the big brand logos.
I love when I spend my weekend… relaxing and drinking coffee in Regent's park. Since I have my own company, I end up at work way too many weekends, and although I love my job, I do appreciate a simple weekend off.
The part of my job I loathe the most is… when I plan a creative design day and have lots of good ideas that I want to draw up, but I end up having to deal with production schedules, or shipping of samples. This is the reality of running a small business, everyone ends up doing all these things and there is never enough time for designing.
If I wasn't so busy, I'd love to spend more time… with my family, but I also wish I had more time to myself, just relaxing.
If I had a lot of money… I would buy brand new super luxury quality simple underwear. Get rid of all others, and just have black/ white/nude, all brand new and fresh. It doesn't sound like a huge investment, but the quality I would like is not cheap!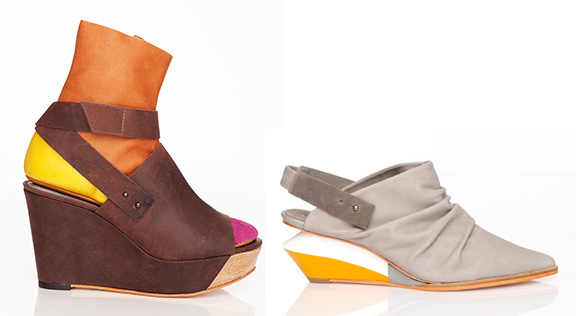 The item I love the most in my SS13 collection… This keeps changing, and I have different preferences of favourite shoes because the design works well, or whether I like to wear the shoe myself. One of my favourites is the mule-slingback low wedge. It looks very effortless and cool when paired with the right outfit, but the wedge heel is quite unusual but simple. I also like the colourful sock wedge which we did for a bit of fun but has ended up being the season's best seller so far. (See both above.)
The thing I love most about London is… the mix of people, the different cultures, the buzz and vibrancy that you can only feel in London.
The thing I loathe most about London is… I would say transport, but I try to tackle problems that annoy me in my life, so I live in the centre of London, 10 minutes away from my studio so I can avoid public transport, as that would drive me insane. Apart from that I love London. I don't even mind the weather!
I love my job because… every day is different, and I feel I'm constantly learning new things.
Buy Finsk here and find them on Facebook.
Read more of my interviews with great fashion people.
I am on maternity leave until the February catwalk shows. I'll be checking in, but until I am back in action, please enjoy some little interviews with my favourite fashion folk, and a series called Fashion Classics, documenting some of the industry's most iconic garments and accessories.