Levi Palmer and Matthew Harding are the guys behind Palmer Harding, one of the most exciting shirt brands on the market today. But perhaps what makes them so exciting is that their collection is not really about excitement, it is about beautiful, interesting, high-quality shirts. The hype is that those classic, perfect items are so hard to find. I have one of their shirts, which is giving me the evil eye from my closet, as I've not been able to fit into since it arrived after I got pregnant again. So let's hope that as you read this, I am on my treadmill, getting inches closer to fitting into a beautiful white shirt. That would be exciting.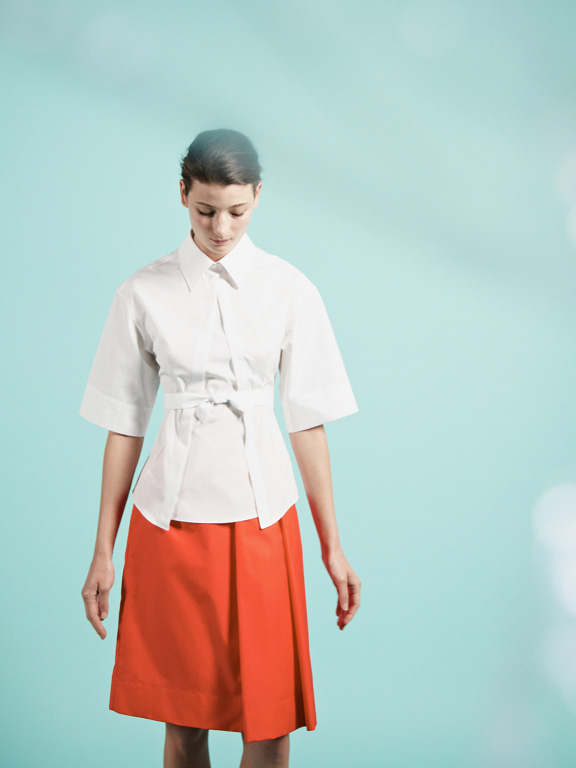 I love my job because…
Levi Palmer: we control our own destiny. I like having control of our lives and I like being able to use my skill and the craft that I have learnt and elevate something past just being utilitarian.
Matthew Harding: although we have strict deadlines at certain points of the season, I love being able to choose what we do each day – if I'm cranky or not in the mood, we can take a walk or go to a museum or something. That freedom is really liberating – of course we have to be good with time management to be able to do these things!
The part of my job I loathe the most is…
LP: production patterns.
MH: doing the production patterns – it's so important, very time consuming and extremely tedious.
The item I love the most in my SS13 collection…
LP: ww008 (above) – it's so simple and easy.  It feels new and yet classic.
MH: the sculpted gazaar pieces (below.) The first look sums up the collection for me, there's the late 90s proportions (a little bit Clueless) and the sculptural pattern cutting and play with textures/transparencies.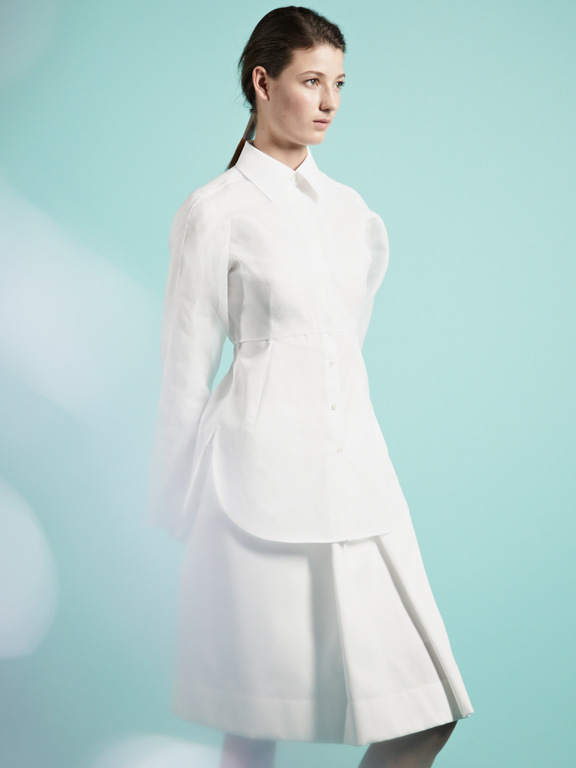 The thing I love most about London is…
LP: its rebellion.
MH: the support that London gives its young designers. We've receive NEWGEN sponsorship three times so far, and this season we were sponsored by COTTON USA, which although it's an American initiative, they always chooses the best London designers to support. There's a real nurturing environment with organizations like the Centre for Fashion Enterprise, which we're also a part of.
The thing I loathe most about London is…
LP: its need to rebel.
MH: not living close enough to it!
If I wasn't so busy, I'd love to spend more time…
LP: reading and exercising.
MH: cooking.
This year I would love to…
LP: take a yoga class again.
MH: travel more. We have trips planned to Texas and Stockholm, and I'd like to visit Japan.
Find Palmer Harding on their website and at these fine retailers.
Read more of my interviews with great fashion people.
I am on maternity leave until the February catwalk shows. I'll be checking in, but until I am back in action, please enjoy some little interviews with my favourite fashion folk, and a series called Fashion Classics, documenting some of the industry's most iconic garments and accessories.