I interviewed designer duo Teatum Jones in the summer and I approached them again for these mini-interviews as I found them to be such an interesting pair. If you didn't read the original interview, please do, as it gives an incredibly interesting insight into the design process that REAL creative go through to design a collection. And of course, enjoy the loves and loathes with Catherine Teatum, below.
The collection I loved most from the SS13 catwalks was… Katie Rowland – gorgeous jewelery designer rising up through the ranks.
The thing I loathe most about the fashion industry right now is… there is often too little time to really digest one season before moving onto the next.
I love when I spend my weekend… with Netflix…new obsession….how many films can we fit into one night.
The part of my job I loathe the most is… not enough time to groom oneself like we did before we ran our own company. There is always a pre-fashion week mad dash to the salon.
If I wasn't so busy, I'd love to spend more time… with friends I haven't seen for months and months…they've stopped calling us!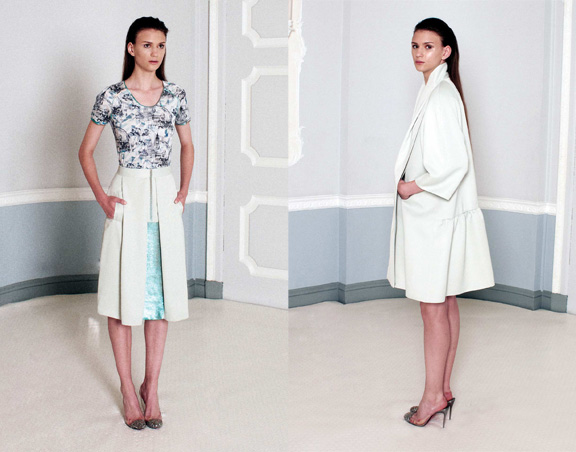 If I had a lot of money, I'd love to buy for my wardrobe… a personal butler to keep all my precious garments in top condition.
The item I love the most in my SS13 collection… the Kubrick Skirt. Rob loved the Cleveland Coat. (Both above.)
This year I would love to… continue in vain to achieve the unachievable: a work/life balance.
I loathe that celebrities… make heartache public – just don't do it to yourselves.
I love my job because… it's everything we've ever really wanted to do and we're doing it instead of dreaming about doing it.
Find Teatum Jones on their website, on Twitter, and at Secret Location in Vancouver.
Read more of my interviews with great fashion people.
I am on maternity leave until the February catwalk shows. I'll be checking in, but until I am back in action, please enjoy some little interviews with my favourite fashion folk, and a series called Fashion Classics, documenting some of the industry's most iconic garments and accessories.